Ronnie Floyd on Trump Meeting: 'I Will Be Faithful to the Gospel'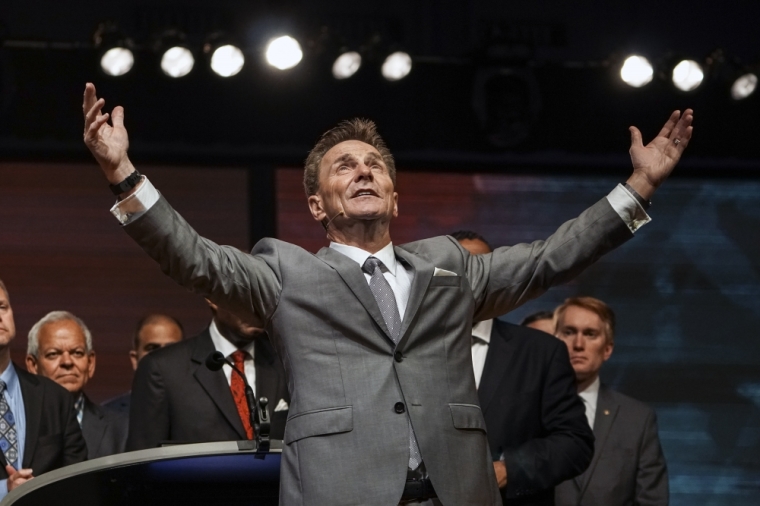 Former Southern Baptist Convention president Ronnie Floyd said faithfulness to the gospel was a priority, and he will not endorse presumptive Republican presidential nominee Donald Trump for president, after attending Trump's highly anticipated meeting with over 900 evangelical leaders in New York City Tuesday.
In an attempt to win over the support of skeptical conservative pastors, activists and political leaders, a meeting between Trump and the nation's most influential evangelical leaders was convened by the organizations United in Purpose and My Faith Votes to help the prominent evangelicals get to know Trump better.
In both large-group and small-group settings, Trump answered some of the most pressing questions that social conservatives have in regards to a Trump presidency and promised that he will appoint pro-life Supreme Court justices, protect religious freedom and even end a longstanding ban against church politicking.
Although some of the pastors in attendance came out of the meeting with a willingness to "champion Donald Trump," Floyd, the pastor of Cross Church in Springdale, Arkansas, told The Christian Post that he will stay true to his vow not to endorse any candidate for president.
"I have said it all along, I have done it in writing and I have said it verbally — I am not planning to endorse any candidate for president," Floyd said following the gathering. "My role today was to come and to learn and meet with him privately in a smaller group and with a bigger group and was able to articulate to him and voice to him the concerns of evangelicals."
"I think it is incumbent on me as a spiritual leader when I am asked to do that with any candidate for president or anybody else," Floyd continued. "I will be faithful to the gospel, faithful to the word of God and faithful about those issues that concern all of us in our generation."
Floyd explained that he was able to converse with Trump and ask him a question about how he plans to help bridge the racial divide in this country and help stop the violence and alleviate the poverty in inner cities and urban areas.
Although Fox News' Todd Starnes claims that the meeting was "basically a campaign rally," Floyd said that he felt the event lived up to its "conversation" billing.
"I think it was definitely a conversation. I think that goal was accomplished, without question, in the smaller room and the bigger room," Floyd said. "I don't feel that it was rushed. I don't feel it was 'I am going to go in here, take care of this and go elsewhere.' I think it was a priority for him. I think he relaxed. I don't think he felt intimidated."
Although Floyd will not endorse Trump, he told CP that the 2016 election is a critical one for the nation.
"I will not sit out. For me, I cannot do that. There is no way in the world that I can do that," Floyd stressed. "How do we not understand what is all at stake from sanctity of the life, to the justices of the Supreme Court that the next president will appoint, to matters of religious liberty concerns that are greater today in America than they ever have been in our generation, as well as internationally. I think it is incumbent on us to be involved, to know what is going on. Even though probably no one would have ever expected us to be where we are in this situation, we are here and with it we are going to operate accordingly."