Rousey Reality Show: UFC Champion Fears Image Portrayed on Series (VIDEO)
Ultimate Fighting Champion Ronda Rousey is bracing for the "worst" this week as she prepares for her television debut on "The Ultimate Fighter."
Now in its 18th season, "The Ultimate Fighter" is a reality television series that follows mixed martial art fighters living together as they compete for a contract with the UFC. The show frequently features known UFC fighters as coaches. For its newest season, Rousey and one of her top rivals, Miesha Tate, will appear on the show. But after being followed by cameras for the past six weeks while spending more quality time with Tate than she would like, Rousey has expressed concern over how she will be portrayed in the show.
"I think it was very good for the women's division, and I think it definitely needed to happen, but you couldn't pay me $10 million to do it again," Rousey told USA Today of the reality series that will debut Wednesday on Fox Sports.
The reality debut is not the first time that Rousey has been thrown into the public eye. She became the first and current UFC Women's Bantamweight Champion in 2012 and has been featured twice in ESPN magazine in addition to appearing on the cover of Maxim. But Rousey fears her latest television appearance won't paint a fair picture of who she really is.
"How could people possibly know who you are from a couple of clips of a video that people are seeing out of context?" Rousey asked. "That's no way for people to get to know you, so I'm just preparing for people to get the worst idea of who I am."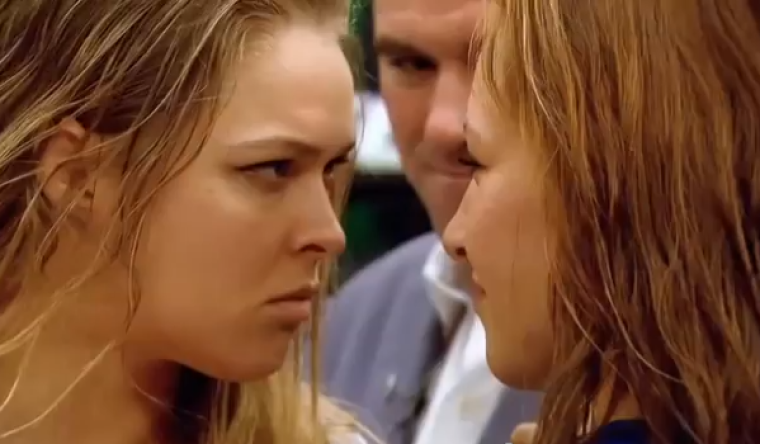 UFC President Dana White, who has overseen all 18 seasons of the series, expressed an understanding for Rousey's concerns.
"These two aren't best friends," White told USA. "They don't hang out on weekends. They don't send each other birthday cards or Christmas presents.
Rousey will also make a film debut in "The Expendables" and "Fast and Furious 7."