Rowan Williams Says Hostility Toward Faith Declining in Final Easter Sermon
Archbishop of Canterbury Insists 'Climate Is Shifting' Toward Faith in United Kingdom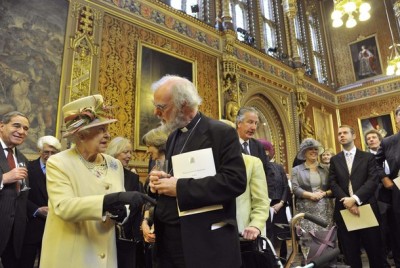 Is the "aggressive polemic" concerning faith and animosity toward the church in the United Kingdom easing off? In his final Easter sermon as the Archbishop of Canterbury, Rowan Williams suggested Sunday that "there are a few signs that the climate is shifting ever so slightly."
"Recent years have seen so many high-profile assaults on the alleged evils of religion that we've almost become used to them; we sigh and pass on, wishing that we could have a bit more of a sensible debate and a bit less hysteria," the archbishop said during the annual holiday sermon at Canterbury Cathedral on Sunday. "But there are a few signs that the climate is shifting ever so slightly – not towards a mass return to faith but at least towards a reluctant recognition that religion can't be blamed for everything – indeed that it has made and still makes positive contributions to our common life."
Williams, who announced on March 16 that he would be stepping down by the end of the year, pointed out that some prominent economists have given religion credit recently when assessing economic trends and especially the recent recession, finding that "without some input from religious thinking our ludicrous and destructive economic habits are more likely to go unchecked."
"If it doesn't exactly amount to a religious revival, it does suggest that a tide may be turning in how serious and liberal-minded commentators think about faith: no longer seen as a brainless and oppressive enemy, it is recognized as a potential ally in challenging a model of human activity and social existence that increasingly feels insane, a model in which unlimited material growth and individual acquisition still seem to trump every other argument about social coherence, international justice and realism in the face of limited resources," the archbishop stated optimistically, in what has been called a positive accent toward the end of his career as the head of the Church of England.
The embattled cleric has been under a lot of pressure recently over the possible legalization of same-sex marriage in the United Kingdom. Christian conservatives have criticized the church for not fighting against the redefinition of marriage hard enough, while liberals have attacked the church for being against the change in law. Experts claim that Williams' successor will have a particularly hard time of maintaining the unity of the national church, which also has a troubled global communion of some 80 million, a great part of it in Africa. Allowing women to become bishops is another issue over which Christians have been bickering in the country.
But a shift toward more appreciation of the church is occurring even amid young people, Williams said in his Easter address. That is why it is "the worst possible moment" to "downgrade" the role of religion in education, he said, referring to a recent and ongoing dispute in Britain about whether religious education is playing an important enough role in the school curriculum.
Religious education is not one of the subjects counting toward the English Baccalaureate (equivalent of high school diploma), the standard for ranking schools brought in by the coalition government of Prime Minister David Cameron, which has recently been another point of clashes between the Church of England and the governemnt, next to same-sex marriage. Supporters of religious education want to see it included in the humanities category, but the government objects.
"We may groan in spirit at the reports of how few young people in our country know the Lord's Prayer, but there is plenty to suggest that younger people, while still statistically deeply unlikely to be churchgoers, don't have the hostility to faith that one might expect, but at least share some of the Sandel/Skidelsky/de Botton sense that there is something here to take seriously – when they have a chance to learn about it," Williams said in his sermon. "It is about the worst possible moment to downgrade the status and professional excellence of religious education in secondary schools – but that's another sermon..."
A poll conducted in mid-February showed that three-quarters of people who describe themselves as Christian in the United Kingdom displayed only a low level of belief and practice of the religion.