Roy Moore Says Sexual Contact With Teen Allegations Aimed at 'Silencing Christian Conservatives'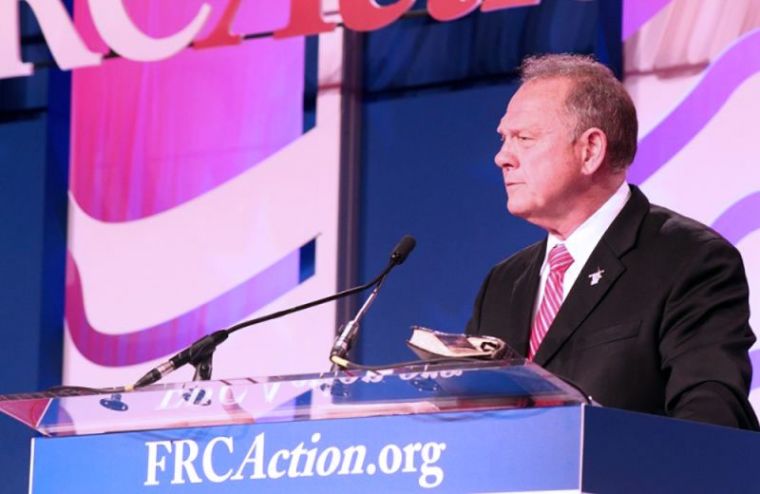 Roy Moore, Alabama Republican nominee for the U.S. Senate, has responded to an explosive report accusing him of attempting a sexual encounter with a 14-year-old girl when he was an adult, by arguing that the allegations are an attempt to silence Christian conservatives like himself.
"The Obama-Clinton Machine's liberal media lapdogs just launched the most vicious and nasty round of attacks against me I've EVER faced! We are are in the midst of a spiritual battle with those who want to silence our message," Moore said in a statement relayed over several tweets on Thursday.
"The forces of evil will lie, cheat, steal –– even inflict physical harm –– if they believe it will silence and shut up Christian conservatives like you and me," Moore continued.
"I believe you and I have a duty to stand up and fight back against the forces of evil waging an all-out war on our conservative values! Our nation is at a crossroads right now — both spiritually and politically.
"Our children and grandchildren's futures are on the line. So rest assured — I will NEVER GIVE UP the fight," he declared.
The Washington Post reported on Thursday that several women have come forward accusing Moore, now 70, of making sexual advances on them when they were teenagers and he was in his 30s.
One Alabama woman, Leigh Corfman, explained in the report that she was 14 years old when Moore, a 32-year-old assistant district attorney, pursued her and made sexual advances.
"Alone with Corfman, Moore chatted with her and asked for her phone number, she says. Days later, she says, he picked her up around the corner from her house in Gadsden, drove her about 30 minutes to his home in the woods, told her how pretty she was and kissed her," the report reads in part.
"On a second visit, she says, he took off her shirt and pants and removed his clothes. He touched her over her bra and underpants, she says, and guided her hand to touch him over his underwear."
Corfman said that Moore brought her home that night when she asked him to do so.
Three other women have also come forward, alleging Moore attempted to date them when they were between the ages of 16 and 18 and he was in his early 30s, though they clarified that he did not force them into any sort of sexual contact.
A number of top Republican politicians have argued that if the allegations are true, Moore will not be fit for office.
White House Press Secretary Sarah Sanders told reporters: "Like most Americans, the president believes we cannot allow a mere allegation, in this case one from many years ago, to destroy a person's life.
"However, the president also believes that if these allegations are true, Judge Moore will do the right thing and step aside."
Arizona Senator and former GOP presidential nominee John McCain said on Twitter, "The allegations against Roy Moore are deeply disturbing and disqualifying. He should immediately step aside and allow the people of Alabama to elect a candidate they can be proud of."
Senate Majority Leader Mitch McConnell similarly stated, "If these allegations are true, he must step aside."
Moore, who was ousted twice as the state's top judge, once for refusing a court order to remove a Ten Commandments monument from the courthouse, and then a second time for defying the 2015 Supreme Court decision to legalize gay marriage, retained the backing of some of his supporters in the midst of the latest scandal.
Alabama State Auditor Jim Zeigler pointed to relationships between adults and teenagers in the Bible in an interview with The Washington Examiner.
"Take the Bible. Zachariah and Elizabeth for instance. Zachariah was extremely old to marry Elizabeth and they became the parents of John the Baptist," Zeigler stated.
"Also take Joseph and Mary. Mary was a teenager and Joseph was an adult carpenter. They became parents of Jesus."
Ziegler also stressed that as the WP report itself points out, Moore did not have sexual intercourse with the young women.
"There's just nothing immoral or illegal here," he added. "Maybe just a little bit unusual."
As Axios noted, it is legally too late for Moore to be replaced on the Alabama ballot, but it is possible for the Republican Party to withdraw his nomination, which would mean he would not be declared the winner even if he receives the most votes.