Royal Wedding Pastor Michael Curry Leads 'Reclaiming Jesus' Movement Against Racism, Misogyny, Xenophobia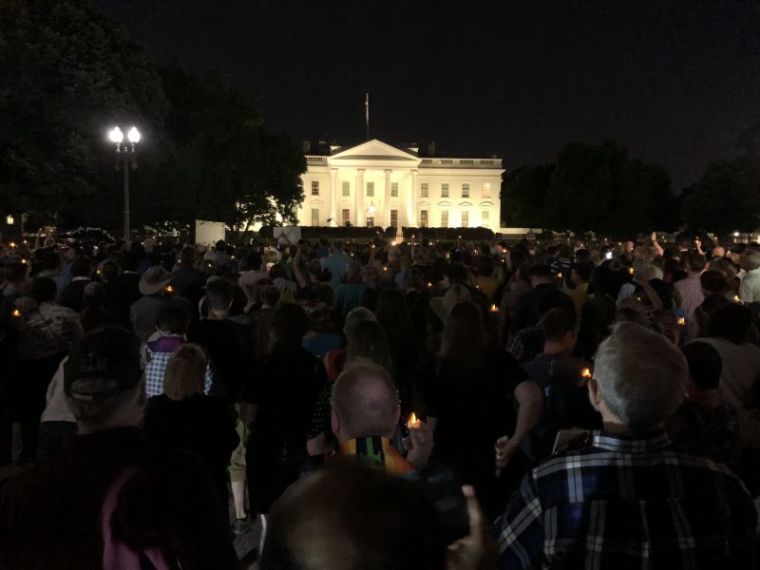 WASHINGTON — Less than one week after speaking at the royal wedding in England, Episcopal Church Presiding Bishop Michael Curry, along with a group of multiracial progressive faith leaders, led hundreds in a procession to the White House Thursday night to condemn racism, misogyny and the immorality of political leaders.
"We are not a partisan group. We are not a left-wing group. We are not a right-wing group. We are a Jesus movement," Curry said during the prayer service at the Disciples of Christ national church. "We came together as Protestant, Catholic, evangelical. We came together — Republicans, Independents and Democrats. We came together — liberal and conservative and whatever is in the middle. We came together because what is uniting us together is Jesus of Nazareth." 
Curry was joined by prominent progressive evangelical leader Jim Wallis, former Bill Clinton spiritual adviser Tony Campolo and about 20 other left-leaning Christian leaders crossing denominational lines in signing a declaration that was read in front of the gates of the White House lawn following a prayer service held at National City Church.
The declaration is titled "Reclaiming Jesus: A Confession of Faith in a Time of Crisis" and comes in response to what the leaders say is a "time of moral and political crisis."
"We are deeply concerned for the soul of our nation, but also for our churches and the integrity of our faith," the declaration reads. "The present crisis calls us to go deeper — deeper into our relationship to God; deeper into our relationships with each other, especially across racial, ethnic, and national lines; deeper into our relationships with the most vulnerable, who are at greatest risk."
The statement rejects the "resurgence of white nationalism and racism," oppression based on "race, gender, identity, or class," misogyny, sexual harassment, abuse of women, policies that "debase and abandon the most vulnerable children of God," the "pattern of lying that is invading our political and civil life," autocratic political leadership and "America First" policies.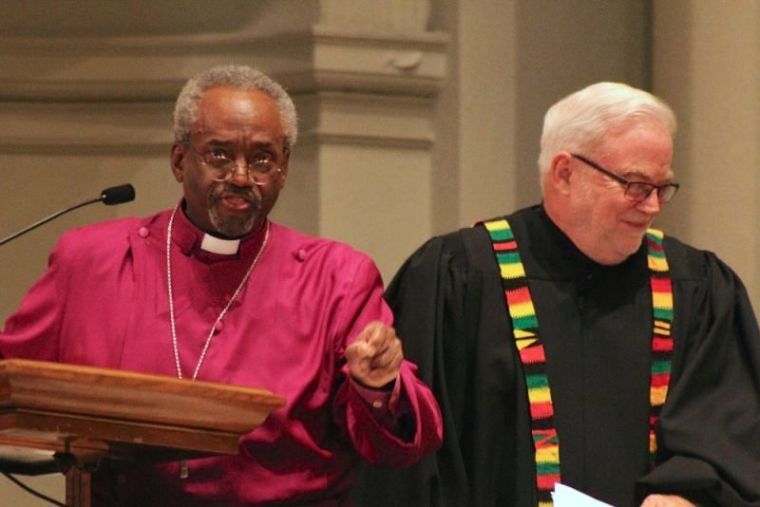 Curry asserted that the declaration, prayer service, procession through the streets of Washington, D.C. and ensuing candlelight vigil on Pennsylvania Avenue was not a "protest march."
"This is a procession of Christian people," he said. "This is what they did on Pentecost. This is a pentecostal moment."
Wallis, the founder of the evangelical social justice organization Sojourners, told the packed church that too often "we see people bringing politics to faith."
"Tonight, we are bringing faith to politics," he said. "There is a difference."
Wallis continued by stating that the procession and vigil is all about reclaiming the name of Jesus and assured that it was "not about Donald Trump."
"So tonight, this is not about any other name," Wallis said. "For the reporters out there, this is not about Donald Trump. It is about Jesus Christ."
Following the prayer service, the crowd marched several blocks with a police escort to Lafayette Square, just across the street from the White House.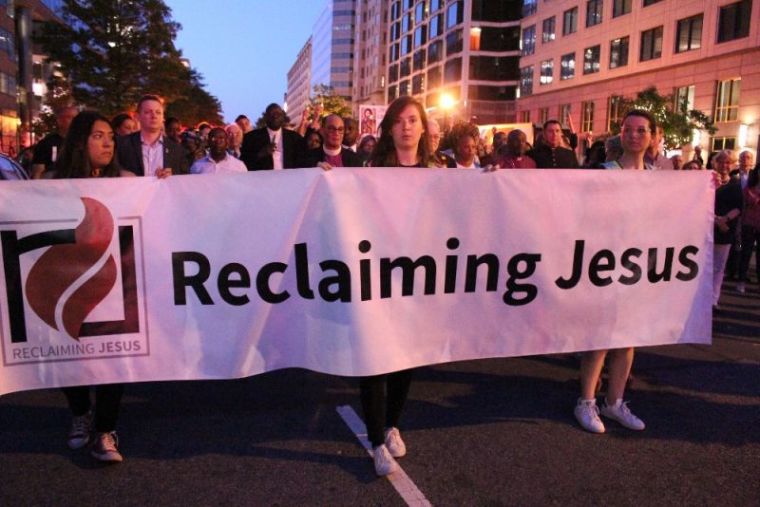 Although police initially prevented the crowd from gathering on Pennsylvania Avenue, the crowd was eventually allowed to funnel into the street and onto a sidewalk in front of the White House, where the declaration was read.
Although Wallis proclaimed that the night was not about Trump, much media attention leading up to the event was paid to the section of the declaration that calls out "America First" policies, which could be seen as a reference to the foreign and immigration policy priorities of the Trump administration.
The section states in part:
"WE REJECT 'America first' as a theological heresy for followers of Christ. While we share a patriotic love for our country, we reject xenophobic or ethnic nationalism that places one nation over others as a political goal."
That statement drew the ire of at least one conservative evangelical leader with ties to the Trump administration.
"There is nothing wrong with putting America first. That is what a government is supposed to do. That is God's responsibility for government," First Baptist Dallas Senior Pastor Robert Jeffress told Fox News. "As individual Christians, yes, we put others before ourselves but government doesn't do that."
"Bishop Curry and these others say, 'Oh, this isn't about Donald Trump.' Oh really? Then, why are you doing it in front of the White House?" Jeffress asked. "I am tired of these charges of racism and xenophobia. That is not who this president is. He loves all Americans and he is causing the boats of all Americans to rise."
In addition to Wallis, Curry and Campolo, other signatories include leaders from the National Baptist Convention USA, the Wesleyan Church, Disciples of Christ, the African Methodist Episcopal Church, Evangelicals for Social Action, the United Methodist Church and other organizations.
The statement was also signed by renowned civil rights activist and Bible teacher John Perkins, founder of the Christian Community Development Association and other organizations. 
Jeffress, one of Trump's first notable evangelical supporters during the 2016 election, also condemned the political left for what he calls "hypocrisy" when it comes to faith leaders getting involved in politics.
"The Left criticizes the Hell out of me and conservative pastors for getting involved in politics," Jeffress said. "The left doesn't mind pastors getting involved in politics as long as it's the politics they approve of and that is rank hypocrisy."