Ciara Admits Celibacy Is Tough, but Praying Through It With Russell Wilson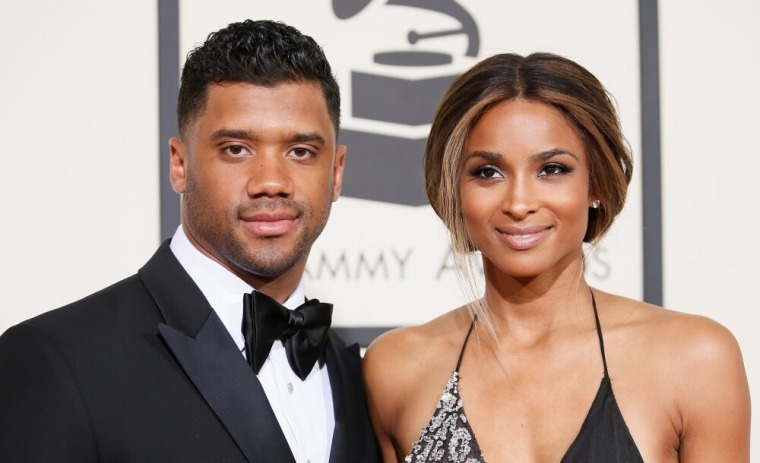 Honoring her public vow of celibacy is anything but easy, says singer Ciara Harris in her relationship with Seattle Seahawks quarterback Russell Wilson.
Still, the 30-year-old songstress told Cosmopolitan magazine that things are going well.
"We're hanging in there. I'm not gonna lie," she told the publication. "I'm human, so it is not easy, especially when I look at him and I think he is the most beautiful thing I've ever seen — that I've ever laid my eyes on, to be honest. I'm like, Look the other way!"
During a public conversation at The Rock Church in San Diego, California, last July, Wilson revealed that he and Ciara would not be having sex before marriage after the athlete had a conversation with God. Since they began dating last April, Ciara says the decision not to engage in sex with each other has helped foster a growth within the union.
"He's such an awesome guy and the cool thing is that every day, we're growing with each other. We get to have really healthy conversations and focus on each other as people," she told the magazine. "That is very important to me and him. It's very valuable."
The singer also revealed that prayer has helped the couple stay strong.
"We're just enjoying ourselves and going one day at a time and praying and staying positive," she said. "Being strong here."
During the Q&A session with Pastor Miles McPherson at The Rock Church, Wilson described how he presented the idea to his girlfriend.
"I asked her 'what would you do if we took all that other stuff off the table and did it Jesus' way, no sex?" Wilson asked the singer. "I knew God had brought me into her life to bless her and for her to bless me and to bless so many people with the impact that she has and I have. We're not going to be perfect, by any means.
"He's anointed both of us and He's calling for us to do something special."
Last year, Ciara told E! News that she considered her public abstinence a cool and healthy thing.
"I run into different people and they'll talk to me about their journey and their relationships, so I think that's been really cool and it's a healthy thing," Ciara previously told E! News. "It's a healthy conversation we all get to have as adults. I'm not sweating it at all."
Although the entertainers are in the public eye with their relationship, Ciara said other people can relate to their spiritually led decision to wait until marriage before engaging in sexual activity.
"You know, when Russell talked about it, he was being honest. For what it's worth, I think there are so many people like us," Ciara told E!. "We get to share real things. We're real people."