Russell Wilson, Ciara Honor Seattle QB's Goddaughter Who Succumbed to Cancer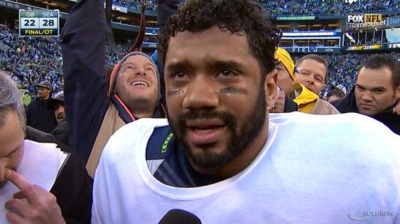 Russell Wilson is honoring his goddaughter, Ailynn Arredondo, a 5-year-old girl he befriended at the Seattle Children's Hospital who succumbed to leukemia.
Arredondo died after suffering from lymphoblastic leukemia one day after Wilson, the 26-year-old Seattle Seahawks quarterback, announced that he accepted the little girl's proposal to be her godfather.
"My heart, thoughts, and prayers go out to my goddaughter, Ailynn, and her family, as she is now with our Heavenly Father," Wilson wrote on Instagram. "I know you'll be swinging your 12 flag over Centurylink this Sunday sweetie."
Ciara Harris, Wilson's 29-year-old singer girlfriend, also took to Instagram to share her memories of the little girl that she met while volunteering at the cancer hospital with Wilson.
"Ailynn, the first time @DangeRussWilson and I met you @SeattleChildrens, Our Hearts Lit Up! I said, look at that little supermodel," Harris wrote. "...You had your cute little outfit on, and your big bright beautiful smile was shining! Your light shined so bright, it was as if you turned the hospital floor into a catwalk ... "
Although Ciara said she was sad to say goodbye to the little girl, she also said she felt a sense of peace.
"Right now, I shed tears, some sad, but mostly tears of joy. One, knowing that I was able to meet one of the coolest and toughest girls to walk the Earth! I can also be at peace knowing Heaven is welcoming one of the sweetest angels and you won't have to suffer anymore," Ciara wrote. "You will truly be missed. Praying for your beauriful sweet family as well. #RIPAilynn Love Ciara."
Last year, the Seattle Children's Hospital and Research Foundation launched a $100 million initiative to support research aimed at curing childhood cancer. After Wilson signed on to be the "team captain" in the initiative called "Strong Against Cancer" he explained why it was important to be involved in the initiative.
"Annually, pediatric cancers receive less than 3 percent of the National Cancer Institute budget, which is why it's so important for all of us to support initiatives like Strong Against Cancer," Wilson said last year in a Seattle Children's Hospital release. "The scientists working on immunotherapy have the treatment and the results to get us to a place where childhood cancer is no worse than a common virus. All that's needed now are the resources to bring it to every kid who needs it."
Although Wilson works hard on the football field, he spoke about finding much of his joy volunteering at the hospital.
"Sunday is game day for me, but my best day is Tuesday when I visit Seattle Children's," Wilson previously wrote in his blog on http://pulse.seattlechildrens.org. "All the amazing opportunities I've had on the field can't compare to helping kids whose lives are on the line."
Wilson said he started volunteering a couple of years ago, but has had his share of experience visiting hospitals when his father died from diabetes in 2010. He spoke about his own experiences helping him relate to families who are dealing with sick children in the hospital where he volunteers.
"I believe God has put me on this Earth to serve others. That's why there's nothing more fulfilling than walking into a child's hospital room and finding out how they're doing — listening to their stories," Wilson wrote in the blog. "All these kids are so brave and to be there for them and give them a boost is really important to me. What they don't know is how much they affect me: I get an even bigger boost from them!"