Russell Wilson Invites Ciara to Seattle Children's Hospital; Leads Singer to Pray for Kids Battling Cancer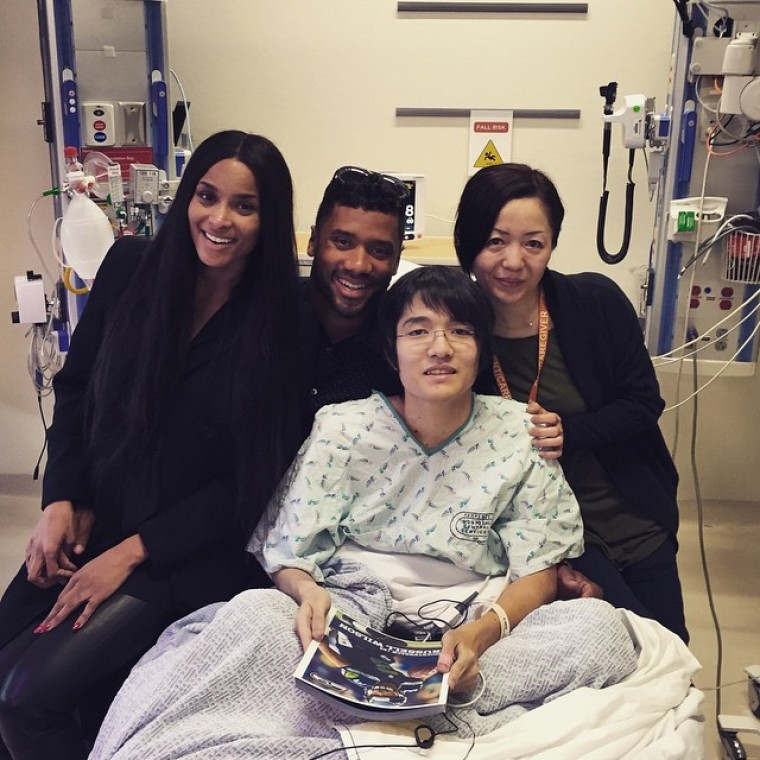 Russell Wilson, the Christian NFL star rumored to be dating R&B singer Ciara Harris, appears to be impacting Harris' prayer life after he invited her to visit the Seattle Children's Hospital where the pair encouraged children who are battling cancer. The experience later inspired the singer to pray for the children.
Wilson, the 26-year-old Seattle Seahawks quarterback, has been consistent in volunteering for the hospital for years and was even named "team captain" in the initiative called "Strong Against Cancer" last year. In recent weeks the football player has been spotted with Harris at places like the Japan state dinner and a Seattle Mariners game.
The Twitter account for both the hospital and the Seattle Children's Hospital and Research Foundation's "Strong Against Cancer" initiative, which seeks to end childhood cancer in the next decade, expressed gratitude to both Wilson and Harris for their visit.
"Thank you @DangeRussWilson for inviting @ciara to join our #strongagainstcancerteam. What a great visit," Strong Against Cancer tweeted.
Harris seemed just as thankful for the touching experience.
"They were the real stars! Their bravery, will, and courage touched me in a way I can't explain," she tweeted about the children she met at the hospital. "I am thankful!
Wilson regularly shares social media images of the children he meets at the hospital along with encouraging words and Harris followed his lead after her visit. She spoke about the beauty of a girl battling cancer named Aylinn, while offering prayers to a boy named George.
"George aka #TheFighter It was so much fun speaking Japanese with you and your mom," Ciara wrote. "Praying For You @SeattleChildrens
Last year, the Seattle Children's Hospital and Research Foundation launched a $100 million initiative to support research aimed at curing childhood cancer. After Wilson signed on to be the "team captain" in the initiative called "Strong Against Cancer" he explained why it was important to be involved in the initiative.
"Annually, pediatric cancers receive less than 3 percent of the National Cancer Institute budget, which is why it's so important for all of us to support initiatives like Strong Against Cancer," Wilson said last year in a Seattle Childrens Hospital release. "The scientists working on immunotherapy have the treatment and the results to get us to a place where childhood cancer is no worse than a common virus. All that's needed now are the resources to bring it to every kid who needs it."