Russell Wilson Talks Legacy As a Christian Man on Media Day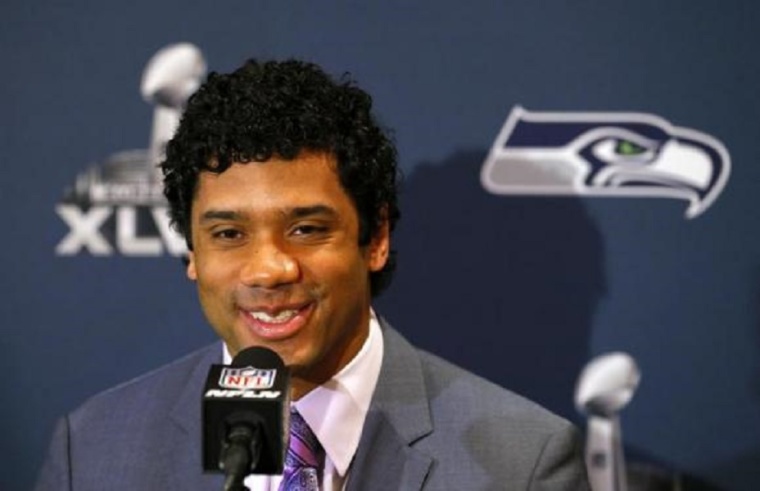 Russell Wilson has been speaking about his faith in interviews and on social media throughout the NFL season, so it is no surprise that the Super Bowl XLIX bound quarterback spoke about his Christianity being a part of his legacy during the recent Super Bowl media day on Tuesday.
Wilson, the 26-year-old Christian quarterback for the Seattle Seahawks, responded to reporters' questions about everything football related. However, the Christian athlete also took time to answer questions about his faith.
While Wilson said he wanted his legacy on the football field to center around him being considered a winner, he spoke about another legacy that he wanted to leave behind off of the field.
"In terms of my legacy off the field, I want to be a Christian man that helps lead and helps change lives and helps serve other people. It's not about me, you know," Wilson told reporters on the Media Day that took place Jan. 27. "It's not about me and it's about just helping other people. So that's kind of where I keep my focus."
The QB also made it clear just how important his faith was in his life.
"In terms of my faith, my faith is everything: God comes first, family and friends come second, and football comes third," Wilson told reporters. "I think when you keep it in that order, great things happen to you. You don't stress out about much."
He went on to speak about the importance of integrity and character when playing football.
"We all make mistakes or whatever, but we're football players. We're able to use our gifts," Wilson told reporters. "For me, I'm able to use my gift to glorify God. That's what it's about for me."
While he is talented on the football field, Wilson believes his God-given purpose involves giving back to others.
"I believe God has put me on this earth to serve others. That's why there's nothing more fulfilling than walking into a child's hospital room and finding out how they're doing ... listening to their stories," Wilson previously wrote in a blog for the Seattle Children's Hospital Research Foundation. "All these kids are so brave and to be there for them and give them a boost is really important to me. What they don't know is how much they affect me: I get an even bigger boost from them!"
Wilson's Seattle Seahawks will play against the AFC championship-winning New England Patriots in Super Bowl XLIX, in Glendale, Arizona, on Feb. 1.