Russia & Mideast Christians: Is the West Really at Fault?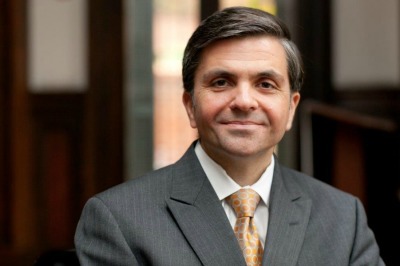 Recently there was an exchange between a senior Russian church official and a Russian Foreign Ministry official in which both largely fault the West for the current Mideast tumult and for the torment of Christians there, while crediting Russian policies. The Russian Orthodox Church posted an English language transcript presumably to influence Western opinion.
Here's part of the exchange between Metropolitan Hilarion of Volokolamsk, who chairs his church's Department of External Church Relations and who hosted the televised interview, and Russian Ministry of Foreign Affairs Commissioner for Human Rights, Democracy and Rule of Law, Constantine Dolgov:
Metropolitan Hilarion: In the recent years, the Russian diplomacy has exerted special efforts to improve the situation in the Middle East. The Russian Orthodox Church, primarily in the person of the Patriarch, keeps raising the alarm. We speak of this problem in each place possible, such as international platforms and the mass media, because until recently this problem was hushed up as if non-existent; it was simply ignored. Only after the ISIS militants began terrible mass executions of Christians the world community began speaking about this problem out loud. It happened only after the number of Christians in Iraq decreased by times and almost no Christians remained in Libya and after the Christian community in Egypt had a hard time. The world community has at last begun speaking out against the background of general instability and uncertainty, against the background of the Arab Spring developments, against the background of what is going on now in Syria, where militants in the occupied territories are systematically eliminating Christians and Christian shrines.
The question arises inevitably here: why the so-called Christian West, at least in the eyes of many Muslims, supports these destructive forces and the so-called opposition in Syria? Why did the West support and actually initiate the overthrow of the regime in Iraq? Yes, we understand that the regime that existed in Iraq could be viewed differently and could hardly be regarded as model. But when a regime that somehow or other keeps the whole country from a disaster is overthrown an utter chaos comes in and a civil war begins, for the overthrow of a dictatorship does not at all mean that it will be surely replaced by a democracy. And those who did it now wash their hands saying: We have nothing to do with this; we have done our work; now let them themselves sort it all out. And how they can sort it all out on their own when the whole infrastructure of the country, political and economic, is destroyed and the interreligious and inter-ethnic balances, which existed for centuries, are violated?
Now we have found ourselves in a situation when the whole Middle East is affected by this blight of terrorism, when the fire of civil war and inter-ethnic confrontation is blazing, when Christians are methodically eliminated, that is, when the genocide of Christians is raging. Let us call things by their proper names. True, the western society has paid attention to it at last. Thanks God, they have started speaking about this problem even in the UN. But is it not late?
C. Dolgov: You are absolutely right in analyzing the actions of western countries, in the first place, the United States of America, as regards a number of countries in the region. Of course, what happened in Iraq (we repeatedly gave our assessment to it) was a glaring violation of international law. Of course, the military operation was undertaken bypassing the UN Security Council, without its sanction. The consequences of these illegal and wrong actions are such as they are.
Really, in Iraq – and I would add Libya – there was a violation of international law by the coalition of states led by the USA and NATO. Again, we see a situation which is not just far from being ideal in the human rights area but constitutes a glaring violation of the principle of supremacy of law. Of course, it is civilians who suffer in the first place. Regrettably, not least suffering is the Christian population. I agree with your assessment of the situation as genocide. Indeed, many actions including the mass murder of Copts in Egypt confirm it. Not long ago, another terrible incident took place when several dozen Coptic Christians were brutally killed. And certainly, the murder of Christians in Syria can be viewed as genocide in the sense of the 1948 Convention.
Here are my comments:
Hilarion asks "why the so-called Christian West, at least in the eyes of many Muslims, supports these destructive forces and the so-called opposition in Syria?" He's vague about which "destructive forces" but faults Western support for the anti-Assad opposition. That support has actually been non existent to minimal, which meant Sunnis in the Arab sheikhdoms have provided nearly all support for the Syrian opposition, effectively extinguishing relative moderates and empowering Islamists. It's facile to fault the West for the revolt against Assad, which began peacefully. His Baathist regime is brutal and has always been a minority regime. That it would eventually explode was never a surprise. Assad's father was a client of the Soviet Union, and the son is a client of Iran and Russia, to whom he provides a Mediterranean naval port. Russians, whether Soviet or Putin, have found the Assads useful.
Regarding Iraq, Hilarion, with tremendous understatement that echoes Michael Moore's Fahrenheit 9-12, recalls the Saddam regime could "hardly be regarded as model." Indeed, Saddam, who was a Soviet client in the old days, murdered hundreds of thousands, torturing and jailing many more, along with his rape rooms, presiding over a nearly unprecedented terror state. He also ruled a minority Baathist regime whose conclusion was never going to be pretty.
Hilarion says Saddam "somehow or other keeps the whole country from a disaster," when in fact Saddam was the disaster, and the U.S. and British air forces had to spend twelve years preventing Saddam's completing his murderous further suppression of Kurds and Shiites. Hilarion would be correct to fault poor post invasion planning, and the deplorable failure to protect Iraqi Christians, thanks to American political correctness, which did not want to appear Crusader-like.
Of course the Russian Foreign Ministry official heartily agrees with Hilarion's critique of the West, adding that the U.S. violated international law, an action to which Russian policy is itself no stranger. He cites the overthrow of Libya's Kaddafi, another former Soviet client and butcher, whose violent demise was deserved and predictable. Condemning the disastrous failure of the U.S. and West to plan for Libya after Kaddafi would be fair. But propping up his overripe 40 year dictatorship was not a viable or appealing option.
The Russians in their interview exaggerate the former stability and interfaith harmony of the Mideast. Brutal socialist dictatorships previously aligned with the Soviets had a limited shelf life. And Christians, despite whatever limited relative protection they got from Saddam or Assad, have been in retreat in that region for 1400 years. The best they had, such as it was, occurred under the Ottomans, who provided some security contingent on their compliant subordination to Islamic supremacy.
Of course, the Christians of the Balkans and Greece were numerous enough, sometimes with Russian help, eventually to overthrow Ottoman rule. The British Empire equivocated over whether to support Christian liberation or Turkish resistance against the more feared Russian Empire. Idealistic Gladstone favored the Christian Slavs, while more hardheaded Disraeli favored the Turks.
The simplifications of political complexities offered by Hilarion resemble similar simplifications by some American Christians. The latter are guided by idealism and naïveté, while the former, in continuity with his church's history, is guided by a shrewder adherence to traditional Russian foreign policy goals.
Prior to joining the IRD in 1994, Mark worked eight years for the Central Intelligence Agency. He is a graduate of Georgetown University and is a native of Arlington, Virginia. A lifelong United Methodist, he has been active in United Methodist renewal since 1988, when he wrote a study about denominational funding of pro-Marxist groups for his local congregation. He attends a United Methodist church in Alexandria, Virginia. Follow Mark on Twitter
@markdtooley
.