Saddleback Church's Kay Warren offers tips for maintaining mental heath over the holiday season
Saddleback Church's Kay Warren identifies tips for maintaining mental heath over the holiday season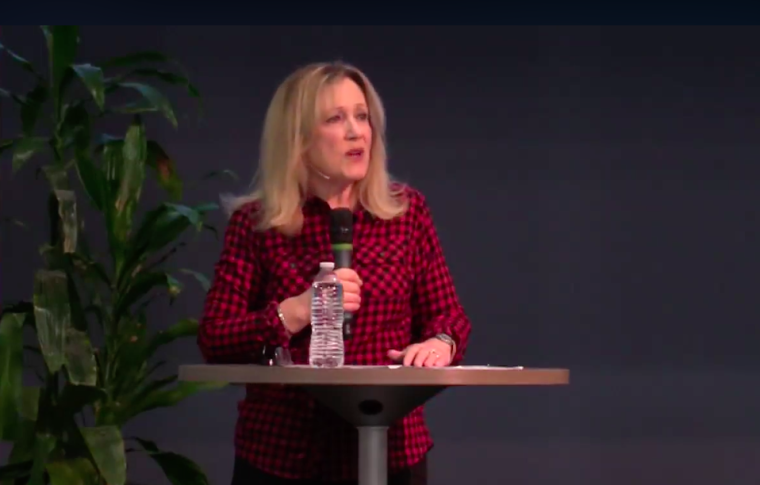 As part of the latest Mental Health Community gathering at Saddleback Church in Lake Forest, California, Kay Warren, wife of Pastor Rick Warren, shared how those struggling with mental illness can increase their resilience over the holiday season.
For many, the holidays season can be "incredibly complicated" because with it comes additional stress, expectations, increased contact with family members and other pressures, Warren said. In such times, it's important to remember that options are available — and certain aspects of the season are within an individual's control.
"The main reason, besides the spiritual reason, you can have hope this Christmas season ... is that if you can begin to grasp the idea that you can control the controllables in your life and leave the uncontrollables to God, that will immediately put you in a place and framework of more peace in your mind and in your heart," she explained. "Control the controllbles, and leave the uncontrollables to God. You have options."
"The reality is, there is so much about your life in general, about the holidays specifically, that you and I cannot control," Warren continued. "But the good news is, there is so much that is within our control. There are things that you and I can think through, can meditate on, can be deliberate about, and make some choices for yourself, that will make the holidays much less stressful."
One way to create resiliency this holiday season is to come up with a "holiday plan," the Saddleback Church co-founder said. The first step in creating such a plan is to identify the people, places or circumstances that add stress to your life and how to respond to such stressors in a healthy way.
"What are some boundaries that you can put in place around yourself, around your finances?" Warren asked. "It takes tremendous courage to set boundaries, but to get through in a healthier way, you may need to set boundaries."
The next step is to ask yourself, "Who are the safe people in my life who will listen to what I have to say, who guard my feelings, who guard my heart, and who honor my story and won't trample on it?"
"When we're feeling down and discouraged or anxious, we isolate," Warren pointed out. "It's just what we do. Most of us isolate, we pull within ourselves. A choice you can make there is to actually push past the isolation and reach out to some of those safe people who have historically been there for you."
Warren also encouraged going to church every weekend as a "safe place."
"Church is, in general, a safe place," she said. "Going to church on a weekend during the holidays can actually bolster your sagging emotions ... reach out to safe people rather than isolating in the loneliness and sadness you feel during the holidays."
Self-care is also important during the holidays, she said. She encouraged listeners to make a list of the things that cause burnout during the holidays.
"That way you're not caught unaware when you experience some of those feelings," she said.
Then, Warren advised making a "positive list" of things that restore pleasure, energy and enjoyment, but acknowledged that doing so could be an "open door to pursuing unhealthy approaches" like drinking too much, viewing pornography or indulging in food.
"There are ways that many of us have tried to soothe and comfort ourselves when we're feeling stressed, and we all know that those ways of comforting ... may help in the moment but then they don't help us long-term. They don't help us be who we want to be," she explained. "Look at the strategies and places of solace you've gone to ... and recognize them as being unhealthy and use this place on your holiday plan to identify things that could actually be good for you."
The best-selling author went on to encourage attendees to "serve," adding: "One of the most forgotten ways to help yourself is to help someone else ... Something beautiful happens when we reach beyond ourselves in a small way ... if done with great love, it can change somebody else and change ourselves."
Finally, Waren advised those struggling with mental illness to write down something they look forward to.
"One of the ways you know people still have hope is if there's something they're still looking forward to," she said. "If there isn't something to look forward to, then we know that hope is dissipating."
The National Alliance on Mental Illness reports that approximately 24 percent of people with a diagnosed mental illness find that the holidays make their condition "a lot" worse and 40 percent "somewhat" worse.
In 2013, Rick and Kay Warren's son, Matthew, took his life following a long struggle with depression and mental illness. Since then, the couple has held numerous conferences and organized outreach efforts on the topics of mental illness and suicide.

On World Suicide Prevention Day in September 2017, Kay Warren wrote: "As suicide loss survivors, Rick and I know firsthand the almost unbearable agony that accompanies the suicide of someone you love. We ache for those in our congregation — and in yours — who are experiencing despair."

She added, "These friends — brothers and sisters in Christ — need to know that their church is a safe place to share the inward torment of their pain and that their pain will be met with deep compassion and acceptance."