Sadie Robertson Debuts 'Daddy Approved' Sherri Hill Prom Dress Line at NY Fashion Week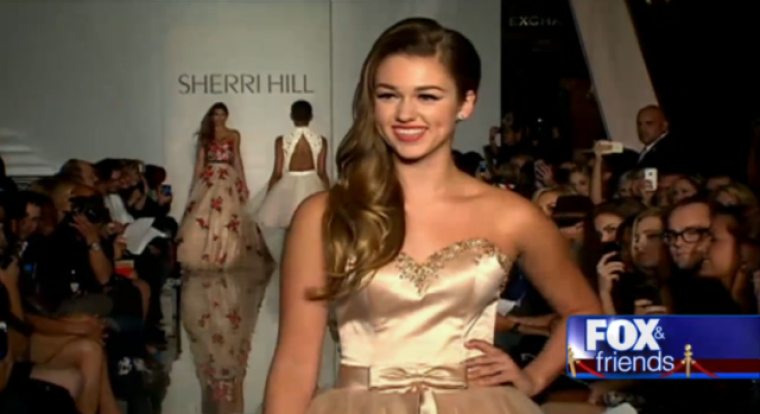 Sadie Robertson of "Duck Dynasty" fame has collaborated with fashion designer Sherri Hill to create a "daddy approved" prom dress line that will be available in Spring 2014.
In her runway debut during New York Fashion Week, Sadie, 16, the daughter of Willie and Korie Robertson, modeled a black-and-white polka-dot prom gown and a shorter length gold dress during the Evening By Sherri Hill show at Trump Tower Monday night.
Sadie told Fox News' "Fox and Friends" hosts that being part of the fashion show has fulfilled one of her dreams.
Hill asked Sadie to be her celebrity spokesmodel for her line of prom dresses, and even gave the teenager the opportunity to collaborate with her in designing fashionable but modest prom gowns that will be called the Sadie Robertson Live Original.
"Me and my mother and my grandma went to Sherri Hill's place and we all picked out 'daddy approved' length," Sadie said. "She also added a couple inches to some that we loved but weren't modest."
Sadie added that all of the final dress designs had to meet the approval of her father, Willie, before they were accepted in the collection.
Expressing her excitement about the opportunity to be in New York City and a Fashion Week, the sophomore shared pictures of her and the Duck Commander clan and friends on the streets of New York City, at the U.S. Open and the red carpet for the Sherri Hill fashion show, where former "New York City Housewives" reality star, Countess LuAnn de Lesseps, posed for a photo-op with Uncle Si, Alan, Jep and Willie Robertson.
The young "Duck Dynasty" star also made headlines this week when she told intrviewers that she and her family are praying for Miley Cyrus, following her sexually explicit performance at the MTV Video Music Awards.
"We feel very bad for her because we know how entertainment can get wrapped up in your head," Sadie told Fox 411. "We try to stay strong as a family; we just pray that their family comes back together."
Her father, Willie, also noted the difficulty of raising a family in the public sphere.
"It's tough. You know, the whole world is different now, so everyone knows who you are. It wasn't the way we were raise because we were raised really poor so nobody knew who we were. We'll put it in the Lord's hands, so we'll see what happens," Willie explained.
Watch Sadie and Sherri Hill's interview about the newly launched age appropriate prom dress line: