Sadie Robertson Huff, Jimmy Darts talk prosperity gospel: It's such a 'shame'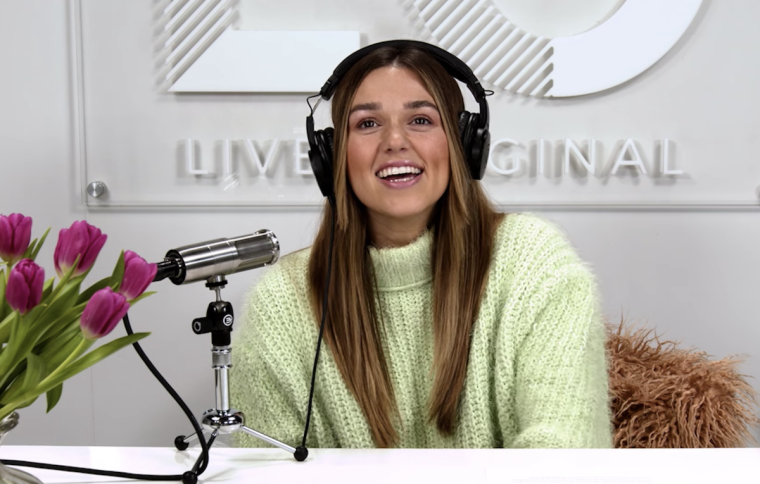 Sadie Robertson Huff, author and host of the "WHOA That's Me" podcast, lamented that the prosperity gospel has become common parlance among some believers, saying the message is a "shame."
The 25-year-old Christian influencer of "Duck Dynasty" fame was joined by Jimmy Kellogg, who's better known as Jimmy Darts, for a podcast episode where they discussed why the prosperity gospel Is "not the answer to an abundant life."
Darts, who rose to prominence by sharing videos of himself on YouTube and TikTok performing random acts of kindness and generosity, shared advice he once received from a friend that has inspired his mission to bring joy to people's lives. 
"The one piece of advice that I can remember, and it has always stuck in my head, was four or five years ago, my friend, Ryan, he told me at my house once, 'Jimmy, you've got to be Santa Claus in private before you're Santa Claus in public.' ... And it was such a good reminder that you've got to do three times, 20 times more in private than you do in public."
Jimmy took that advice literally and bought a Santa suit in the middle of August and started giving a lot more in private by taking people shopping at Walmart, not sharing it publicly, and living authentically. 
His example of living an authentic life, what Sadie described as when one's personality off screen is the same as what people see on screen, reminded her of Proverbs 20:7 that says, "The righteous who walks in his integrity — blessed are his children after him!"
"You can never go broke by giving," Jimmy said, sharing the joy he receives by making other's people's days a little bit brighter. 
Sadie added: "I think it's such a shame that there is a prosperity gospel out there because it's like oh, well, you get, you get, you get. But God's presence is so much better than getting the return of just in finances ... or in the house or ... His presence is actually so much greater because it's everlasting."
"God truly blesses generosity in all ways. … It's not like you're going to get $20 in return for [giving] $20. It's just that God will give you more of Himself," said Jimmy, who attended the Bethel School of Supernatural Ministry in Redding, California. 
He added: "'Seek first the Kingdom, and He'll give you the desires of your heart.' And yes, [God's blessings] can look like your job, this and that, like cool things, but really, it's just more of Him. More of His presence when we live that lifestyle of Jesus, and that's the reward."
Jimmy, who has millions of social media followers, is known for sharing videos of his random acts of kindness where he surprises people with cash or gifts.
From a young age, his parents instilled in him the importance of giving back to others in need. He recounted how, when he was young, his parents would give him $200 for Christmas and told him to give $100 of that money to others in need.
The generosity his parents instilled in him helped him develop a strong love for giving and helping others. 
"At 5, 6 years old, … I made my mom drive [and] I would run over to a guy on the street or someone buying groceries and give them $100. So right away, I just became comfortable with strangers, comfortable with people," Jimmy said. 
"I can't get into talking about generosity or what I do without talking about Jesus because that's truly the whole point of everything. And that's what even gave me the inspiration to do it," he said, adding that he gave his life to Jesus at age 18. 
The social media influencer said he felt God was calling him to make videos for YouTube. And what started as a platform for him to make comedic videos transformed into a platform to publicly demonstrate acts of generosity. 
"First, I started doing comedy videos to grow an audience, and then, once I had that audience, I was like, "I think I have enough people where we could raise funds and help someone,'" he recalled. 
The first act of kindness video that Jimmy filmed was in Miami, Florida, where he came across a homeless man living on the beach. 
"I said, 'Hey, bro, you want to be best friends for the day?' He goes, 'yeah, I got nothing else to do.' So, I literally kicked it with him. We played basketball, rollerbladed around [and] got some food."
"And on the way home, he starts breaking down in tears crying and he goes, 'I was actually suicidal today, wanted to end my life. But you came into my life and changed my whole perspective.' And I was like, 'No way. What?' … And I was literally like, 'Do you have cash app?' It just popped in my head. And he said he did." 
Jimmy said he told the homeless man that he would include his cash app information in the description underneath the YouTube video to see if people would donate to him. 
That evening, Jimmy posted the video that he filmed with the homeless man and included a description under the video requesting that donations to be sent to the homeless man's cash app. The video had 10,000 views that night, which Jimmy said left him feeling disappointed because there wasn't much public attraction to the video and donations were low. 
"So I go to bed [and] I wake up to like 15 million views. I call him. He got over $30,000. He's no longer homeless. He went and traveled to South America for a while. And that's really when I was like, 'Wow, this kindness thing is crazy. So many people want to help,'" he said. 
"And as a little kid, I was always like, 'Man, people want to help, but they just don't know if they can or if they trust the person.' But if I can show videos of who the money is going to, they're going to love it. And that's really what started everything."
Sadie said that when it comes to generosity, many people are waiting for God to move. But God is already moving, and He's waiting on people to say "yes" and start giving. 
"I think people need to realize that some of the things that make them who they are … it can be used for bad, but it can also be used for such good when the desire is shifted in the right place," she added.