Samaritan's Purse Mobilizes 2,100 Volunteers to Help Texas Homeowners Impacted by Harvey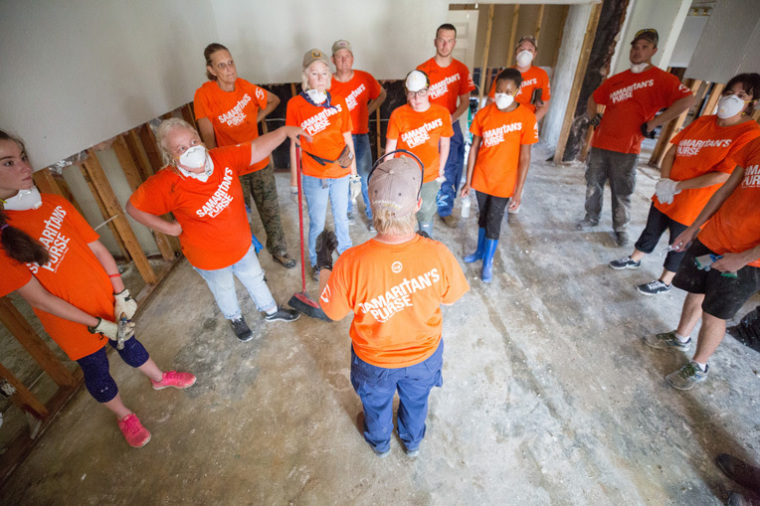 Franklin Graham's evangelical humanitarian aid organization, Samaritan's Purse, has mobilized over 2,100 volunteers who've worked a combined total of over 17,300 hours in the aftermath of Hurricane Harvey and have so far prepared over 200 Southeast Texas homes for restoration.
The North Carolina-based organization, which provides aid in the name of Jesus Christ to distressed and displaced people across the world, has set up five different humanitarian centers in churches following the catastrophic flooding that caused billions of dollars in damages and the deaths of over 60 people.
A Samaritan's Purse spokesperson told The Christian Post that by of end of the day on Tuesday, more than 2,100 volunteers from all over the country had traveled to Texas' Gulf Coast region to take part in the charity's clean-up efforts, with over 1,200 volunteers volunteering on Labor Day.
"We are helping people clean out their homes, helping them clean out the belongings that are wet, salvaging what we can and helping them, if necessary, take out any walls and get things to the point that they can start rebuilding and one day have what they once had in their homes," said Shannon Dealey, a Samaritan's Purse program manager working in Pearland, Texas, just south of Houston.
"There are hundreds in this community that have been flooded out," she added in a Wednesday phone interview with CP, stating that volunteers have removed drywall, cabinetry, carpeting and other parts of houses where mold can grow after flooding. "We have hundreds of homes like that, we need more volunteers who are willing to be the hands and feet of Jesus in this community."
Each day, Samaritan's Purse offers an orientation at 7:30 a.m. and 12:30 p.m. at each of its five centers around Houston and the Gulf Coast to train people who have never taken part in disaster relief missions for the tasks they will be expected to complete once they are assigned to a home.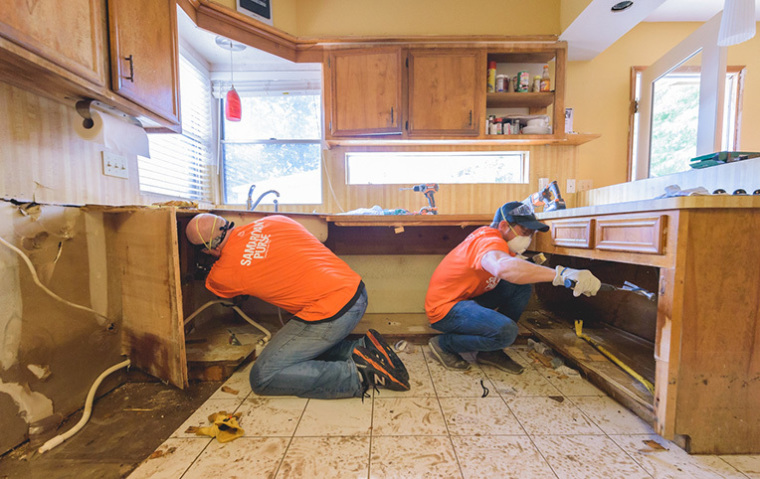 After orientation, volunteers are assigned to groups headed by experienced and trained volunteer team leads who help guide everyone through the tasks they are assigned.
"The team leads have jobs that have already been assessed and scheduled appointments," Dealey, who volunteered with Samaritan's Purse for over 10 years before becoming an employee last year, explained. "They take that team of new volunteers out and start that work."
Dealey said there are currently six team leads stationed in Pearland but the plan is to add more. She added that over 400 volunteers coming from as far as Idaho have arrived at the Pearland Samaritan's Purse location since Monday.
Amy Giesbrecht, a full-time Samaritan's Purse volunteer and team lead from Dalton, Georgia, who's also working in Pearland, told CP that she's encouraged by how far some people have traveled to help out in Texas.
"I am always just amazed," Giesbrecht said. "There is a guy on my team from California. I just think that here is somebody who traveled across the country to help people he has never met or doesn't know."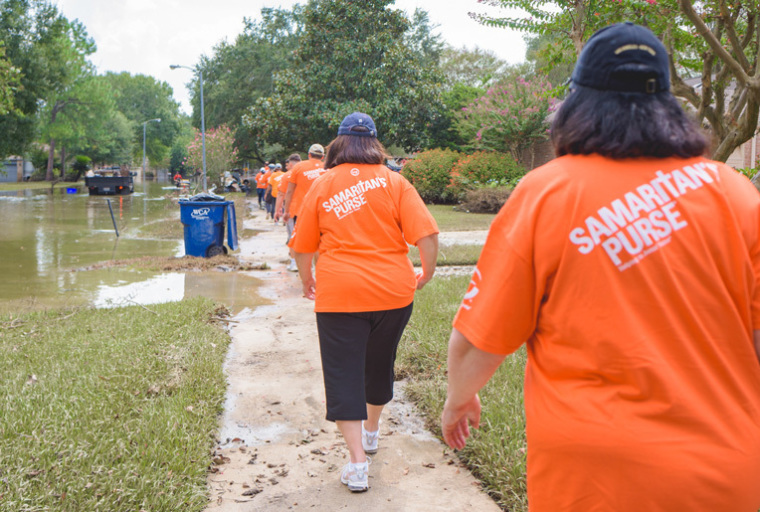 "What I see the most with first-time volunteers is that they are not prepared for the amount of damage that they are going to see — the devastation of homeowners and how they have lost everything," she added. "They feel it and they feel it so deeply that they are looking at their own lives. They think, 'Oh my gosh, I thought all these things were important.' But, just like that, it's taken away from somebody."
In addition to mobilizing over 2,000 volunteers, the Samaritan's Purse relief efforts have also led to at least 100 people making decisions to follow Christ, the organization reports.
"People have lost their homes, and some have lost everything," Graham, the son of Billy Graham and the Samaritan's Purse president, said in a statement. "We want to go and we want to be there in their time of need, helping them in the Name of Jesus Christ put their lives back together again."
Last Thursday, Vice President Mike Pence and Texas Gov. Greg Abbott joined Samaritan's Purse at its base in Rockport, Texas. Pence met with victims of the storm and also helped by hauling debris at a destroyed local church.
Last Wednesday, the White House announced that President Donald Trump is donating $1 million to Harvey relief efforts. The total will be divided among 12 different relief agencies.
According to CNBC, Samaritan's Purse is slated to receive about $100,000, while organizations like the American Red Cross and the Salvation Army will receive $300,000.