Samaritan's Purse receives PETA award for airlifting starving tiger and lion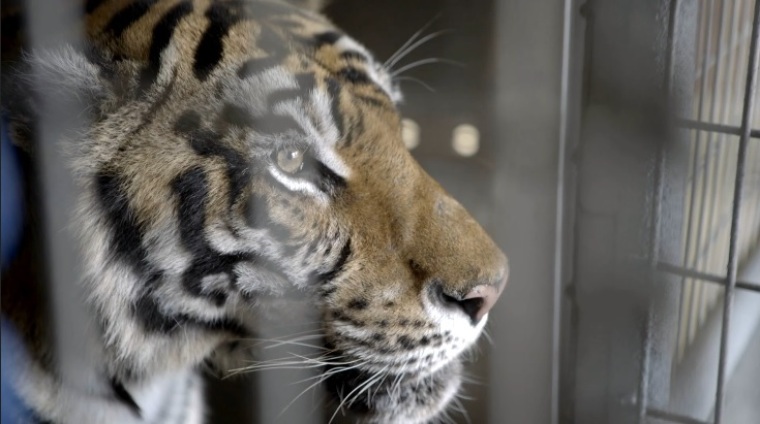 The Franklin Graham-led evangelical humanitarian aid agency has won an award from the nation's leading animal rights organization for helping save the lives of a tiger and lion left starving after a giant typhoon.
People for the Ethical Treatment of Animals has this week given a Compassionate Action Award to the North Carolina-based charity for helping transport the animals from the Pacific island of Saipan to their new home at The Wild Animal Sanctuary in Weld County, Colorado.
According to PETA, Samaritan's Purse had airlifted more than 80 tons of supplies to the U.S. commonwealth in the North Mariana Islands following the devastation caused by Typhoon Yutu in November.
It was after Samaritan's Purse's third delivery of relief supplies to the island that the U.S. Federal Emergency Management Agency called on the organization for help in transporting Tasha, the Siberian tiger, and Lambert, the African lion, from a roadside zoo that had been damaged by the storm.
The animals were flown to Colorado using Samaritan's Purse's DC-8 aircraft.
According to PETA, the rescue was made possible by Tigers in America, the organization that coordinated the rescue and supplied food and medical care for Tasha and Lambert.
Additionally, The Wild Animal Sanctuary rushed equipment and personnel to the Pacific island to manage the transport.
"Typhoon Yutu hit at the end of October and is the largest natural disaster ever to hit the U.S. territories," Samaritan's Purse's Daniel Ruiz said in a video. "When FEMA heard we were going to be bringing this third flight with relief supplies, they knew we would be returning home with an empty plane and they had identified a lion and a tiger at a local zoo here who were in need of relocation. The zoo was destroyed in the storm and we agreed to help out."
Since the zoo they were living in had shut down, the funding needed to feed the animals properly had diminished, according to Casey Craig of The Wild Animal Sanctuary.
"They were in pretty bad shape as far as they were underweight," Craig said in the video. "If getting them out now wasn't an option, they were probably within the last six [to] eight months of living."
"During any international rescues, one of the huge hurdles you'll find is transportation," Craig continued. "I know there is not a lot of flights going in and out of Saipan right now. We found out that Samaritan's Purse was taking relief supplies over there and coming back empty. It was an extremely generous offer to be able to take the crates over and be able to fly Tasha and Lambert back to the sanctuary."
According to Craig, both Tasha and Lambert will settle into a 15- to 25-acre habitat at the sanctuary.
"Lambert is a pretty goofy guy. He likes playing around. Tasha, it almost seemed like she was shutting down at the zoo. Now, she is letting us pet her. She is doing great," Craig said. "Just trying to get some nutrition and some weight put back on them is going to be a huge thing. They have been solitary for the past 15 years. The emotional state will be tremendously improved as well as their physical health."
PETA Vice President Colleen O'Brien said that Samaritan's Purse responded like a "good Samaritan" by giving the big cats a new "lease on life."
"PETA hopes this story will remind everyone that when animals are in trouble, it's up to each of us to be a good Samaritan," O'Brien said in a statement.
Samaritan's Purse will soon receive a framed certificate from PETA.
Established in 1970 by Bob Pierce, Samaritan's Purse has provided spiritual and physical aid to victims of natural disasters, poverty, war, disease, persecution and famine in over 100 countries. The organization operates with a 2018 budget of $665 million.