Samsung Galaxy S Advance Android 4.1.2, JellyBean Update Coming in January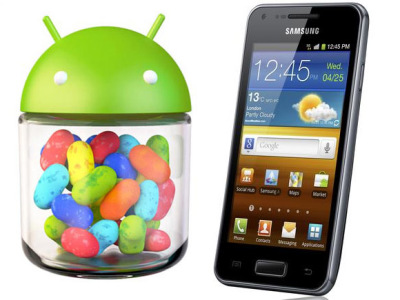 The Samsung Galaxy S Advance Android 4.1.2, JellyBean update will begin rolling out in January.
Samsung Germany announced the information on its Facebook page this week and it will roll out via Samsung Kies and OTA (over-the-air).
Samsung also promised to roll out the update to many of its other popular devices in the coming months.
The JellyBean update will also be coming to many Samsung Galaxy devices in the near future and the company released a list last month of which tablets and smartphones will receive it.
This list includes the Samsung Galaxy S2, Galaxy S3, Galaxy Note, Galaxy S Advance, Galaxy Chat, Galaxy Ace 2, Galaxy Beam, Galaxy Ace Plus, Galaxy Mini 2, Galaxy S Duos, Galaxy Tab 7.0 Plus, Galaxy Tab 2.7.0, Galaxy Tab 2 10.1, and the Galaxy note 10.1.
The Samsung Galaxy S3 Android 4.1, JellyBean update hit the U.K. last month.
The Google Nexus 7 Android 4.2.1, JellyBean update is also now available.
This same update also rolled out to the Samsung Nexus 10 and LG Nexus 4 this week.
The update brings the latest build of JellyBean to the tablet and smartphones and corrects an issue that would not allow users of the People app to select a date in December for a birthday, anniversary, or similar event.
It rolled out OTA (over-the-air) and really doesn't add any new features to the devices.
Google started reporting about the December bug effecting JellyBean users earlier this month.
"We discovered a bug in the Android 4.2 update, which makes it impossible to enter December events in optional fields of the People app," said Google on the Android Google+ page. "Rest assured, this will be fixed soon so that those of you with December birthdays and anniversaries won't be forgotten by your friends and family."
Samsung Galaxy S Blaze Q