Samuel Rodriguez Condemns 'Anti-Christian' California Bill as Worst He's Seen in Entire Ministry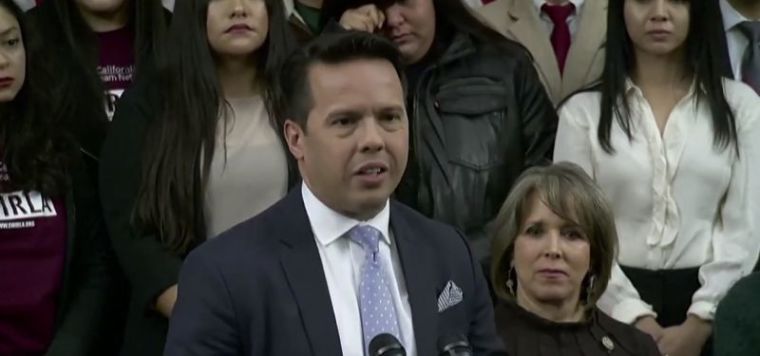 Rev. Dr. Samuel Rodriguez, president of the National Hispanic Christian Leadership Conference, has said that a California bill seeking to ban material offering sexual orientation change advice is the worst example of anti-religious discrimination he has seen in his entire ministry.
"California's AB-2943 is the most egregious, tone-def, and discriminatory example of anti-religious legislation that I have witnessed in all my years of ministry. First, I am deeply troubled this profoundly flawed bill has already passed the California Assembly and now sits with the Senate," Rodriguez said in a Monday statement.
"It is not overstating the matter when to say this bill will have a destructive effect on churches and ministries far beyond its stated purpose of prohibiting sexual orientation change efforts — which in itself represents a wrong-headed abuse of power and an assault on individual freedom," he added.
AB-2943 has already led to some ministries, such as the Colorado Springs-based Summit Ministries, canceling an upcoming young adult conference in California, due to fears that the state will crack down on any efforts deemed to be promoting "sexual orientation change efforts."
Summit President Jeff Myers explained that although his group aims to equip students with an "intelligent, defensible Christian worldview," the wording of the bill is a "dog whistle to the left that intelligent Christians holding traditional views are fair game for discrimination, smears and frivolous lawsuits."
The bill explains that the Task Force on Appropriate Therapeutic Responses to Sexual Orientation has concluded that sexual orientation change efforts can cause LGBT people to face "confusion, depression, guilt, helplessness, hopelessness, shame, social withdrawal, suicidality, substance abuse, stress, disappointment, [and] self-blame," among other problems.
Some analysts, such as Jon Greenberg of Politifact, have argued that despite the concern of some conservatives, the bill would not actually ban sales of the Bible.
"The general consensus is that the Bible covers a lot of ground and the proposed law would have no effect on the ordinary sale of Bibles," the website stated.
"If the law had any impact at all, it would be on those occasions when a Bible is sold in conjunction with a program to change someone's sexual orientation."
David French, an opinion writer and lawyer who has worked on religious freedom cases, argued the law defines "goods" and "sexual orientation change efforts" so broadly that it could include Christian books in punishments on how certain reading material is used by Christian counselors or pastors. 
"Now, I don't think California is going to sweep through Christian bookstores looking for books by Ryan Anderson or Rosaria Butterfield. That would be too much, even for them (though I would note that the statute would empower such an action.) It's far more likely that the recommendation or sharing of certain kinds of Christian books and other written materials would be deemed evidence of fraud and would present a core part of the case against a minister or counselor," he wrote. 
Rodriguez, who is also a bestselling author, similarly insisted that AB-2943 would give California "terrifying power to target and punish all those who hold a traditional, biblical view of marriage and sexuality."
"It is certainly anti-Bible and anti-Christian, but it's also incompatible with the other major religions including Judaism and Islam. We repudiate all vestiges of discrimination and bigotry against any of God's children, without exception. We must not allow AB-2943 to progress any further legislatively. I urge all those who count as sacred our right to freedom of religion, to stand against this terrible bill," he argued.
Others, such as Rod Dreher, author of The Benedict Option who writes for The American Conservative, said that progressive Christians shouldn't rejoice at the obstacle such a bill would put in front of ministries.
"I would be appalled if a pro-LGBT organization decided to cancel a conference in my conservative state because they legitimately feared that local prosecutors would charge them over what they intended to say at the conference. That's not America, or at least not the kind of America I want to live in. But this is California," he warned.