San Diego Megachurch Pastor Interviews NFL's Danny Woodhead on Surrendering to God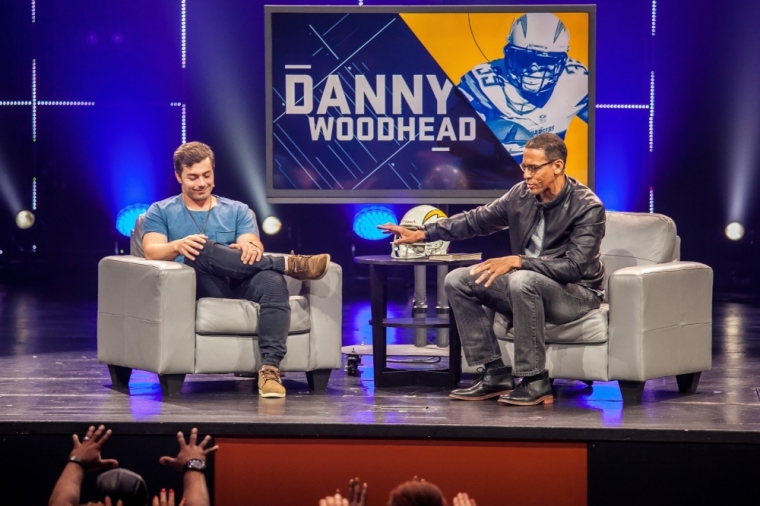 Pastor Miles McPherson of The Rock Church on Sunday interviewed San Diego Chargers' running back Danny Woodhead, who shared with the congregation how he surrenders to God in his life as well as when he plays his game.
Pastor McPherson, who played for the Chargers for 4 years, told the members of his San Diego megachurch that Woodhead's testimony is not just for them to hear and be encouraged by it, but for them to apply it to their life. "As you listen to Danny's story, I want you to think about your life and how God wants you to know Him better."
"I grew up in a strong Christian home, both parents served Jesus. It was all about Jesus," Woodhead, who joined the San Diego Chargers in 2013, told Pastor McPherson. "I had great examples. My mom and dad taught me that it was about a relationship with Him," the NFL star added. "It wasn't a set of rules. That was the example to me, that it's about a relationship with Jesus."
Woodhead also shared that in spite of being all-state three straight years in high school, he didn't get an offer from a D1 program. "I thought I deserved a D1 scholarship. Me and my parents started praying about it and just said, 'God, just show me where to go.'"
He continued, "After my college success, I was thinking 'cool,' I'm going to get an opportunity to sign with an agent. But I didn't get called to the combine. And I was like, 'What are we doing, God?'"
Woodhead got invited to University of Nebraska's Pro Day and clocked at 4.33-4.38 in the 40-yard dash. He went undrafted but signed as a free agent with the New York Jets. However, he tore his anterior cruciate ligament before his first season. "I remember in the van going to get my MRI talking to my wife saying 'I'm done.' But then during rehab it felt like God was saying, 'You're gonna play.'"
Talking about his first week of practice after signing with the New England Patriots, Woodhead said, "I probably had the best week of practice of my career. And then in my first game I scored a touchdown on my second carry of like a 38-yards… After I'm like really angry for 3-4 hours a day, God just tells me to surrender. I understood that he was going to take care of us, even when I didn't have a clue what He was doing. But, here I am."
He told the congregation, "When you don't know what to do, just give it to Him. It's the hardest thing to do, but when you do it, you're never ever alone."
Woodhead read Philippians 4:13, "I can do all things through Christ who strengthens me."
"The only thing I know is that the Bible is the truth," he said. "You know what? If it comes from the Bible, I'm good. It means that when life sucks, when it's a struggle, whatever you're going through, you're gonna be cool. Even if you give your struggles to God, there are gonna be tough times. But in the end you got Him, and you know what? You don't need nothing else."
Pastor McPherson has earlier interviewed athletes Ken Shamrock, Russell Wilson, Drew Brees, and Cristiane Justino "Cyborg" during church services.
"Growing up, my family was crazy about sports. Sundays brought three guarantees to our household: eggs for breakfast, church, and watching football," the pastor wrote in an exclusive column for The Christian Post last week. "I try to bring Christian athletes in to share their stories as often as possible."
The megachurch pastor added, "I love giving the athletes the opportunity to lead our culture in a positive way — something I didn't know how to do as a young pro. If you ever find yourself disappointed with what you see in pro athletes, remember that we're all a part of the culture they represent and be the change you want to see."