Seattle Seahawks QB Russell Wilson Tells Rock Church He And Ciara Are Dating 'Jesus' Way,' Abstaining From Sex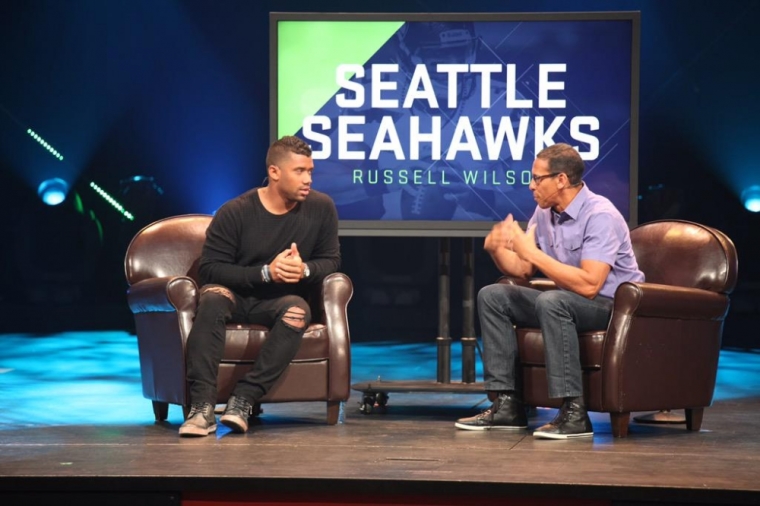 Seattle Seahawks quarterback Russell Wilson asked members of The Rock Church to pray for him and singer Ciara Harris on Sunday as they strive to build a strong relationship "Jesus' way" and abstain from sex.
Wilson, 26, participated in a 48-minute Q&A session with pastor Miles McPherson at The Rock Church in San Diego on Sunday, where he was candid about his relationship with Ciara. There, he revealed that the pair had not been sexually intimate and would abstain from doing so until they were married.
The star quarterback who made it to the Super Bowl two years in a row recalled asking his girlfriend a very important question about their relationship.
"I asked her 'what would you do if we took all that other stuff off the table and did it Jesus' way, no sex?" Wilson questioned the singer.
Even lthough Wilson said Ciara agreed, the Christian athlete admitted that resisting temptation in his relationship has not been easy. He called for people to pray for celibacy with the entertainer he labels a "15 out of 10."
"I need y'all to pray for us," Wilson said.
While making his media rounds recently, the football star stopped by late night talk show "Jimmy Kimmel Live!." There, he revealed that the pair had been seeing each other for four or five months and were "seeing how it goes."
"It's going well. (We've) been to the White House and been to some cool places," Wilson told Kimmel. "It's been fun. She's a special girl."
Kimmel then surprised Wilson with a video of Ciara rooting for rival quarterback Tom Brady whom he faced in Super Bowl XLIX. In the video, the singer made it clear that she was a fan of Brady.
"I rep Tom Brady all day everyday …," Ciara said in the Instagram video made prior to her dating Wilson.
Wilson laughed at the video and joked about it causing issues for the pair.
"Well that was our first argument. ... I saw that about a week ago," Wilson joked. "Her response was the fact that the following week she was cheering for the Seattle Seahawks and she was rooting for us the whole time."
Last month, Wilson invited Ciara to visit the Seattle Children's Hospital where the pair met children who are battling cancer. While Wilson regularly visits the hospital, Ciara spoke about being touched by her experience there.
Their bravery, will, and courage touched me in a way I can't explain," she tweeted about the children she met at the hospital. "I am thankful!
Ciara has her own child that she shares with hip-hop star Future whom she broke off an engagement with last year. Although she is not as vocal about her spiritual beliefs as Wilson, Ciara previously spoke about her son being the greatest gift that God has given her.
"Honestly, I feel like everything in life happens for a reason and my son has been the greatest gift that God has given me in my life and been the most game-changing thing that's happened to my life, in a necessary way," she said on Power 105.1 FM's syndicated radio show, "The Breakfast Club" earlier this year.