Russell Wilson Organizes 'Coming to Jesus' Meeting for Seattle Seahawks to Absolve Super Bowl XLIX Rancor
Russell Wilson Organizes 'Coming to Jesus' Meeting for Seattle Seahawks to Absolve Super Bowl XLIX Rancor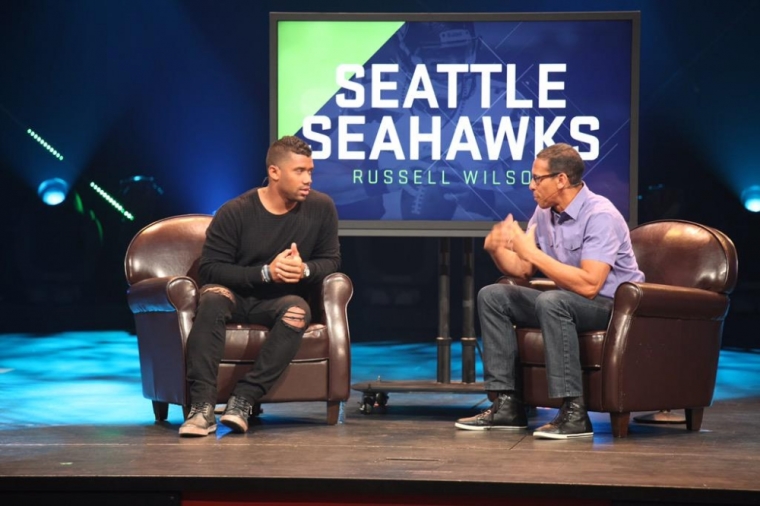 Russell Wilson took his Seattle Seahawks to Hawaii for a "coming to Jesus meeting" during the NFL season to air out their grievances after a Super Bowl loss.
Wilson, the 26-year-old Christian Seahawks quarterback, organized a trip for 85 members, his teammates, coaching staff and their families for a divine moment in Maui, where they could find common ground after a disappointing end to their season last February. The QB threw an interception instead of passing to running back Marshawn Lynch that cost his Seahawks a second-straight championship ring during Super Bowl XLIX which resulted in tensions running high within the team.
In what some Seahawks players called a come to Jesus meeting which was detailed by Sports Illustrated, Wilson spoke about his goal for the trip where he hoped to bring his teammates closer together.
"I brought you guys out here, away from everybody," Wilson said, according to Sports Illustrated. "I want to have a heart-to-heart."
Seahawks wide receiver Doug Baldwin spoke about the experience, and how each teammate had to analyze things beyond the scope of football.
"It wasn't even necessarily about football," Seahawks wideout Baldwin told Sports Illustrated. "It was more about our responsibility as teammates to each other. It was: What are you going to fight for? And how are you going to fight for it?"
Sports Illustrated detailed the 45-minute conversation that included harsh words, issues, and vulnerabilities by members of the team who Wilson wanted to bring back to being of one accord.
"It gave me chills," Wilson said of the divine meeting.
The fateful Super Bowl XLIX last play made by Wilson proved to be a monumental moment in his spiritual life. He previously spoke about God speaking to him about it.
"The play happens, and they pick the ball off. And I take three steps," Wilson told Pastor Miles McPherson in an interview at The Rock Church last July. "And on the third step God says to me, 'I'm using you. ... I want to see how they respond. But most importantly, I want them to see how you respond."
In the interview that made major media headlines, the Seattle Seahawks quarterback revealed that God also spoke to him about leading his 29-year-old singer girlfriend Ciara in abstaining from sex. After he received some public ridicule for sharing his testimony, McPherson decided to defend the NFL star weeks later in a Rock Church blog post called, "3 Things You Got Wrong About Russell Wilson."
McPherson created three questions that some of Wilson's critics brought to his attention, the first being, "Did God really speak to [Russell Wilson]?"
"I can totally understand people questioning if God would speak to anyone since so many people worship things that can't talk, such as money, cars, success, and even good deeds. It would be absolutely ridiculous to expect those idols to speak to you, especially with a personal message," the pastor wrote. "However, hearing God speak isn't a foreign concept for people who worship a living and loving God. He not only speaks, but He created speech and wants to be involved in our everyday lives."
McPherson made it clear that expecting to hear from God is no laughing matter when he wrote: "If you believe God hears your prayers, you should expect Him to speak to you."