Sandra Bullock Prank: Actress Tricked Into Pool By George Clooney (VIDEO)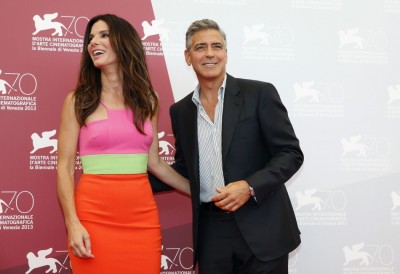 Sandra Bullock recently opened up about a prank played on her by George Clooney, which ultimately left her expensive dress in ruins.
The Hollywood actress, 49, recounted the prank during an appearance on "The Tonight Show with Jay Leno" on Friday. Clooney, who is a longtime friend of Bullock, reportedly tricked his "Gravity" costar into jumping in a pool alone at a dinner party.
"I went to the bathroom and came out and there was George and someone else with just their pants on going, 'We're gonna go in the pool,' and I was like, 'Really?' " Bullock told Leno according to Yahoo.com.
"And so I held their hands and on the count of three, and in slow motion I see Nicole Kidman with a stack of towels ... and I jump, and they let go, and I go in the pool," she continued.
"Oh, you were the only one in the pool?" Leno asked.
"Yeah. But the sad part was I wore this cute little lace dress that I paid a lot of money for, and as I got out, it started disintegrating," she said drawing laughter from the crowd.
The Virginia native also took the time to address recurring romance reports, insisting that she and Clooney, 52, have never dated. The actress explained that they are simply "too similar" to be involved.
"I think we're probably the only two that haven't dated in the business. I think it's probably because we're a little too similar," Bullock said. When Leno pressed her to explain in what ways they are similar she said "In all the disturbing ways."
The actress has kept a low profile since her widely publicized divorce from Jesse James. His affairs with other women were brought to light after Bullock's Oscar win for her role in the "The Blind Side" in March 2010.
"We're all where we're supposed to be," Bullock told Vogue when asked about James. "I am exactly where I want to be now. You can't go backward. I'm not going backward. I'm grateful that I'm here, blessed to have what I have. Nobody can be prepared for anything."