Sandra Fluke's DNC Speech to Compare Romney and Obama on Women's Rights
Democratic National Convention to Also Hear From Bill Clinton and Elizabeth Warren
Women's rights activist Sandra Fluke, who conservative talk show host Rush Limbaugh previously called a "slut" for supporting President Barack Obama's healthcare mandate, will be speaking tonight, Sept. 5, at the Democratic National Convention in Charlotte, N.C.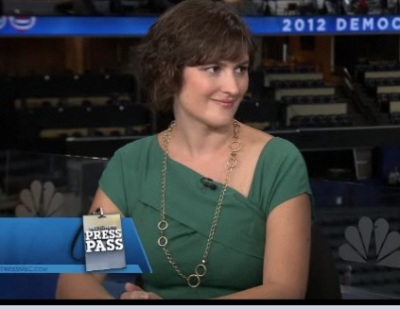 Political pundits contend that Fluke's presence at the DNC will help solidify the female vote for Obama.
In an interview with CNN's "Starting Point," Fluke previewed this evening's speech by telling host Soledad O'Brien that she plans to focus on the records of President Barack Obama and GOP nominee Mitt Romney.
"[I will] talk about what kind of policies for women Mr. Romney and Mr. Ryan have stood for, and what the president has stood for on issues like fair pay, access to reproductive healthcare, violence on women," Fluke told O'Brien during Wednesday's interview.
Fluke also appeared on NBC's "Meet the Press" on Wednesday to discuss her plans for tonight's speech. The former Georgetown University student once again said she would be focusing on each presidential candidate's record with women's rights.
"What I want to make clear is the choice that we have facing us this November," Fluke explained. "I think the best way to do that is to really talk about their records, especially their records on issues that matter to women -- on women's health, on equal pay, and on violence against women," she added.
Fluke also assured host David Gregory that she believes Obama will receive an immense amount of support from the female American population at the polls this November.
"It's still in double digits," said Fluke regarding female support of Obama.
"That support from women is not going anywhere. And I think that's because women realize that we have an agenda to get done in the next four years. You know, the Violence Against Women Act still has not been reauthorized. The Fair Pay Act has not been passed. So our work is not done. That women's support's not going anywhere," she added.
Fluke gained notoriety in February of this year when she went before House Democrats to testify in support of mandating insurance coverage for contraceptives, a stipulation of President Obama's Affordable Health Care Act.
One week later, conservative talk show host Rush Limbaugh called Fluke a "slut" and a "prostitute" for going "before a congressional committee and essentially [saying] that she must be paid to have sex."
Limbaugh received massive public backlash for his comments, and President Obama spoke with Fluke personally after the incident to thank her for speaking at the House hearing.
Fluke will be joining fellow speakers former President Bill Clinton and Elizabeth Warren, Democratic Party candidate in the 2012 United States Senate election in Massachusetts, at the DNC on Wednesday evening.