Santorum Accused of Making 'Racist' Welfare Comment in Iowa
Does GOP Presidential Frontrunner Have History of 'Racist' Remarks?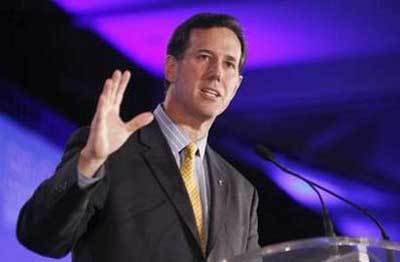 Rick Santorum, GOP presidential candidate and current "star" of the 2012 race to the White House due to his surprising performance in Iowa, is going to New Hampshire with voter momentum and media spotlight. But the former Pennsylvania senator is also taking heat for allegedly making a racially-charged remark about black people – something he has been accused of several times in the past.
Speaking to a roomful of Iowan voters shortly before the Jan. 3 caucus, Santorum answered a voter question about foreign influence on the economy by responding with an answer about entitlement reform, according to CBS News.
"It just keeps expanding – I was in Indiana a few months ago and I was talking to someone who works in the department of public welfare here, and she told me that the state of Iowa is going to get fined if they don't sign up more people under the Medicaid program," Santorum said. "They're just pushing harder and harder to get more and more of you dependent upon them so they can get your vote. That's what the bottom line is."
He added: "I don't want to make black people's lives better by giving them somebody else's money – I want to give them the opportunity to go out and earn the money."
When CBS News, which pointed out that 84 percent of food stamp recipients in Iowa are white, later asked Santorum about the comment, the candidate said he did not remember the context in which he said it, but that he was probably referencing "Waiting for Superman," a documentary about black children affected by the public school system.
Although there is some dispute online about whether or not Santorum actually said "black people's lives" or if he made a non-word sound as he was thinking aloud – Mediaite claims Santorum actually said "mm-bligh people's lives" – however, the majority of news sites and bloggers insist that the video clearly shows Santorum said "black people's lives."
What has added outrage to the alleged comment is that Santorum has previously been accused of making insensitive, racial remarks about African-Americans in regard to abortion and marriage.
In Jan. 2011, the former Pennsylvania senator took criticism for a comment he made in an interview with Christian News Service (CNS) in which he insinsuated that President Barack Obama should be pro-life because he is black.
"The question is – and this is what Barack Obama didn't want to answer – is that human life a person under the Constitution [sic]? And Barack Obama says 'no,' " Santorum said in the CNS interview. "Well if that person – human life is not a person – then I find it almost remarkable for a black man to say, 'we're going to decide who are people and who are not people.' "
After several blogs, including Slate.com, called the comments "stupid, offensive, and racist" because they suggested that a person should hold a specific opinion because of their race, Santorum defended himself by saying that video clips in which he made the comments were taken out of context and did not correctly represent what he said during the CNS interview.
"For decades certain human beings were wrongly treated as property and denied liberty in America because they were not considered persons under the constitution," he said in an in statement in response to criticism. "Today other human beings, the unborn of all races, are also wrongly treated as property and denied the right to life for the same reason; because they are not considered persons under the constitution. I am disappointed that President Obama, who rightfully fights for civil rights, refuses to recognize the civil rights of the unborn in this country."
Santorum also took criticism for making what some considered to be racist remarks when he suggested that African-Americans needed to "learn" about marriage and that they could so so by watching the Obamas.
Citing statistics about the number of black children born out of wedlock, Santorum said in a Fox News interview that "Marriage is an institution that's a bridge too far for too many African-American women and is not desirable among African-American males."
He added: "Here we have a president of the United States who says that marriage is cool. You have respect for your wife, and you treat her with the respect and dignity that she deserves. And she is part of this team. And it's not just part of a professional team, but it's also part of a personal, romantic team. I think that's all great. So I think it's important that he keeps having his date night."
A Washington Monthly blogger called the remark "condescending," and comments on popular commentary blog BlackSnob.com referred to it as "patronizing" and "insulting" because they singled out black people as needing help with marriage.
A few candidates in the GOP race has a history of making comments perceived as racially insensitive during the 2012 campaign, including Newt Gingrich, who took criticism for saying the Palestinians are an "invented people" and suggesting that "poor inner-city kids" do not have parents who work." Mitt Romney has also been scrutinized for belonging to the Mormon Church, which did not allow black people, who were purportedly "cursed," to fully participate until 1978 – when he was already 31-years-old. Ron Paul has also been in the spolight for several newsletters with vehemently "racist" remarks against blacks and Jews published in his name.
Each candidate has denied allegations of making racist comments.
Santorum has been hailed as the favorite of evangelical Christian voters due to his stances on abortion and same-sex marriage. He finished with 24.5 percent of the votes, essentially tied with Romney, who garnered 24.6 percent; Paul finished with 21.4 percent of the votes.
The next caucus will be held Jan. 10 in New Hampshire.