Sanya Richards Ross Says She Wouldn't Have Olympic Gold Medals Without God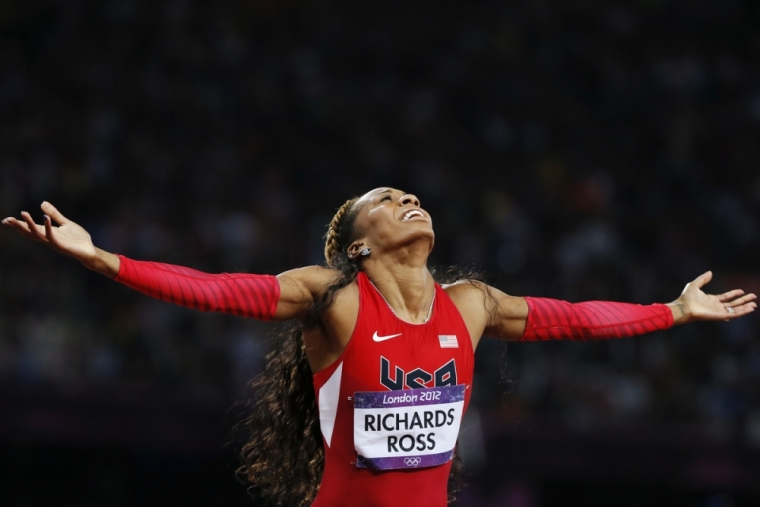 Sanya Richards-Ross has four Olympic gold medals but she knows that none of those would be possible without God.
As she prepares for the Summer Olympic Games in Rio de Janeiro, Brazil this August, the track and field athlete is reflecting about her big wins at the 2012 Olympic Games in London. She posted an image of herself after winning the women's 400m final with this message inscribed on the photo: "one plus God is always a majority."
"When I reflect on this victory I know it was only the grace of God....," the 31-year-old Christian runner wrote on Instagram. "All good things come from above #blessed #OnAMission #RoadToRio #believe."
Richards-Ross, the wife of NFL free agent Aaron Ross, has competed at three Olympic Games: Athens in 2004, Beijing in 2008 and London in 2012. Now that she is preparing for her fourth Olympics and ending her career, Richards-Ross has a different mindset.
"This year, I'm really training from a place of love, hope and anticipation," she said. "I really hope this will be my swan song, and I'll be able to leave the sport on a really high note."
While she may be equipped with a great deal of confidence, that does not mean Richards-Ross is exempt from having to deal with setbacks. On June 27, 2015, she failed to qualify for the 400-meter final at the USA Outdoor Track & Field Championships, even though she was the gold medalist in the event at the 2012 Olympics in London.
Although she took to Instagram to admit feelings of discouragement, Richards-Ross also looked at her disappointment from a faithful perspective while preparing for the 2016 Olympic Games.
"This is not how I envisioned my 2015 but I know God is always on time," she wrote on Instagram. "I know I'll make the necessary adjustments and be ready for Rio! Thanks for all the love means more to me than I could express #TeamSRR #OnAMission #RoadToRio #Blessed."
After undergoing multiple surgeries due to a foot injury, the four-time Olympic Gold medalist holds onto the belief that her faith is getting stronger with each obstacle.
"When I trust in God he comes through," Richards-Ross previously told The Christian Post.  "I just think as I've grown in my faith and grown in my trust in God every obstacle doesn't seem insurmountable."
These days, Richards-Ross told People that she has a different feeling going into the Olympic Games.
"I have a different perspective this year," she said. "I'm leaning on the experience I had in the past, and this year just feels right."