Sarah Palin Calls on Americans to Pray for Secret Service Agent Battling Cancer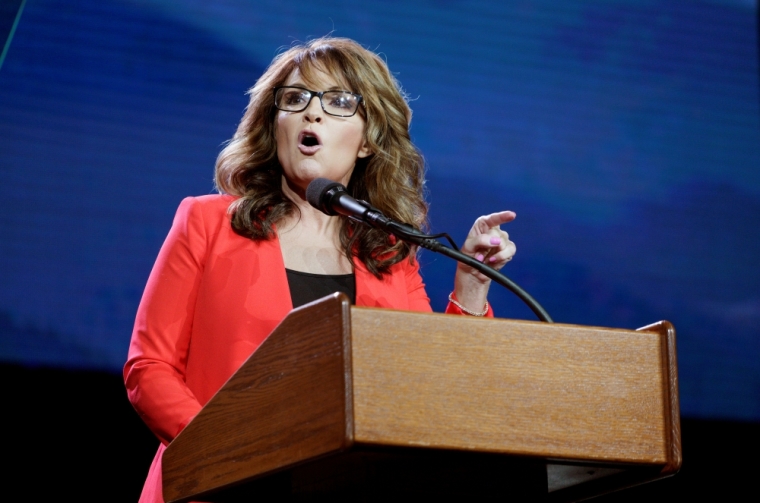 Former governor of Alaska and Republican vice presidential nominee Sarah Palin is asking Americans to pray for a U.S. Secret Service agent who's battling cancer, which Palin called an "unfair, evil disease."
"Prayers are needed for U.S. Secret Service agent Julia Simpson in her serious battle with cancer," Palin wrote to supporters on her Facebook page on Tuesday.
"Julia's always been a favorite! Assigned to our VP campaign security detail, it was a joy getting to know her as a woman of integrity and a hardworking professional with a servant's heart," she added, sharing a photo of the two at an event.
"Cancer is hell. I hate to see the struggle against this unfair, evil disease; please let's pray for Julia and help her with medical costs by clicking here," she added, linking to a GoFundMe webpage that has collected over $22,000 in donations for Simpson.
The page explains that Simpson was diagnosed with breast cancer in 2010, for which she underwent chemo, radiation, and two lumpectomies.
"In May 2015, Julia underwent an emergency hysterectomy after collapsing in severe abdominal pain. Ironically, Julia was actually at the hospital for a breast cancer follow-up when she collapsed," a timeline of the events reads.
"Julia was diagnosed with uterine leiomyosarcoma, a rare and aggressive cancer. After the emergency surgery, Julia was prescribed two different forms of chemotherapy — neither of which were effective — and the tumors grew once again inside her abdomen."
The agent reportedly underwent an eight hour surgery to remove seven tumors from her abdomen in May, which required her to stay at the hospital for 14 days.
The page states that insurance covered only part of the many expenses associated with the medical procedures and medications, but not all of it, leaving Simpsons in a "challenging financial situation."
The latest update reveals that Simpson suffered complications and had to go to the emergency room earlier in October following intense chemotherapy.
"In consultation with her medical team, friends, family, and her God, Julia entered into hospice in NYC on Oct. 14. As of today, Oct. 25, Julia remains in hospice in NYC and is comfortable and pain free," the update stated.
"Julia's mother and sister traveled to NYC and remain by her side. They are both humbled and thankful for all of the support they have received. Your donations will assist with travel, hotel rooms, meals, care of Julia's beloved dogs, and other support."
Palin revealed back in December 2015 that she had a skin cancer scare of her own earlier that year, but her fears were allayed after a visit to the surgeon.