Sarah Palin: 'We Won' Culture War in 'Duck Dynasty' Controversy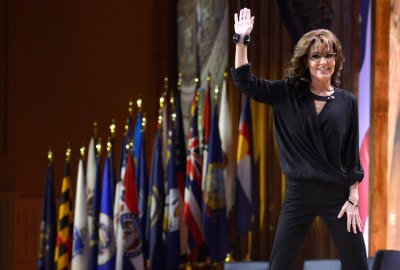 Former Alaska Gov. Sarah Palin said over the weekend that conservatives have won the "culture war" controversy over comments made by Phil Robertson, star of the hit A&E reality series "Duck Dynasty."
While speaking at the Conservative Political Action Conference in the Washington, D.C., area on Saturday, Palin riffed on the December 2013 incident involving Robertson, who at the time told GQ Magazine that as an evangelical Christian, he believes homosexuality is a sin. Robertson was suspended by the A&E network from appearing on his reality show, only to be reinstated nine days later following massive public backlash from those who argued the Christian businessman was well within his First Amendment rights to freedom of speech and freedom of religion.
Palin told the CPAC crowd that conservatives should feel good about their future because they are "pushing back" against the "perpetual panties-in-a-wad people" whose job is to be "professionals about taking offense" regarding political incorrectness.
The former Republican vice presidential nominee gave Robertson as an example of someone who is unafraid to express his beliefs, even if they may seem politically incorrect to some. "Here's Phil, he's talking about faith, with a reporter from GQ – first mistake," Palin said, receiving an uproarious response from the crowd. "But in between saying that he loves humanity, he loves all us sinners and – leave it to God to judge – well, he quoted the Bible, and he got colorful in expressing his opinion."
"So what did that brilliant TV network do?" she continued. "They fired him. They canned the devout Christian for expressing his devout Christian views on a television show about his devout Christian family."
Palin went on to reflect on the massive amount of public support Robertson received following his suspension, with thousands of Americans signing petitions asking A&E to reinstate the family patriarch. Additionally, influential political figures, including La. Gov. Bobby Jindal, stood behind the West Monroe-based entrepreneur and his right to free speech.
"In another time, that might have been it. Phil would have stayed fired. But not now, not this time … People all over America understood that Phil's right to express himself, that fight that he had to undertake, well, that was all about our right to express ourselves."
"His fight was our fight and we pushed back and we won," Palin concluded, receiving cheers and applause from the audience.
While closing out the CPAC event on Saturday, Palin also garnered laughs from the crowd by reading aloud an altered version of Dr. Seuss' "Green Eggs and Ham" that poked fun at the Obama administration. Palin's version of the popular children's book began by saying "I do not like this Uncle Sam."
The "Duck Dynasty" reality show has continued to achieve strong ratings on the A&E network following Robertson's suspension and subsequent reinstatement. Robertson has yet to give an official statement on the controversy, saying in February that his response will be well-documented in his upcoming book, unPHILtered: The Way I See It, slated for a fall 2014 release.