Sarah Silverman, Feminists Mock Pro-Life Laws, Joke About Abortion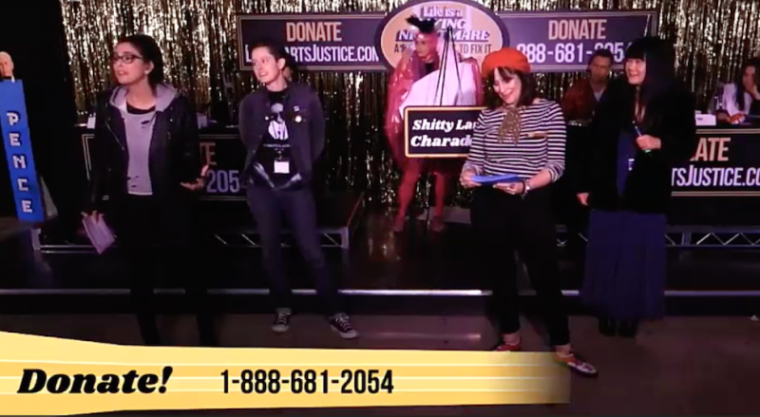 Comedian Sarah Silverman and feminists, including Lizz Winstead, recently took part in a pro-choice telethon for Lady Parts Justice League, where anti-abortion laws were acted out in charades and conscience clause laws were mocked.
The event, titled Life Is a Living Nightmare: A Telethon to Fix It, which was held to raise funds for Lady Parts Justice League, was held on Thursday, according to News Busters.
The program included someone dressed as a vulva, abortion charades, an interview with abortionist Willie Parker and speeches.
Volunteers were asked to act out two laws, "You cannot use aborted fetuses as ingredients in the manufacture of food products," and "Clinics are mandated by law to cremate or bury every aborted fetus."
After the first "sh**** law" charade was acted out, Silverman said, "It's this bananas law that makes you think that eating fetuses is a thing and it's not; and if anything has ever made me want to eat an aborted fetus, it's this law."
In 2012, Sen. Ralph Shortey of Oklahoma had introduced a bill banning the use of aborted fetuses in food after coming across suggestions that some companies may be using embryonic stem cells to develop artificial flavors. Shortey said he was not aware of any company in his state that was doing so but wanted to prevent it.
During the telethon, Winstead also blasted conscience clause laws where medical professionals can refuse to provide services for religious or conscience reasons. Silverman remarked, "Religious freedom used to be such a beautiful thing cuz it was like this big inclusive thing in the country, and now it's just this shroud to legalize hate and sh** like that."
After the second charade on a law that requires the burial of aborted fetuses, Silverman said to laughter, "Funerals for f***ing aborted fetuses? I would like to speak at those funerals. He lived the way he died. He died the way he lived. The size of a sesame seed with no discerning brain function."
Star Wars actor Mark Hamill was also part of the event, and created two art pieces to be auctioned off. He told the crowd, "Disney gave us a Last Jedi poster, and when we figure out who wins, I'll personalize it. I'll write something obscene and dirty if you want."
Winstead then joked, "Mark Hamill is actually going to become an abortion provider. He'll give you an abortion with a Jedi wand. It's going to be awesome."
Winstead later got emotional talking about abortion providers. "These people that provide this amazing care for people are demonized and shunned and they provide literally a pathway to somebody's life every single day. And if we let them have to provide the care and defend what they do, when we've all used it to become better people, we're doing a disservice to our society. And so that's why we do the work."
During the charades, some volunteers were heard shouting, "Kill the baby!"
Lady Parts Justice describes itself as "a cabal of comics and writers exposing creeps hellbent on destroying access to birth control and abortion."
The group says its goal is "to create a fun and active social community which works to expose and remove politicians who are reproductive health hazards."
Funds raised from the event will go toward "LPJ's boots-on-the-ground efforts to get out the vote, production of hilarious and informative videos, and work with activists to help them grow their support bases in an effort to expose anti-choice politicians and help elect pro-choice politicians."