Saturday Night Live Spoofs Paxil Commercial for Obama's Second Term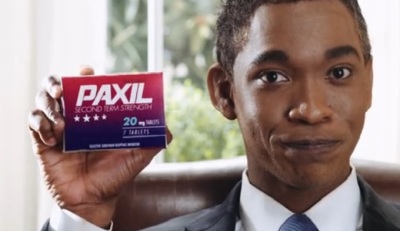 A new skit from NBC's "Saturday Night Live" poked fun at President Barack Obama's rocky second term by advertising an extra-strength version of the anti-depressant Paxil, "the only anti-depressant strong enough for an embattled second term."
The mock advertisement, featuring "SNL" cast member Jay Pharaoh as Obama, points to several scandals that have plagued the president's second term, including the aftermath of the Benghazi attack, malfunctions with the Obamacare website, and the NSA scandal, among other issues.
"You can get back on your feet and start running the country again. With Paxil you'll feel like you're giving a speech at a college campus in 2008, or getting Bin Laden all over again," the fake commercial promises.
The "extra-strength Paxil" treats a "whole range of symptoms, like Benghazi, the NSA scandal, the IRS scandal, the AP scandal, the Petraeus scandal, that time Jay Z and Beyoncé went to Cuba, and of course, Obamacare website problems," the commercial states.
The fake advertisement ends in another comedic twist by stating Paxil is not covered by Obamacare, saying, "We promised that it would be, but it's not, and for that we apologize."
The ad concludes with offering another version of extra-strength Paxil, this one aimed at helping the symptoms associated with being a Republican in Congress, showing Speaker of the House, Republican John Boehner being berated by a member of the Tea Party. The commercial ran as part of this past week's airing of "Saturday Night Live" with host and musical guest Lady Gaga.
The comedy sketch show's most recent jab at the president is not without truth; recently, Obama has been suffering widespread criticism for the bumpy rollout of the Obamacare website, and his previous promise that under the new health care system, "If you like your healthcare program, you can keep it."
Despite Obama highlighting that promise on a number of occasions, it was subsequently broken as millions of citizens received cancellation notices of their health care programs after the Affordable Care Act took effect in early October.
Even former President Bill Clinton said in a recent interview that Obama should still honor his commitment to allow people to keep their previous health care plans if they want.
"I personally believe, even if it takes a change in the law, that the president should honor the commitment the federal government made to those people and let them keep what they've got," Clinton said in an Ozy.com interview, as previously reported by The Christian Post.
Since Clinton's comments, Obama has admitted he "fumbled" the Obamacare rollout, and announced that he has created a series of loopholes that will enable some Americans to keep their canceled plans for at least another year. However, a number of health care insurance companies immediately responded by expressing it would be impossible to change things back now.