Save North Korean Refugees Day: 24 Chinese Embassies Face Protests for Repatriating Defectors to Their Death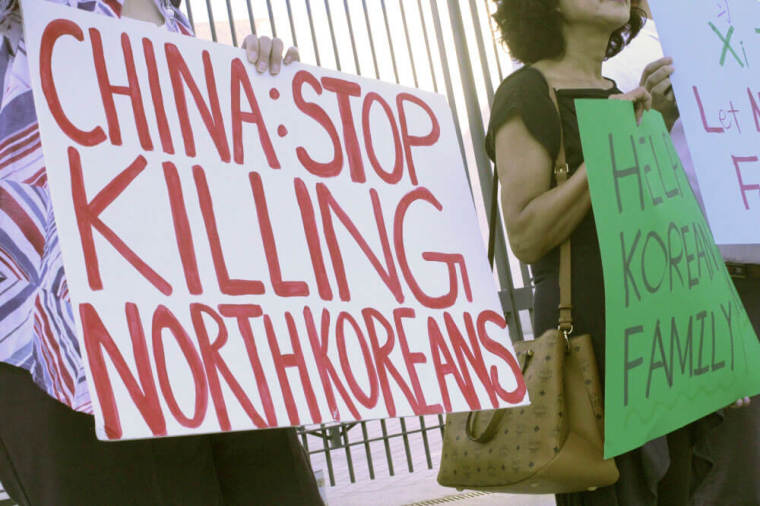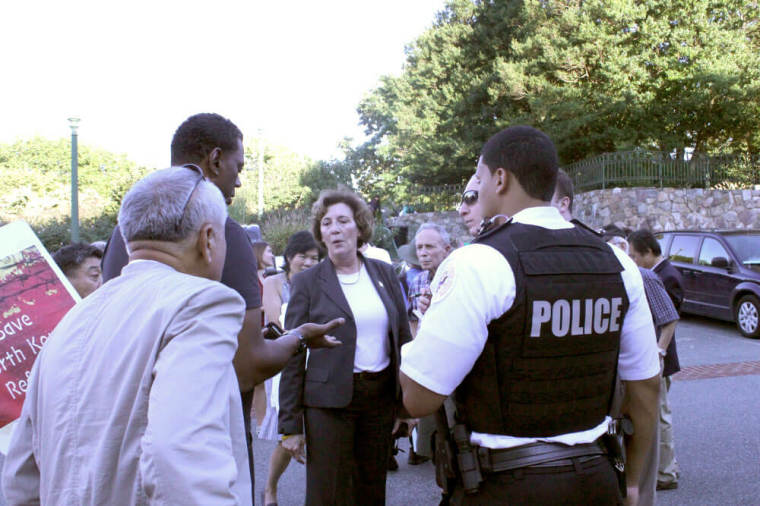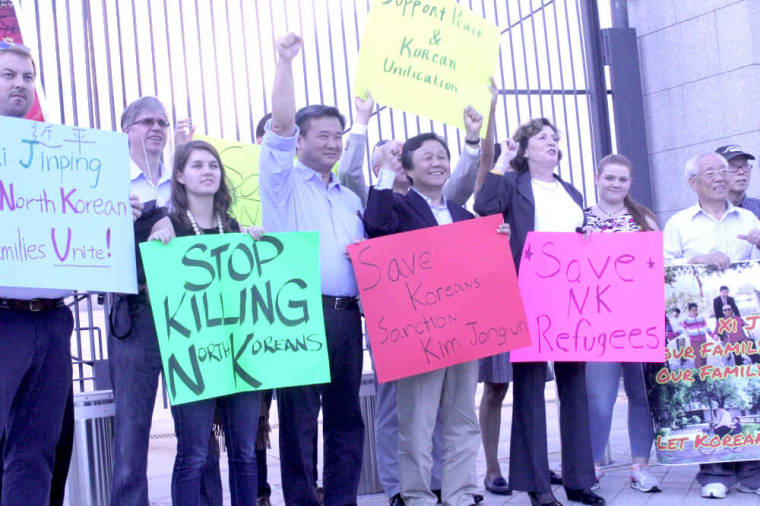 View Photos
WASHINGTON — Human rights activists in 24 cities around the world protested outside Chinese embassies on Friday and delivered petitions calling on the Chinese government to stop killing North Korean defectors by repatriating them back to their home country.
While it is an offense punishable by death or imprisonment for North Korean citizens to defect from the country and the oppressive Kim regime, the Chinese government helps facilitate North Korea's crimes against humanity by refusing to grant North Korean defectors refugee status and by sending thousands of them back to North Korea knowing full well that they will be tortured, forced to do hard labor and even killed in political prison camps.
In 2014, a 400-page United Nations report extensively detailed the widespread torture and abuse that North Korea is responsible for and found that China is violating its responsibility under international human rights and refugee laws.
Organized the the North Korea Freedom Coalition, demonstrations and candlelight vigils to honor those defectors who have been killed or imprisoned were held outside Chinese embassies in two dozen cities around the world including Washington, D.C., Chicago, San Francisco, Toronto, Berlin, Paris, Seoul, London, Helsinki and others as a part of the annual Save North Koreans Day.
Activists urged China to "stop killing North Koreans, and accused China's president, Xi Jinping, of standing "side by side" with North Korean dictator Kim Jong-un in "genocide."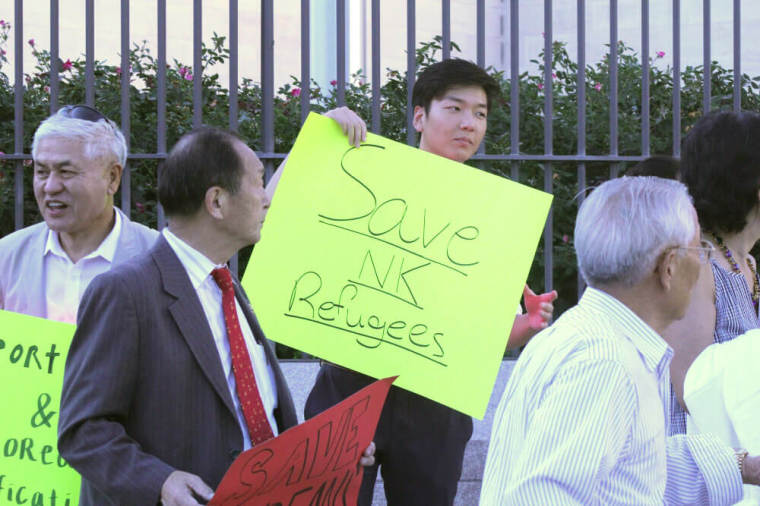 Along with the demonstrations, activists delivered petitions calling on the Chinese government to stand with the persecuted North Korean families.
While petitioners in other cities delivered their petitions with little problems, the petitioners outside the embassy in Chicago were actually blocked from delivering their petition to the embassy. According to NKFC chairwoman and chair of Save North Koreans Day, Suzanne Scholte, it is not rare for the embassies to prevent demonstrators from delivering their petitions.
"One time at the Chinese embassy, we pushed the petition through the door and they took it and they shot it out," Scholte told The Christian Post.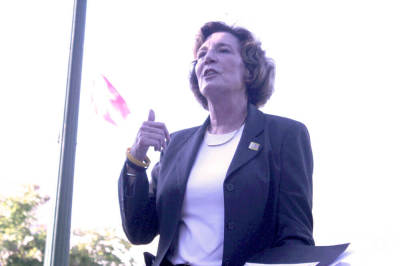 "That's very common," she continued. "I actually emailed all the coordinators yesterday and said, 'Don't be discouraged if you are not able to get it delivered because that often happens and they won't accept it. They won't answer the door even though the office is clearly open. Don't be discouraged. Just leave it.'"
Scholte explained that even if the petitions can't be delivered, the embassies still must report what happens back to Beijing.
"They knew what this was about and they will have to say, 'Yeah, people showed up in Chicago, people showed up in D.C.,'" Scholte explained. "So, people will hear your voice even though sometimes it's very frustrating."
"We have been protesting for a long time and it really hasn't changed the view of the Chinese government and of course, not yet," she continued. "But another reason why we do this is because the people of North Korea are going to know about this and the refugees in China are going to know about this and people that you would not even expect to hear about this will hear about this."
As it started getting dark, demonstrators lit up candles and took turns reading off pages of names and stories of North Korean defectors and activists who were arrested, killed, tortured and imprisoned.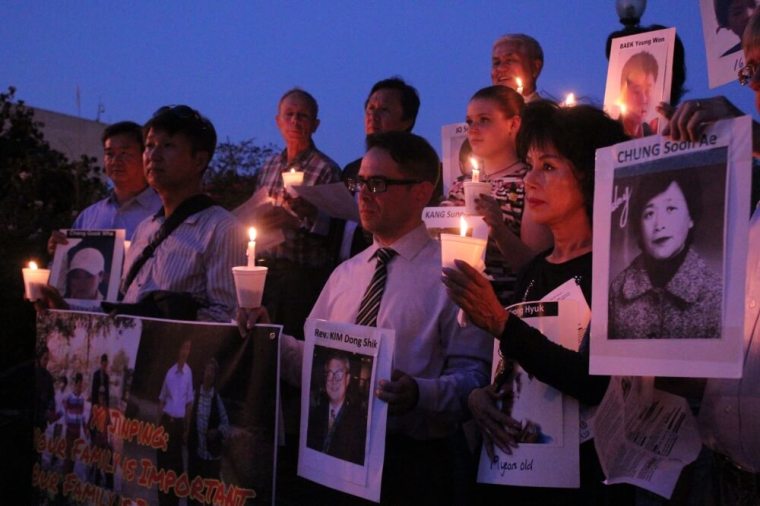 Scholte told of how six North Korean refugees were arrested by Chinese police on Aug. 23 and repatriated. She also told of how two North Korean refugees who were crossing the border on Aug. 3 were stormed by Chinese authorities, arrested and repatriated.
On May 9, four refugees who had actually already settled in South Korea were arrested and repatriated to North Korea. Scholte also explained that on March 28, a South Korean pastor who had been working with the underground church and was rescuing North Korean refugees disappeared.
"The Chinese police allowed the North Korean agents to operate in the area and we believe strongly that he was abducted. He disappeared," Scholte stated.
Jai Poong Ryu, a professor at Loyola University of Maryland and CEO of One Korea Foundation, told the gathering that China is actually violating its own national interests.
"It is not becoming of a big country that China claims itself to be," Ryu said.
"It's odd that China is going against the United Nations resolution that it led others to sign. It's violating its own principles instead," Ryu added. "No matter what Korea's relationship with China might have been, for thousands of years, we have always thought of China as a big country who think big pictures, who think in long terms, bigger than us. But we are mistaken. It is behaving like a small country. China should rise up to the status that it claims itself to be. It's a shame that China doesn't recognize its own standing and keeps on digging holes."