Secret Santas in Massachusetts Pay Thousands of Dollars to Close Out All Layaway Orders at Three Toys 'R' Us Stores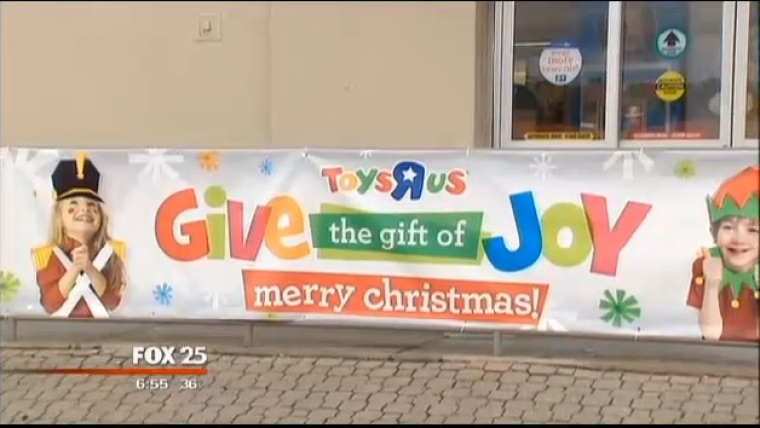 A string of secret Santas in Massachusetts made their way to local Toys "R" Us stores last week and paid thousands of their own dollars to pay off all of the stores' layaway orders in efforts to help families in financial need put gifts under the Christmas tree for their children.
The pay it forward-type of Christmas initiative took prominence last Wednesday at a Toys "R" Us in Bellingham, Massachusetts where an unidentified woman, known only as the "Layaway Angel" paid nearly $20,000 of her own money to bless hard working parents by closing out all of the store's 154 layaway orders. Each balance varied from just a few bucks to over a few hundred dollars.
One parent, who along with her kids is a beneficiary of the "Layaway Angel's" Christmas generosity, told the Milford Daily News that she was surprised when she received a call from Toys "R" Us telling her to come pick up her layaway order because her balance had already been paid for.
"I thought, 'You've got to be kidding me,'" the mother, going by just her first name of Linda, said. "I almost wanted to cry. It was only $50, but to me that's a lot of money, and that someone would go and do that gave me chills."
Another beneficiary of the "Layaway Angel's" kindness is a father named Jason Wood, who had put gifts on layaway for his 6-month old son and 5-year-old daughter. Because Wood no longer had to pay for his own children's gifts, he decided to go ahead and spend the money on toys to donate to Toys for Tots charity program.
"I wish there was more people like that," Wood told MyFoxBoston.com. "You've got to pay it forward. It's good Karma."
Two days after the "Layaway Angel" paid off the $20,000 in layaway orders at the Bellingham store, Cathy O'Grady, the founder of a charity called Sofia's Angels, paid off the layaway accounts at two Toys "R" Us stores in Auburn and Framingham, Massachusetts.
Although a Toys "R" Us statement indicates that O'Grady had paid over $19,600 to close 125 layaway orders at the Auburn store, O'Grady told a local news source, The Telagram, that she only paid about half that much at the store.
O'Grady added that she had paid off nearly $2,000 in layaway balances at the Framingham store earlier in the day, after noticing the woman in line in front of her paying $3,000 to settle a number of layaway accounts. Later that day, O'Grady was told by her friends, when she met up with them for lunch in Auburn, that there was another Toys "R" Us store nearby.
"I said, 'if I can do one [store], I can do both,'" O'Grady said.
O'Grady additionally denied that she was the "Layaway Angel" who paid for the layaway items at the store in Bellingham.
O'Grady told MyFoxBoston that she is just glad to help out families in need.
"These families are obviously struggling and they're putting things on layaway, and I'm able to help them," O'Grady said. "There's never enough to do. There's always more to do."
Although the Toys "R" Us policy normally gives layaway customers, who are required to put a 10 percent down payment on layaway items, 90 days to pay off the rest of the order, the Boston Globe reported that Toys "R" Us has imposed special layaway deadlines for this upcoming week due to the high demand of holiday shopping.
Toys "R" Us spokesman Bjorn Trowery said that two weeks ago, another generous man at a store in Woburn paid over $1,200 to pay off the layaway orders of the eight people standing in line behind him at the store.
"With the holidays here, people look for interesting ways to spread some cheer," Trowery said. "It's a fascinating gesture. I find it interesting that it has happened back-to-back weeks in Massachusetts."