'A ripple effect from Asbury': Secular universities now seeing revival gatherings on their campuses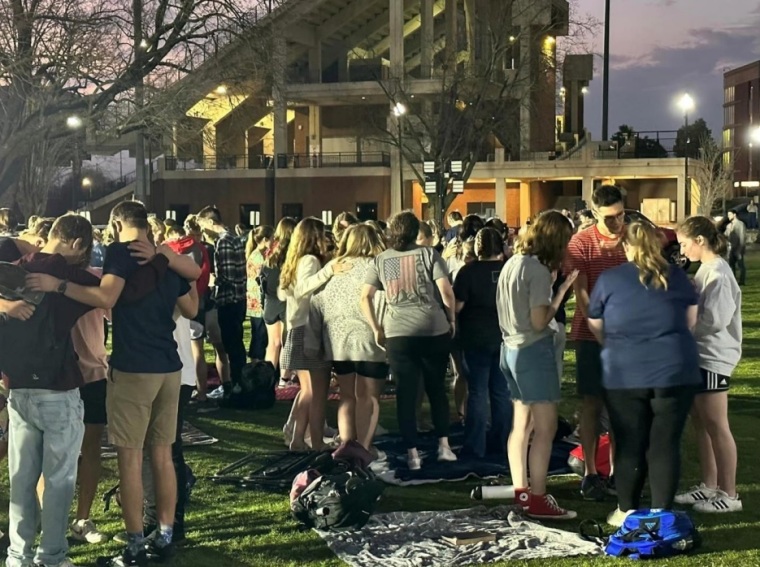 As the Asbury revival movement continues to influence Christian universities, churches and secondary schools, some secular institutions of higher learning are also seeing students gather on their campuses to hold worship gatherings. 
Students at Western Kentucky University of Bowling Green have been holding gatherings, including one last week that was attended by a few hundred people on the main lawn of the campus to worship and pray together and share their testimonies.
Tommy Johnson, a campus minister for WKU's Baptist Campus Ministry, told The Christian Post that the gatherings were directly tied to the revival at Asbury.
"We have seen a ripple effect from Asbury on the WKU campus. Several students from WKU attended services at Asbury," said Johnson. "After returning from Asbury, several of them gathered for prayer and worship at the chapel on WKU's campus and invited other students to join that night."
"One of the student leaders who attended an Asbury service, a freshman, then invited several leaders of campus and church ministries to meet to explore a potential joint campus ministries worship and prayer gathering."
Johnson said they "planned a service for Feb. 23 on the National Collegiate Day of Prayer," adding, "We have long been praying for and continue to pray for revival on our campus, and we discussed how revival is measured not merely by how many students gather or how long they stay at an event but by the result of life change."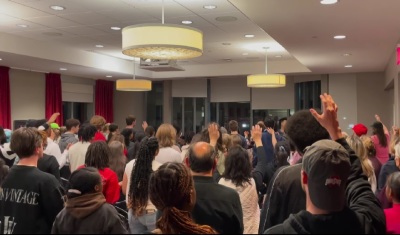 The large gathering at the main lawn was organized chiefly by BCM, other college ministries like Cru and Christian Student Fellowship, as well as Hillvue Heights Church, New Life Church and Living Hope Baptist Church.
Johnson added that WKU leadership "has been helpful in directing us to go through the process of reserving space on campus for events and to make campus security aware of the gathering."
Thomas W. Weakley, a part-time professor at WKU and staff member of Cru, had traveled to Asbury to participate in its revival event on Feb. 12 and was there for several hours.
"It was very worshipful, musical, orderly, respectful, hopeful, prayerful and God honoring and glorifying," Weakley said.
Weakley said three WKU students traveled to Asbury for the revival on Feb. 16, and while they returned in the very early morning, they were inspired to worship at the public campus' interfaith chapel.
"After returning at 4 a.m., they went directly to the WKU chapel. It was closed, so they stayed outside asking God to continue to work," said Weakley, noting that it was around 25 degrees Fahrenheit.
"The chapel opened at 8 a.m. They went in to pray. Around 10 a.m., a few more showed up, maybe 10. By 12 p.m., there were 30; by one p.m., 45 were there. We estimate around 90 students came sometime during the day."
Weakley told CP he met the student leaders of that gathering and there, they planned out the Feb. 23 gathering. More than 300 attended and around 50 stayed well after 10 p.m. as the temperature dropped to around 45 degrees Fahrenheit.
Weakley was optimistic about the longterm impact of the gatherings, telling CP that a "planning team is meeting this week to see if we are being led to sponsor another campuswide time."
The Ohio State University, another public university, also held a worship gathering last Thursday evening on the second floor of the Student Union building which lasted into the early hours the next morning.
Pastor Aaron Fry of Sozo Church in Columbus, Ohio, told CP that he attended the Asbury revival on Feb. 17 and the OSU prayer and worship gathering last Thursday along with his wife: "There were people in the room that have been praying for revival on campus for at least 15 years. My wife and I went to support and pray alongside these students. I believe that those who are blazing the trail at OSU are more qualified in these moments to speak into this."
Priscilla Wan, director of the Faith Hope Love House of Prayer who is involved in campus ministry at OSU, also attended the event, telling CP that it was "powerful."
"A small group of young men from OSU led two hours of worship/prayer with cajon, electric guitar, piano and two singers. Virtually the entire time was vertical ... meaning no speaker, and hardly anyone addressing the crowd," she recounted.
"Some students were on their knees praying for an awakening on their campus and praying for the lost. I would estimate about 200 people showed up. The organizers needed to open a second room and asked all non-OSU students to go to the second room."
Wan did not consider the event tied to Asbury, explaining to CP that "students organizing the gathering had already begun planning it before Asbury happened."
"They had a pure heart to simply want to minister to Jesus. Although the Asbury revival was amazing and created more excitement for The OSU Collegiate Day of Prayer, the organizers were not stirred to gather because of the Asbury revival," Wan said.
"They were open to a similar awakening happening at OSU, but their primary motivation was simply to gather and offer Jesus worship and prayer from OSU students."
Wan told CP that she believed and hoped "that the students will continue to gather to worship and pray," noting that "the students are hungry for a move of God on their campus."
"Above all, I think that the students are simply wanting to minister to the Lord with prayer and worship regardless of whether 'revival' breaks out," she added.
"I think we will see more collaborative prayer and worship gatherings on campus, but I think we will also see it organically happening among students in their dorms and social gatherings."
CP also reached out to OSU leadership, with a spokesperson sending a brief statement noting that they "support the right of our students, faculty and staff to peacefully express their views and to speak out about issues that are important to them."