Selah's Todd Smith Offers 9 Practical Tips for Dads Everywhere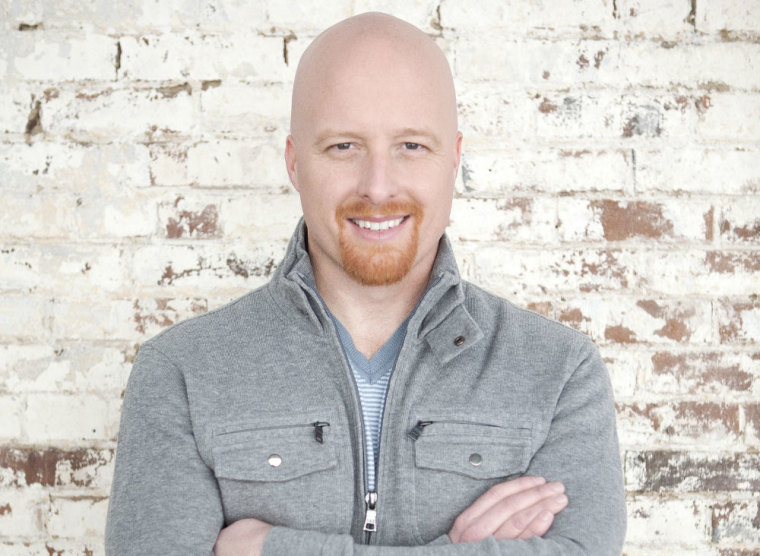 Just in time for Father's Day, founding member of eight-time Dove Award-winning trio Selah, Todd Smith, releases his powerful new single "Calling All Fathers" and offers practical advice to men as they step up to the role of fatherhood.
Penned by Smith and award-winning producer/songwriter Ed Cash, "Calling All Fathers" will be featured on his upcoming full-length solo release coming later this summer on Curb Records. Smith says the song was largely inspired by his own journey as a husband and dad to four daughters.
"When I wrote this song I wrote it from a place of confession. I wrote it to challenge me, not just to challenge other men," Smith told The Christian Post.
In "Calling All Fathers" there's a line that says, "There's an emergency greater than any other." Smith maintained that people can argue human trafficking is the emergency he is referring to or some other social crisis, but he believes that those problems are incited by the absence of a male leader in the home.
"There is such an absence of leadership and when you don't have leadership, whether it's in government, or at home, it starts with our households. If there's no leadership there then there's no stability and then that affects your community, it affects your church, it affects every area of your life and it affects the country. So I think the biggest problem is the absence of the father," he explained.
The talented singer highlighted that statistics show that a large number of people do not believe that there are absolutes in the this world and that is what he believes is the issue brought about by lack of leadership.
"I think there's a huge moral decay in our society. I think we live in an age where there's no absolutes. So you get a Noah's generation, a generation where everyone did what was right in their own eyes," Smith stated. "So what appears to be open minded and loving and free, is really absolute chaos because there's no truth and there's no right and wrong. When you have that you have so much confusion and when you have confusion you have instability, and when you have instability you have a bunch of people who are insecure, who don't know how to act, who don't know how to talk, who can't be honest as far as what they really feel and what they really believe. So you're suddenly in a prison. What seems like liberty is actually prison because there's no set standard."
The son of Christian missionaries talked about safeguarding his own family from the moral decay in society but at the same time not shying away from loving and being a blessing to those that have different values or beliefs than him and his family.
"You can't keep [your kids] in a bubble. They're going to be exposed to things so you have conversations about those issues. We need to give our kids more credit than we do because with the internet, with the ipads, iphones… they have access to everything," he admitted.
Below are a few qualities Smith pointed out and his explanations about how he believes God has called men to rise up in their responsibilities.
Be a Man of Your Word
"If we're men of our word our wives and kids would trust us," Smith maintained.
Speak Life
"There's a lot of times where I can just focus on being critical and seeing the flaws or I feel like they're showing me in a bad light to people," he shared.
Smith emphasized the importance that as a leader and keeper of his home to speak life into each of his family members.
Be in the Moment
"I can be really distracted and I'm probably A.D.D. I like to do my own thing, there's a bit of narcissism there where I wanna do what I wanna do," Smith confessed.
The busy musician talked about being distracted and he has found himself on his phone often while one of his daughters tries to get his attention. "There's a lot of times when I have to tell myself, be in the moment. Look in her eyes, stop what you're doing," he said.
Know Your Family
Smith admitted that his wife has said many times that she feels like he does not pay attention to her and therefore does not know her. "Whether it's a need that she has or how she feels about things," he honestly confessed.
"I have four girls, which means four different personalities, which means four different ways of raising them in a sense," Smith shared. "Really be able to connect to their hearts and really understand who they are and how they react to things. Know what they're passionate about, what are their dreams, what are their interest."
The worship singer offered advice for fathers who feel like they do not know how to communicate with their kids. Smith shared that he has started feeling a great distance from one of his twin daughters, who is entering her teens.
"One thing that's really helped, is just paying attention to what she's passionate about. She loves makeup and she's actually a really good make up artist even at just 13 and I don't care about makeup," Smith explained. "You know I don't care about blush or any of that stuff but we'll sometimes sit and we'll watch videos of these ladies showing how they do what they do. Just being interested in the moment because she's interested and I think that's a really great way to connect with them."
Protect Them
Smith assured that he'd give his life for his family but said there are other ways that a family longs to feel protected and it is a man's job to make sure they are protecting them.
Adding, "If they feel safe they can thrive. I haven't always done that. I haven't always looked out for everybody."
Smile More
"A lot of times I don't even realize it but because I'm intense, I'll have a scowl on my face and not even realize it," the loving father shared. He said his daughters will point out that they think he's angry because of his facial expressions.
"I can basically control the tone in my home by the expression on my face," he continued.
Say Sorry
The award-winning musician pointed to the fact that parents just like all humans make mistakes and as important as it is to discipline a child, it's equally important to also admit being wrong when the parent does something that's off.
"Growing up in our parents age there was a tendency that if you show that you were wrong then that was weak and you were giving your child license to correct you. But I think simply telling your kids, 'I'm Sorry.' I think that shows our humanity and it shows that we are sinful, that we need Jesus just as much. And hopefully if I ask for forgiveness then that teaches them to ask for forgiveness from other people."
Keep Your Promises
Smith described often being busy with his career and at times has made promises that are sometimes unrealistic. He illustrated a time when one of his daughters asked him to jump on the trampoline with her and he distractingly answered yes without giving it thought in relation to his busy day. He cautioned doing that and stressed the importance of keeping your word and commitments to your family.
Ask for Feedback
The Selah member said he often asks his family for feedback as to what they think of him. He prefaces it by telling them that they are in a safe place to share honestly with him as he seeks an evaluation of what his family thinks of his overall attitude.
"They know they need to be respectful of me and their mother, but I get their opinion. Then I'll be receptive to the negative, instead of being defensive and giving excuses," Smith stated.
Humble Yourself
"In a selfie generation of Instagram it is about ourselves. God is so drawn to humility and pride is what separates us. It's why satan fell, it's why Adam and Eve fell," Smith said. "I think a lot of times I'm driven by fear, fear of failure, not measuring up. I feel like, 'Man if people really knew who I was then they wouldn't buy a Selah CD or my solo CD. But I think by taking a step back, God transforms us when we humble ourselves."
"God is so drawn to a humble heart. So even if you are the most stubborn, angry [person]. If you are looking at it like, 'I've been a horrible father. My kids would never accept me and I'm too proud to change or admit it.' Man if you would just humble yourself and call them up and own up to your sin and own up to what you've done wrong and just say I'm sorry, It would probably break the flood waters. It's not going to heal everything but for your kids to hear that from you and for you to verbalize it and for you to tell them, there's so much power in that and it will cover over a lot of what you've done wrong in their hearts and in their minds," he concluded.
"Calling All Fathers" is now available digitally, for further information, follow Smith on Facebook.