Senate Advances Brett Kavanaugh to Final Confirmation Vote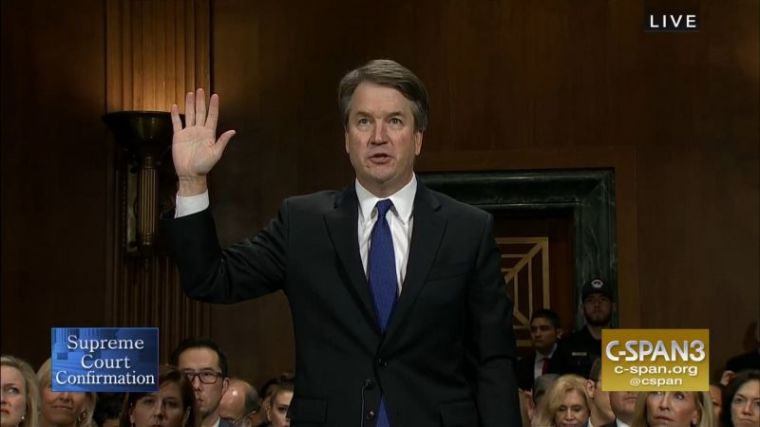 The United States Senate voted Friday morning to advance the confirmation vote of U.S. Supreme Court nominee Judge Brett Kavanaugh in a vote of 51-49.
After weeks of controversy over allegations of sexual misconduct in high school and college, Kavanaugh is expected to get an up or down vote sometime this weekend, likely Saturday.
Republican Sens. Susan Collins and Jeff Flake were among those who voted to move ahead with the confirmation vote. Democrat Sen. Joe Manchin joined the majority, while Republican Sen. Lisa Murkowski voted no.
The successful moving forward with the confirmation is seen as a possible indicator that Kavanaugh has enough votes to be confirmed, according to The Washington Post.
For her part, Collins, seen as a crucial swing vote in the confirmation process, has said that she will announce Friday afternoon her position on whether Kavanaugh should be confirmed.
"I will be voting yes on proceeding to the final confirmation vote and I will announce my intentions on how to vote later today," said Collins.

Kavanaugh was nominated by President Donald Trump in July to replace retiring Supreme Court Justice Anthony Kennedy, who had been a noted swing vote on the high court.
From the onset, Kavanaugh received fierce opposition from liberals, pro-abortion groups and Democrat politicians, who among other things viewed Kavanaugh as too conservative on issues like abortion.
Following a Senate hearing that was interrupted over 200 times by protestors, a woman named Christine Blasey Ford accused Kavanaugh of assaulting her at a party in the 1980s when they were teenagers. 
Another allegation of misconduct came from Deborah Ramirez, who told the New Yorker magazine that Kavanaugh might have exposed himself to her at a party when they were college students at Yale, but no one could corroborate her claims.
Both Kavanaugh and Ford testified before the Senate Judiciary Committee last week. From there, the FBI conducted a supplemental background investigation finding "no corroboration of the allegations made by Ford or Ramirez."
Leland Keyser, a friend of Ford, told the FBI that she felt pressured by friends to say that she believed Ford's accusation even though in her official statement she said that she never knew Kavanaugh and didn't recall ever seeing him at a party she had attended. 
In an op-ed published Thursday by The Wall Street Journal, Kavanaugh defended himself and expressed regret for how emotional he got during his testimony regarding the allegations against his moral character.
"I know that my tone was sharp, and I said a few things I shouldn't have said. I hope everyone can understand that I was there as a son, husband and dad," wrote Kavanaugh.
"I testified with five people foremost in my mind: my mom, my dad, my wife, and most of all my daughters."
Others, including the National Council of Churches, have joined those opposed to Kavanaugh's nomination. In a statement released earlier this week, the theologically liberal church coalition expressed several concerns with the nominee.
"During his appearance before the Senate Judiciary Committee, Judge Kavanaugh exhibited extreme partisan bias and disrespect toward certain members of the committee and thereby demonstrated that he possesses neither the temperament nor the character essential for a member of the highest court in our nation," the council said.
"We are deeply disturbed by the multiple allegations of sexual assault and call for a full and unhindered investigation of these accusations."
They also raised concern about Kavanaugh's "troubling" judicial and political record on matters such as voting rights, and racial and gender justice.
"This leads us to believe that he cannot be an impartial justice in case that are sure to come before him at the court," the church umbrella group said.