Sex Slave Survivor 'Wished to Die Like the Men Instead of Being Raped by Syrians, Iraqis, Europeans'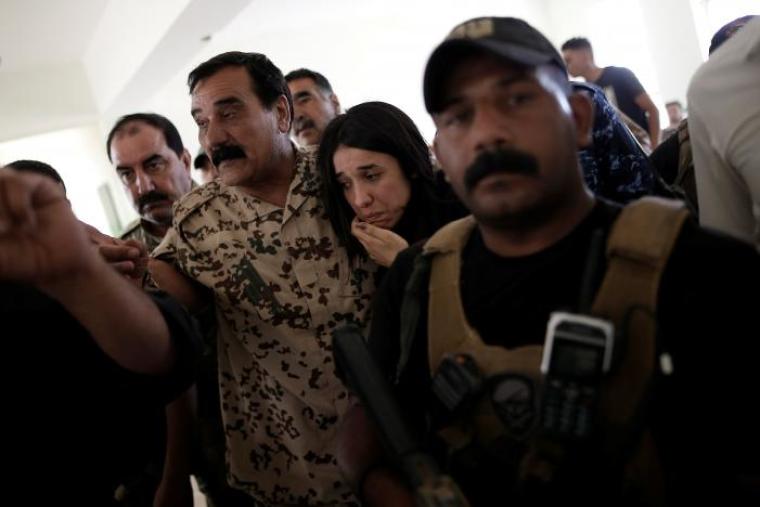 Nadia Murad, a human rights activist and sex slave survivor who has been speaking around the world about her experiences at the hands of the Islamic State terror group, visited for the first time her liberated Yazidi village in Iraq, where she was taken.
"I have been waiting for this day for nearly three years," Murad said on the rooftop of the school where she had studied for 11 years, according to Reuters.
Murad, 24, broke down in tears as she walked through Kojo, where in 2014 IS militants killed her mother, along with six of her brothers and stepbrothers in a major slaughter.
The Yazidi men and women were separated, with the men being killed, and the women and girls being sold into sex slavery.
"We hoped our fate would be to be killed like the men instead of being sold and raped by Syrians, Iraqis ... Tunisians and Europeans," Murad said.
The activist described how the IS commander demanded the Yazidis convert to Islam, but they refused.
"He demanded we change our religion but nobody agreed."
"We heard the sound of shots. At first, we believed people had come to help us, but when we looked out of the windows ... we saw them killing the men," she continued.
"We cried to the U.N., Europe, Kurdistan and Iraq but nobody came to help us. Today the village is surrounded by mass graves."
Yazidis, Christians, and other religious minorities have suffered a similar fate at the hands of IS throughout Iraq and Syria, with the U.S. and other Western powers recognizing that the atrocities carried out by the Islamic radicals constitute genocide.
Murad has spoken before the U.N. and several other humanitarian agencies about the horrors she and many others went through.
"We didn't feel valued as humans in their hands," she told STV News in February.
"They enslaved more than 6,500 females they took them to different places. They did what they want to the women and my fate was the same. I was one of the victims and they did everything to us."
The radicals would take any girl over nine years old, abusing them and trying to force them to change their religion.
"We were subjected to crimes to their hands that nobody can mention what they did for us," she described, revealing that she was raped by 12 men in total.
IS is slowly being driven out of Iraq, with Kojo and several other villages liberated by Popular Mobilization, an Iraqi Shi'ite paramilitary force trained by Iran.
The key city of Mosul is also on the verge of being liberated, reports have noted, though coalition forces estimate that close to 1,000 extremist fighters remain in the city.
Murad said that the world must not forget the victims and that the radicals must face justice for what they have done.
"All we want is people to save 3,000 women in the Daesh prisons and to document our graves ... until now, not a single mass grave has been documented," she said.
International human rights lawyer Amal Clooney has backed Murad in her plea.
"This is a global threat. It needs a global response. And part of that response must be a judicial one. It cannot be only on the battlefield. You can't defeat ISIS on the battlefield alone, because you have to also deal with future recruiting," Clooney said in March.
"I think trials and exposing the brutality of ISIS and trying to make a dent in some of their shiny propaganda by showing that it's not a holy war and showing what they're really doing to children, to women, is one way to help that."