Sextortion Photos of Miss Teen USA Lead to Arrest of 19 Year Old From California (VIDEO)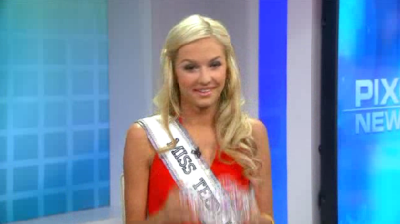 The so-called "sextortion" plot that involved a suspect hacking into Miss Teen USA, Cassidy Wolf's webcam and taking private photos of her, has led to the arrest of a 19 year old this week.
Jared James Abrahams, a teen from Orange County, California, has been jailed this week under allegations that he attempted to blackmail Wolf after filming her naked by hacking into her personal webcam.
The FBI have been investigating the incident for months and Abrahams was finally arrested, with officials tracing the incident back to him. He is accused of trying to blackmail the Miss Teen USA, and threatening to release naked photos of Wolf into the public domain if she did not give in to his sordid demands.
The 19-year-old has been charged with cybercrimes and extortion.
Wolf was crowned Miss Teen USA in August this year, and the sextortion photo plot actually took place before she won the pageant.
Teen Miss USA has said that someone hacked into her webcam and stole photos of her. Reports claim that it is likely that the teen also watched her through the webcam and invaded her privacy.
After the teen hacked into the webcam he is alleged to have taken some photos of Wolf naked in her room, and he soon contacted her via an anonymous email, which attempted to blackmail and extort her, saying that if she did not do what he said he would release the naked photos of her onto the Internet.
Abraham was finally arrested and he has reportedly confessed to the crime. He also allegedly said he has used the sextortion scheme on a number of other women.
A police report states: "Abrahams used malicious software to disguise his identity in order to capture nude photos or videos of victims through remote operation of cameras on their home computers without their consent."
Soon after Abrahams emailed the sextortion photos to his victims, he would then threaten to post them on their social media accounts unless they sent him more naked photos or "engaged in a Skype session with him and did what he said for five minutes."
In an August interview with Today, Wolf said: "I was terrified. I started screaming, bawling my eyes out. I was on the phone with my mom, and I felt helpless because I wasn't sure what to do, so it was a very terrifying moment. You would never think somebody would be watching you in your room and this guy had been,' Wolf said. 'The thought of that just gave me nightmares."
The incident of her computer being hacked reportedly occurred four months before she was crowned. "It happened to me when I was a normal girl and it can happen to anybody. The message is to tell somebody."