Sheriff Finds Atheists' Threat Against Him for Speaking at a Church 'Humorous and Entertaining'
Sheriff Finds Atheists' Threat Against Him for Speaking at a Church 'Humorous and Entertaining'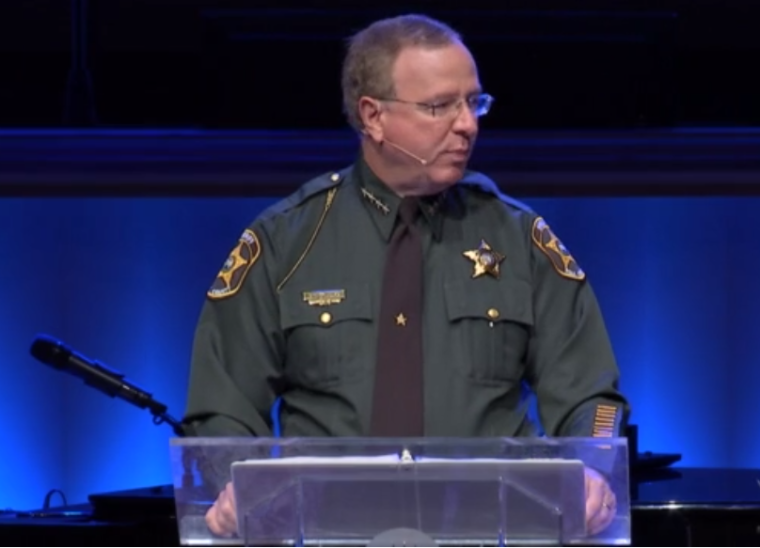 A Florida sheriff who recently received a complaint from an atheist group for delivering a sermon while in his uniform finds their objections "humorous and entertaining."
Polk County Sheriff Grady Judd preached a sermon back in April at a Florida church wherein he wore his uniform and spoke of God ordaining his profession.
In response, the Wisconsin-based group Freedom From Religion Foundation sent him a letter of complaint on Monday.
In an interview with The Christian Post, Judd described the FFRF letter as "humorous and entertaining" given the nature of the complaint.
"I actually find it entertaining and humorous that they even made those allegations. I am the sheriff of the county 24 hours a day seven days a week," said Judd.
"I go to environments where the people specifically call here and ask for me, the sheriff of the county, to come and speak to their group whether it be a secular group or a religious group."
In April, Sheriff Judd gave a sermon while in uniform at First Baptist Church at the Mall in Lakeland titled "Wouldn't the world be better if everyone behaved like a Christian."
On Monday, FFRF Staff Attorney Andrew Seidel sent a letter to Judd denouncing his decision to wear the sheriff uniform during his sermon.
"Promoting your personal religion using your Polk County title and uniform gives the unfortunate impression that the county supports and endorses the First Baptist Church on the Mall and its religious teachings," wrote Seidel.
"In your official capacity as an officer of the government, you are bound by the Establishment Clause and cannot abuse that office to promote your personal religious choices."
FFRF demanded that Judd cease preaching sermons at churches while in uniform, stating that the next time he gives remarks he should do so as a "private citizen."
Judd told CP that FFRF's letter is "not an accurate reflection of the sermon that I delivered" and that he found it "just humorous and entertaining to me that they would question me doing my job."
"I've spoken at Christian events and Jewish events," added Judd. "It's not like I went to an event, took the podium over and said 'lock the back door and everybody's got to listen to me.'"
"They called in and specifically asked me to come there and I showed up in my work uniform and spoke. And I plan to continue to do that."
In a statement given to local media, FBC pastor Jay Dennis referred to Judd as "one of my dearest friends" as well as an "active member" of his church.
"The uniform represents more than the office, it represents the man behind it. It is the man behind it that I asked to speak whether he is in uniform or out of uniform," stated Dennis.
"I would think people would be proud to have a sheriff whose life and message, speech and conduct, is consistent with everything that uniform stands for."