LeBron James film 'Shooting Stars' goes beyond basketball to highlight power of friendship, mentors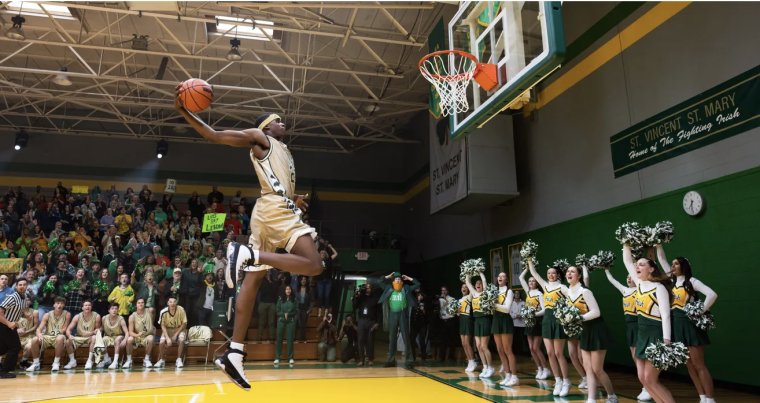 "Shooting Stars" is more than just a sports film detailing the meteoric rise of basketball star LeBron James; it's about the power of mentorship, genuine friendship and human connection, according to the film's cast and crew. 
"In this film, we talk about basketball, but I feel like this movie represents life," "Stranger Things" star Caleb McLaughlin, who plays Dru Joyce III in the film, told The Christian Post.
"Basketball is more than a game. It's about friendship. It's about a bond. It's about community. There are a lot of parallels in this film that people don't see. Don't forget about the people that love you and support you because you're going to need them at the end of the day when all else fails, when your back's against the wall. ... You're going to need that person to have your back."
Based on the book of the same name by James and Buzz Bissinger and also told in the 2008 documentary "More Than a Game," "Shooting Stars" details how James and his childhood friends in Akron, Ohio, became the top-ranking high school team in the country, propelling James to superstardom as a four-time NBA champion, two-time Olympic gold medalist and the NBA's all-time leading scorer.
While basketball scenes are sprinkled throughout the film, the storyline focuses on the strong bond between James and his childhood friends, known initially as the "Fab Four," Sian Cotton, Willie McGee, James and Joyce. They later became the "Fab Five" with the addition of Romeo Travis.
The film also highlights the positive impact many adults had on James and his friends, including Dru Joyce, the team's coach and Lil Dru's father who mentored and championed the teens throughout their school years.
Director Chris Robinson told CP he was drawn to James' story due to its themes of fatherhood, brotherhood, loyalty and humble beginnings. He drew upon an African proverb that "it takes a village to raise a child," underlining that the investment and involvement of James' entire community helped him succeed.
"Everyone in his community was invested beyond basketball," he said. "They were invested in the young men in their emotional success."
"It's not magic, it's work. It takes time, it takes energy, it takes a certain loyalty, and the fact that these guys, 20 years later, 30 years later, are still friends, still tight, still looking out for each other, just tells you that it's beyond any sport, or anything with basketball. It's about family."
The film spans four years as the Fab Four dominate the high school basketball landscape and grapple with the ups and downs that come with fame. 
The four friends initially agreed to attend high school together, whatever the circumstances, but Lil Dru's height prevented the four from being able to play on the same basketball team. Despite backlash from their community, the friends opted to attend St. Vincent-St. Mary, a private Catholic school with a predominantly white student population, instead of the local public school. 
The film stars Marquis "Mookie" Cook, an actual high school basketball recruit, as a young James. The young athlete reflected on the pressures of bringing James' story to the big screen and how McLaughlin once dedicated an entire night to help him rehearse lines. The camaraderie, he said, mirrored the sense of community that permeated the film's production.
"You just need people around you who support you; you can't have people who bring you down. And 'Shooting Stars' is a great representation of that," McLaughlin agreed. "The support group that LeBron had [was necessary for] LeBron to be great. You need people that are there to support you. You need your friends because sometimes you can be in your own head, you can go left or right. So support and loyalty and friendship is very important for anybody."
Robinson said he hopes the film will encourage fathers and mentors to rise to the challenge of guiding young men, whether they are biological children or not. He echoed McLaughlin's sentiment that everyone needs help and nobody achieves success alone. Sports, he said, are an "amazing conduit to build people up."
"When you watch ['Shooting Stars'], it sinks in, and you go, 'Oh, this is a story about these guys.' But then, at some point, you go, 'Wait a minute, this is LeBron James. Like this is the most iconic basketball player in the history of the sport.' It tells you that all of us regular people are on that journey and on that path, and everybody needs help. Nobody gets there by themselves."
"Shooting Stars" also stars Wood Harris, Natalie Paul, Algee Smith, Dermot Mulroney, Khalil Everage, Sterling "Scott" Henderson, Katlyn Nichol and Avery S. Wills, Jr.
"Shooting Stars" does include content parents will want to be cautious about and is rated PG-13 for strong language, some suggestive references and teen drinking. The film streams on Peacock Friday.