Singer Anna Golden found beauty in the Church after being hurt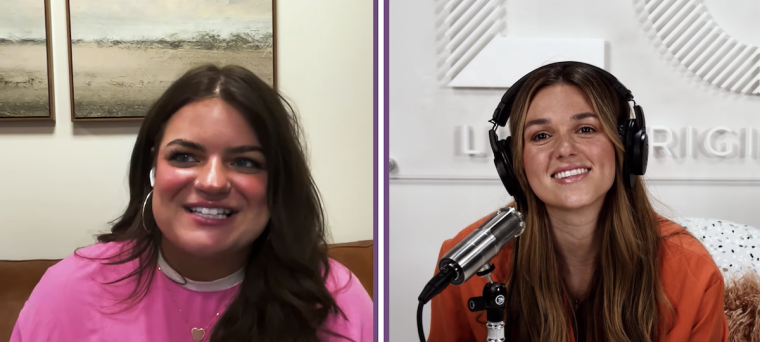 Christian singer and worship leader Anna Golden recently opened up about how she found beauty in the Church after becoming a bit brokenhearted and disappointed in how people in her churches acted.
The 27-year-old musician was a guest on a Sept. 21 episode of Sadie Robertson Huff's "Whoa That's Good" podcast. She shared that she grew up in the Church and had a passion for the Church from as far back as she can remember. She even worked in full-time ministry for 10 years.
"I was the kind of kid who just lived in church. I really loved it. I was probably so churchy as a kid to the point where it was maybe annoying," Golden recounted of her earlier years. 
"I just loved it. I wanted to be in youth group. I was in every internship. I was also homeschooled. I didn't have a lot else going on. So I was like, church, that's my life. And I feel really fortunate because I really did get to know the heart of the Lord really young."
"Through serving in ministry, growing up, and then making the shift and also working in ministry, it's like you see behind the curtain of things. And you see that people are people no matter what building they're in, no matter what title they're in, no matter if there's a pastor by their name or not," Golden said.  
"Obviously, when I was younger, I didn't really have the wherewithal or the discernment to know that. It was crushing. I remember my first year working in ministry being like, 'People do what?' And it was just devastating to me," she continued. 
"I think that over the accumulation of years, I just started to wear some of it. And I became that person who maybe was a little disgruntled in ministry and a little more brokenhearted than anything."  
She warned that sometimes people can label "brokenheartedness as a bitter heart." 
"But they are two very different things," she said. "I think that through this disappointment, I just kind of wore that on my chest a little bit." 
In the fall of 2020, Golden transitioned from working on staff at her former church. 
"There was this moment where I really looked at my hands and I felt like the Lord gave me this vision of like looking at my hands full of broken glass, and He was like: 'Are you going to let me pick that out of your hands or you want to keep holding on to it?'" Golden recalled. 
"There was part of me that felt like if I let it go, that there wouldn't be justice for it, … that 'justice wouldn't be served, so I need to keep this in front of you, Lord.' He was like, 'No, I want to actually take that from you. Let's actually look through your past and look at it a little differently in the lens of someone who's healed.'" 
After leaving the ministry vocation for a time, Golden said she went to counseling. But the singer said it wasn't until she prayed to God to help her see the Church in the same way He does that she could begin her healing journey and return to serving in ministry.  
"I knew I always wanted to be in ministry, but I knew that my perspective wasn't healthy at the time. I knew whatever I didn't feel, I was going to replicate. So I was like: 'Lord, I need you to help me. I want to see the Church,'" Golden said.  
"The entire Bible is this beautiful imagery of how much the Lord loves us. And He calls us His Bride, which is the Church. And I'm like, 'Why do you still see it like that? Why do you talk about the Church like this in Revelation and in Acts?" she continued.
"Why did you fight for the Church even when they were doing these crazy things? We see these scriptures, and [I asked God]: 'Lord, would you show me.'" 
Golden transitioned to Dallas, Texas, to work at a church called Shoreline City, where she said she has been serving in ministry ever since under pastoral leadership "with a healthy perspective." 
"We're not a perfect ministry. But, we're just people who love Jesus, who fight for forgiveness, who apologize quick, who literally just want to out serve one another," Golden said.  
"I remember coming in and being on staff, and they gave me such freedom. … I remember walking in, I was like, 'Are churches really white? Like the whole church was a white building with white paint everywhere.' And I was like, 'I feel like I'm like coming in, and I have mud all over me. Like I've come from these different experiences.' And they're like, 'No, you might have come through fire, but you don't smell like smoke.'" 
Golden said her new church has encouraged her and helped her find healing from her past experiences. 
"They really prophesied over me. Just like: 'You are such a healthy leader. You're a daughter of the house. Like we've grafted you in like there's nothing that is going to change our minds about you here. You're not going to mess everything up.' All these things. And I saw through the lens of healthy ministry and healthy leaders," Golden said. 
"It really started to heal my past, these little cracks in my heart. I knew that when I got out of counseling, I had like scabs but didn't have scars yet. I knew wherever I was going, it could have gotten worse."
Golden credits God for her healing from a past that she once thought she would have to hold onto forever. 
"I'm so grateful for the gift of being able to forget the things that I literally thought my entire life I'd be walking with this limp. I thought my entire life I'd see things through the lens of certain pain or certain leaders or triggers or trauma," Golden said. 
"I just remember having this moment with the Lord; He's like: 'I'm so much bigger than you give me credit for. I can reach back into your past. … And the Lord's like, … 'I can still redeem things from your past. That's who I am. I'm a god of reconciliation. I'm a God that works things together for good. I pull things from the past and rework it into this beautiful story that it is now.'" 
Nicole Alcindor is a reporter for The Christian Post.