Singer Cher Praises 'Cool' Joel Osteen, Draws Backlash From Gay Fans
Singer Cher Praises 'Cool' Joel Osteen, Draws Backlash From Gay Fans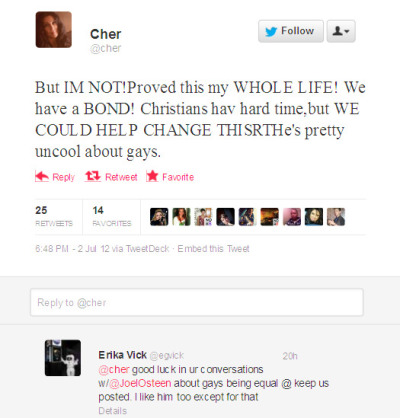 World-renowned pop star and actress Cher took to Twitter Monday night to sing her praises for inspirational speaker and pastor Joel Osteen, sparking a media frenzy by her large gay fan base, who challenge Osteen's belief that homosexuality is a sin.
"I love Joel Osteen, hes example of Christian! He makes Every1 feel welcome 2 his church no matter who they R!1st book like this I ever bought," Cher wrote, referencing one of Osteen's several inspirational books relating to spiritual guidance.
"I know this Sounds CRAZY Coming From ME,But he'Cool,UpBeat,wants u 2 have Fun,He'sFunny & Not Preachy! don't care if ppl think I'm UnCool!" She added shortly after.
One of Cher's fans then tweeted the famous singer, reminding her that Joel Osteen, an evangelical Christian, believes homosexuality is a sin.
"Umm…not everyone. He's pretty uncool about gays," tweeted CallMeNitz.
Cher then affirmed her support for the Lesbian, Gay, Bisexual and Transgender community, tweeting in response: "But I'M NOT. Proved this MY WHOLE LIFE. We have a BOND. Christians have a hard time but we can change this."
The celebrity singer then concluded her tweets for the night by again arguing that she was not being betraying her gay fans when she exclaimed her support for Osteen, saying: "But gay pple have stayed w/me through 40 yrs when every1 else left! If i broke our bond & u hav no love 4 me anymore this is my last txt."
Osteen, senior pastor of Lakewood Church in Houston, Texas, has previously stated his belief that homosexuality is a sin, explaining  to Fox News' Chris Wallace.
"I believe the Scripture says that being gay is a sin. But, you know, every time I say that, Chris, I get people say, well, you are a gay-hater and you're a gay-basher. I'm not. I don't – I don't dislike anybody. Gays are some of the nicest, kindest, most loving people in the world," Osteen told Wallace in April.
"But my faith is based on what I believe the Scripture says and that's the way I read the Scripture. I don't think we should discriminate against anybody. So, I think – yes, I don't think there is an issue where somebody couldn't go visit a gay loved one in the hospital. I don't think that's right. They love each other. So, I think there should be some. I'm not for gay marriage, but I'm not for discriminating against people," he added.
Cher has become an iconic figure for LGBT rights throughout her career due to her music and also her portrayal of a lesbian in the 1983 movie "Silkwood." Additionally, Cher's daughter, Chaz Bono, is a transgender man and an advocate for transgender rights.