Singer Mandisa Says God Saved Her From Suicide on 'Good Morning America' (Video)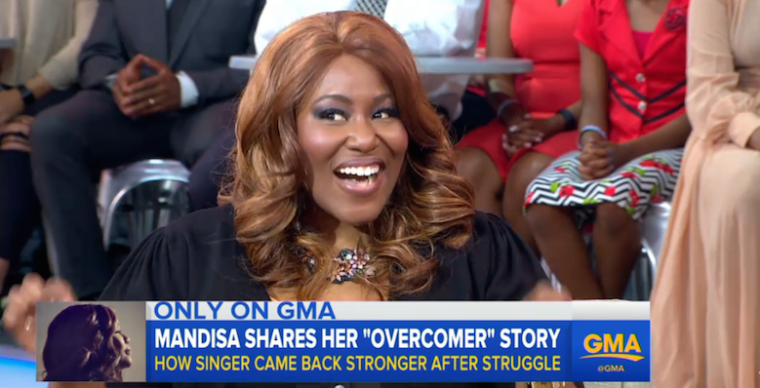 While a guest on "Good Morning America" on Wednesday, Christian singer Mandisa revealed she was on the brink of suicide recently until Jesus stepped in and literally saved her life.
"It got pretty bad to the point where if I had not gotten off that road I would not be sitting here today," Mandisa told GMA host and her longtime friend Robin Roberts. "I was this close to listening to that voice that was saying, 'You can be with Jesus right now Mandisa, all you have to do is take your life.' It almost happened. But God, He stepped in and saved my life quite literally."
Her appearance on the ABC morning show was Mandisa's first televised interview and performance in over three years. Roberts asked the Grammy award winner if she was now in a good place after her rough battle with depression.
"I've never been better!" Mandisa responded. "I'm not where I wanna be, but thank God I'm not where I was."
After the intimate interview, Mandisa performed her new single "Unfinished" on the mainstream program.
The successful American Idol alum first spoke about her battle with depression during a Facebook live interview with K LOVE in February.
In the interview, she explained that her friend and former backup singer, Kisha, was the inspiration for her award-winning song, "Overcomer," as she battled cancer. Kisha was pregnant with her second child when she was diagnosed with the disease.
Mandisa revealed that her friend had about a year with her newborn son and family before she "went home to be with Jesus."
The California native admitted that she didn't expect death to be the outcome of her friend's story and it caused her to spiral downward.