Slovenia Listens to Pope, Votes Against Gay Marriage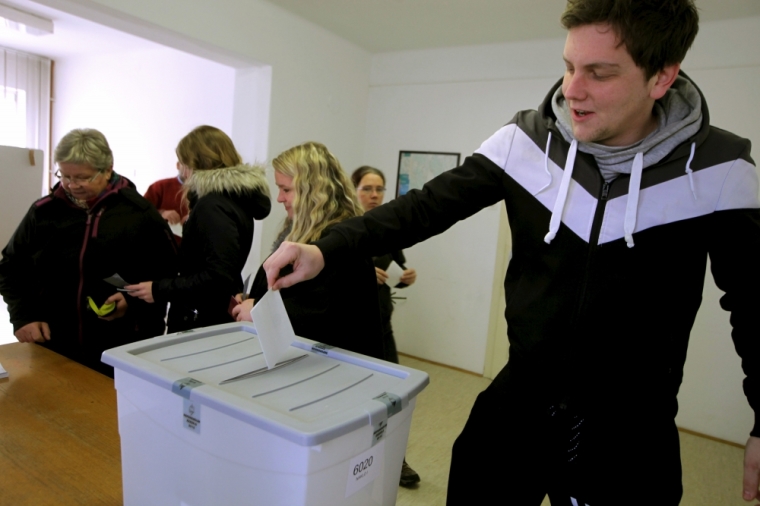 More than 60 percent of voters in the Catholic-majority Slovenia said "no" to legalizing same-sex marriage in a referendum held Sunday, just as Pope Francis had advised them.
The referendum took place after a gay marriage law approved by the former Communist country's left-leaning parliament in March was challenged before any same-sex couples could marry. A group called Children Are At Stake collected 40,000 signatures to challenge the bill.
More than 63 percent of Slovenians voted against the bill, while 36.5 percent were in favour, according to The Guardian.
"This result presents a victory for our children," Ales Primc, the leader of Children Are At Stake, was quoted as saying.
However, Violeta Tomic, a lawmaker from the United Left Party, said it was only a temporary setback. "It's not over yet. Sooner or later the law will be accepted," she was quoted as saying.
President Borut Pahor and Prime Minister Miro Cerar, who are from ruling Modern Centre Party, backed calls for "yes" votes.
European commissioner Violeta Bulc had also supported the "Yes" block.
Human Rights Watch criticized the public's opposition to gay marriage, claiming: "Groups like 'Children Are at Stake' have been using arguments alleging harmful consequences from same-sex parenting to try to reverse marriage equality," HRW said in a report.
Pope Francis, however, urged Slovenians to "uphold family values," as Central and Eastern Europe have strong ties to the Catholic Church.
Days before the referendum, the pontiff, while speaking to a group of Slovenian visitors during an audience at St. Peter's Square, called "everyone, especially those with public responsibility, to support the family, a structural reference point for the life of society."
Sociologist Roman Kuha earlier said Slovenia is more liberal than other Central and Eastern European countries. "We established our first gay rights organisation in 1984, long before our neighbours, who only really saw movements like this after the system change in 1990," Financial Times quoted him as saying.
Slovenia's STA news agency said stakeholders are preparing for a fresh fight over legislation governing same-sex couples.