Softcore Porn Actress from Ted Cruz Ad Endorses Donald Trump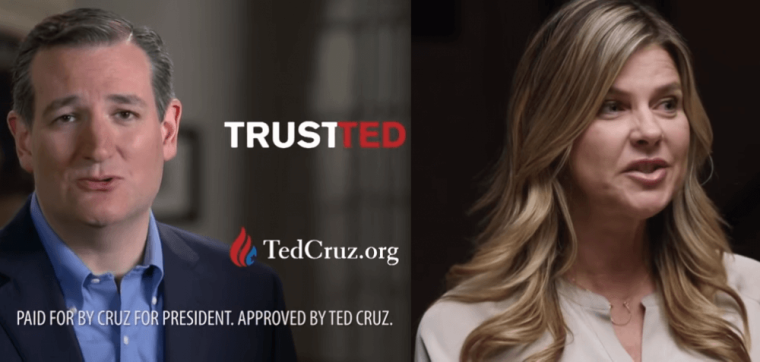 Amy Lindsay, the actress who caused the campaign of Republican presidential candidate Sen. Ted Cruz to pull an ad in which she appeared last month because of her history with softcore porn, says she has decided to support Donald Trump for president.
In an appearance on CNN Monday, Lindsay told host Jake Tapper that she is backing Trump because she likes his policies and she thinks he is being unfairly attacked and demonized.
"Donald Trump," Lindsay declared firmly when Tapper asked who she was supporting.
When asked why, she replied, "I could be here for days."
She continued however to explain that she had been a longtime fan of Trump prior to the Cruz ad fiasco.
"I actually became a fan of Trump in the 80s. A friend of mine in college gave me his book "The Art of the Deal" and I actually read it voraciously over Spring Break. So you know what, I think if people just check out the book that he just put out in 2015, "Crippled America", it's pretty great or heck, just go to his website, you know, donaldjtrump.com," said Lindsay. "People say he's not talking about policy, that there is no issues, well he's got seven of them, pretty specific, laid out about immigration and taxes and vets and things like that so I like what he stands for."
She further explained that she now sympathizes with Trump as a result of her own experience with being in the limelight over the last few weeks.
"I think I've also realized along this adventure that I've been having for the last couple of weeks. I think people are attacking him and lying about him and I kinda know how that feels," she said before telling Tapper that she sympathizes with the billionaire.
"I do. I do [sympathize with Trump]," she said. "He's the frontrunner but especially in this last week or so has become kind of an underdog."
She says even though she works in the film industry she has opted not to discuss her political convictions with her colleagues. She doesn't want people to attack her for voicing her support for Trump.
"You know, I've kind of followed the rule of no politics, religion or sex talk on social media and I didn't really have a choice. I felt that if people are gonna be asking me I'm gonna at least speak my opinion. My thing is I'm not here to change anyone else's mind, I'm not here to get the vote but I think everybody should have a right to talk about why they support someone and who they support," she said.
"Everybody is like, if you like Donald J. Trump's page on Facebook, I'm not gonna be your friend. I'm like, I've liked Hillary Clinton and Bernie Sanders because I want to hear what they're saying, I want to educate myself, but yeah, a lot of people don't get it. They think a woman voting Republican in general, they think that's nuts and I'm like no. Voting for Hillary Clinton as a woman to me is nuts," she added.
Lindsay is expected to vote for Trump in the California Republican primary in June.