South LA Man Builds Portable House for Homeless Grandmother; Starts Online Campaign to Help Others Including War Veterans (Video)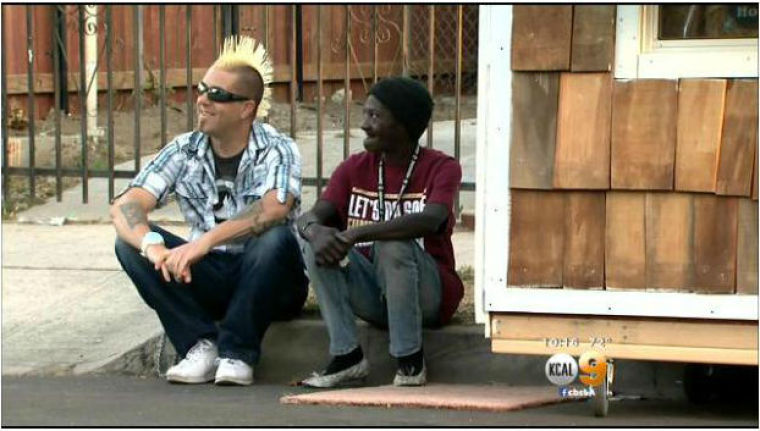 A South Los Angeles man has been hailed a hero for building a portable home for a homeless grandmother in his neighborhood. The random act of kindness has inspired a new campaign to help other homeless people, particularly children and U.S. military veterans, and donations are pouring in.
Elvis Summers, 37, had no idea how impacted he would be after sparking up an unlikely bond with Irene McGhee, also known as "Smokie."
The 60-year-old widow, who has been homeless for 10 years since losing her late husband and her home, used to sleep in the dirt on Summers' street. She would stop by his apartment near 30th and Van Buren every other day to collect recyclables, which is how they formed a friendship.
Summers, who runs an online retail business, was so touched by Smokie's plight that he took it upon himself to build her her a tiny house.
"She's a human being, 60 years old, a mother, grandmother, sleeping in the dirt. It's just not right," he told CBS2.
He took $500 of his own money and purchased the necessary goods to build a portable three-and-a-half-by-eight-foot house for Smokie. A time-lapse video, which garnered more than 2 million views within the first few days of its online posting, shows him building the home using wood boards that he bought himself and siding and roofing that was donated by a local company.
"He said, 'What would you think if I built you a house?' I said, 'When is it gonna be ready?'" a tearful Smokie recalled.
The portable home took just five days to make and it comes complete with a window.
"I just wanted to build it safe enough, secure enough so she'd be warm, comfortable," Summers explained.
Smokie has added her own personal touches to the miniature house, including rosary beads which hang near her pillow and mattress as well as a large cross that has the quote: 'You choose hope, anything is possible' written on it.
"I felt so good. I was so relaxed. I think I must've slept half of the day," Smokie said of her new home.
According to Summers, the portable home has been cleared to remain on the street so long as it follows certain rules.
"LAPD says as long as we move it, not in a red spot, but move it once every 72 hours, for now, we're all right," he said.
The project inspired Summers to create an online initiative called "My Tiny House Project L.A.," which is designed to raise funds so that he can hire other homeless people to build their own houses along with him.
The campaign was launched "to build tiny houses for homeless women, men, children, U.S. veterans and families who are homeless," Summers writes via his GoFundMe page. "Being homeless is NOT a crime. The true crime is how we as human beings look at and treat people that are homeless."
In just over two weeks, the project has raised $14,909 of its $50,000 goal.
According to data from the Los Angeles Homeless Service Authority, a government organization designed to create solutions to homelessness in LA County, there are 39,463 homeless people (sheltered and unsheltered) in the county.
The Christian Post attempted to reach Summers, but he was unavailable for comment.
To donate to Summers' campaign CLICK HERE