Spanish Priest Is First European Ebola Casualty as Deadly Outbreak Claims Over 1,000 Lives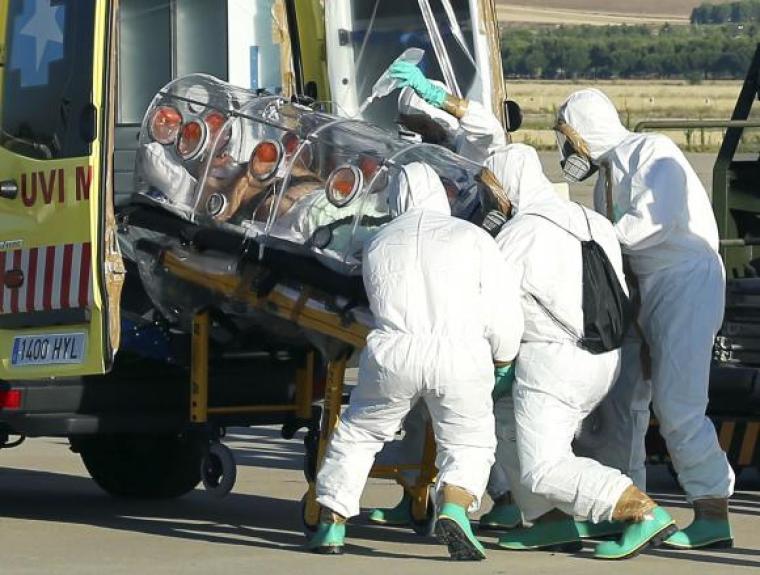 A Spanish priest who had been serving in Liberia is the first reported European casualty in the Ebola virus outbreak, which has now claimed over 1,000 lives.
Mielgu Pajares, 75, died in a hospital in Madrid, Spain, after being airlifted from Liberia on August 7, Reuters reported. The priest had been working for a non-governmental organization in the African country when he contracted the disease.
Pajares was in quarantine and had been treated with the experimental drug ZMapp, which has helped two U.S. missionaries who also contracted the virus while working in Liberia.
The deadliest outbreak of Ebola virus in history has claimed over 1,000 lives across West Africa since cases were recognized in February. The World Health Organization, which has been tracking the disease, says that over 1,700 people have been infected.
BBC News reported that the priest was part of a Catholic order at St Joseph's hospital in Monrovia, which has since been closed due to the outbreak.
On Monday, Fides News Agency noted that a religious sister from Congo has also died while fighting the disease. Sister Pascaline Chantal of the Immaculate Conception reportedly died on Saturday morning after being infected by the disease while working as a nurse in Monrovia.
Another nun, Sister Paciencia Melgar from Guinea, is also currently battling for her life in the wake of the outbreak.
A two-year-old boy who died in December in Guinea was earlier identified as patient zero in the outbreak. The boy apparently fell ill in a village in southeastern Guinea, giving the virus an entry point into Sierra Leone and Liberia as well.
Scientists have meanwhile said that the first vaccine against Ebola could be ready by 2015.
Jean-Marie Okwo Bele, the head of immunization and vaccines at the WHO, told French radio broadcaster RFI that "since this is an emergency, we can put emergency procedures in place... so that we can have a vaccine available by 2015."
Marie-Paule Kieny, assistant director General of WHO, added that a vaccine by 2015 is a "realistic" goal.
A WHO panel in Geneva has approved the ethics of using ZMapp to treat Ebola patients, even though the side-effects and efficacy of the drug has not yet been fully tested.
The American missionaries Dr. Kent Brantly and Nancy Writebol, who were flown home to the U.S. in a sealed tent within a modified aircraft, are said to be improving thanks to the ZMapp.