Stacey Dash Cast as Meriam Ibrahim in Feature Film 'I Am A Christian' About Persecuted Sudanese Mother
$500,000 Crowdfunding Campaign Launched by Christian Lives Matter, LLC Promises 10 Percent Donation to Ibrahim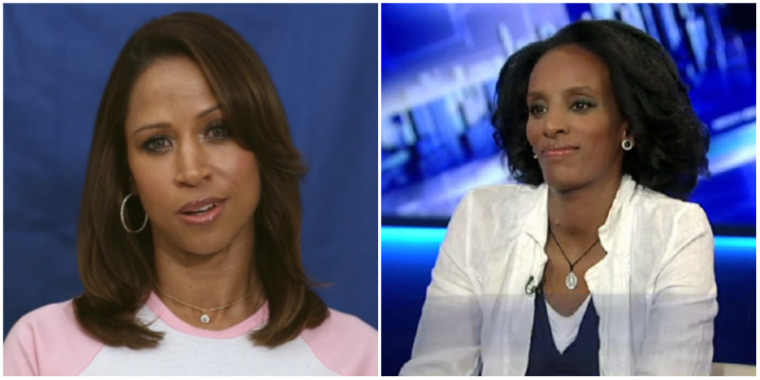 Stacey Dash, outspoken conservative known primarily for her 1995 role in the cult classic "Clueless," has been cast to portray Sudanese Christian and near-martyr Meriam Ibrahim in a planned feature film currently seeking $500,000 in funding from the public.
Ibrahim captivated the world's attention in 2014, when it was revealed that she had been arrested and sentenced to death for alleged apostasy. Ibrahim, pregnant with her second child and imprisoned with her toddler son, was convicted by Sudanese authorities on the grounds that she had converted from Islam to Christianity — an act prohibited by law and considered a capital offense in the Muslim-majority country.
The 27-year-old woman, married to Sudanese, U.S.-based emigrant Daniel Wani, insisted that she was raised as a Christian by her mother after her Muslim father disappeared early in her childhood. The young woman, whose charges were eventually dropped, testified in court, "I am a Christian, and I have never been a Muslim."
Ibrahim's consistent declaration and steadfast refusal to renounce her Christian faith will be the focus of the film, "I Am A Christian" (which features a cross in place of the "T" in a mock-up poster for the project). The cinematic presentation of the Sudanese woman's story will also involve "the people who here in America who worked tirelessly to rescue her," according to a press release for "I Am A Christian."
"Presently Meriam is not involved in the project," Brian Harrington, an associate producer and promoter for the project, told The Christian Post via email. "Regardless, we still intend to give her and her family 10 (percent) of the film's gross, not because we have to, simply because it is the right thing to do."
He added, "Once the project has gained momentum, both online and in the news, we do intend to reach out to Meriam and offer her a chance to become officially involved!"
In addition to Dash, a Fox News contributor, Kevin Sorbo of "God's Not Dead," Rachel Hendrix ("October Baby") and Ben Davies ("Courageous") are slated to appear in the film. Sorbo's, Hendrix's and Davies' respective roles have not yet been announced, according to Harrington.
As for who will be working behind the cameras for the production, Harrington said his team was still searching for "the perfect director."
"We would like a Christian director who can shoot a movie, on a budget, that has a similar look and feel to 'Argo' or HBO's 'Newsroom,'" he added.
Harrington noted that Brian Bird has agreed to write the script. The 30-year Hollywood and TV veteran's writing credits include the '90s series "Touched by an Angel" and the 2009 film "Not Easily Broken" (adapted from the T.D. Jakes book of the same name).
To get the project, currently in pre-production, off the ground, Christian Lives Matter, LLC has launched a crowdfunding campaign on Indiegogo, requesting $500,000 in donations.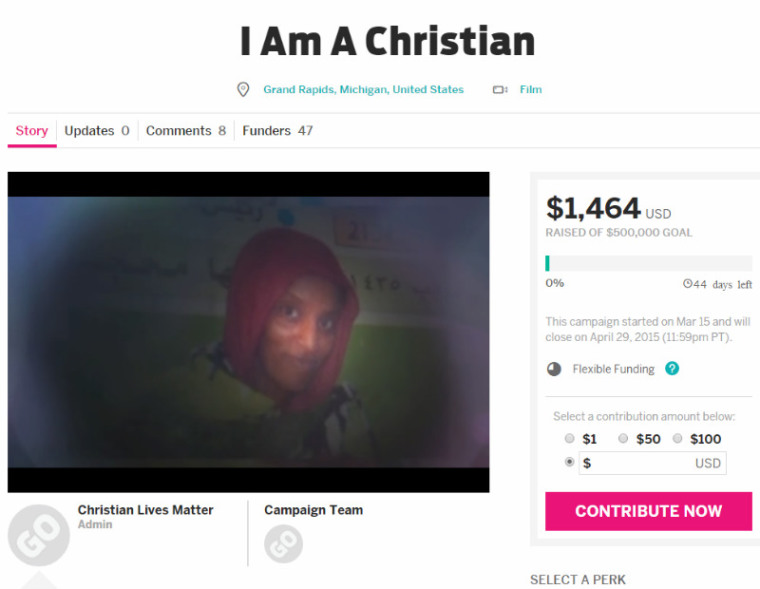 "We are asking you to join our crew and help us make this film a reality," reads the appeal on Indiegogo.
Donation levels range from $5 to $50,000, the latter of which is described as the "Executive Producer package." The package includes an array of perks, including a speaking role in the movie.
"I Am A Christian" is being done independently, organizers claim, because "if Hollywood makes this film then Christianity will be watered down, Sharia Law will be protected, and Meriam's story will be made totally PC."
Harrington emphasized that Christian Lives Matter, LLC wants "to make this story the Christian way."
"We are counting on your support to help us make this film truthfully and without regard for political correctness!" the press release states.
The press release also notes that organizers of the campaign will donate 40 percent of the film's gross earnings to "Judeo/Christian charities working to fight religious persecution worldwide." They also promise that Ibrahim and her family will receive "a full 10 percent … to provide life and hope for their future."
Harrington explained that although his group has been approached by private investors, having to provide a return would prevent them from using 50 percent of the film's gross for charitable purposes.
"Therefore it is our desire to raise the entire budget on Indiegogo," he explained. "If people are willing to fund projects like 'Potato Salad' they certainly should be willing to back a worthy Christian movie!"
Christian Lives Matter, LLC, the company behind "I Am A Christian" is "new," according to Harrington. "The company was formed to make films about religious persecution worldwide. It is our hope that we will be able (to) help fight back, both by raising awareness, and through the charitable donation of 50 (percent) of our gross receipts. We challenge any Hollywood studio to do the same!"
Harrington is also the associate producer for other film projects similarly crowdfunded, such as "Crowning Jules" and "Rodeo Girl."
People around the world rallied for Ibrahim's release from prison, with a petition launched by Amnesty International attracting more than a million signatures. After she was freed and escorted by Italian officials from the United Nations embassy in Khartoum, Ibrahim met with Pope Francis at the Vatican in Rome. The pontiff reportedly "thanked her for her courageous witness to perseverance in the faith." Ibrahim has since been honored at the Values Voter Summit and bestowed a National Religious Broadcasters' President's Award. Ibrahim, her husband Wani, a U.S. citizen, and their children currently live with relatives in New Hampshire.