Meriam Ibrahim Encourages Naghmeh Abedini to Stay Strong for Her Children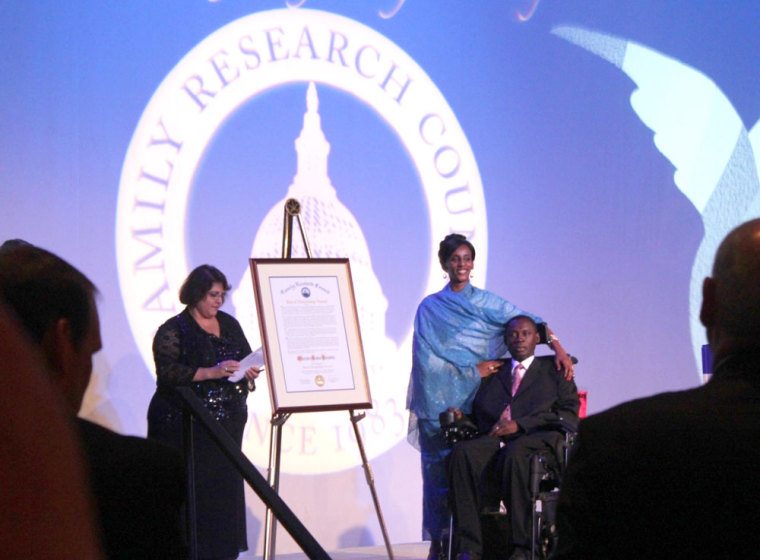 WASHINGTON – Taking the stage at the Values Voter Summit Gala with her husband, Daniel Wani, Meriam Ibrahim encouraged Naghmeh Abedini, the wife of imprisoned pastor Saeed Abedini, with stories about caring for her children Martin and Maya.
With the help of an interpreter, Ibrahim called Naghmeh Abdini "her sister" and told her "Do not fear; be strong. Take care of your kids and the Lord will be with you."
Naghmeh Abedini shared a video during the gala from her children. In the video, 6-year-old Jacob said his heart is "crying" because he "misses Daddy a lot, lot, lot, lot, lot, lot, a thousand lots." Eight-year-old Rebekka said "I prayed that dad comes back home but he's still not back home"
Abedini also said that although many people praise her, she does not feel courageous at all. Instead she feels tired.
The Sudanese Christian shared her struggles to care for her children while in jail. She said it was particularly hard to care for her son who was also very sad and confused by his father's absence.
Ibrahim married Wani, a Sudanese immigrant to the United States, in 2011. In August 2013, a relative charged that Ibrahim is a Muslim because her estranged father was a Muslim. Although Ibrahim was raised as a Christian and never practiced Islam, the relative asserted that Ibrahim unlawfully converted to Christianity to marry Wani and was committing adultery. She was jailed in February 2014 and later sentenced to 100 lashes and death by hanging.
Ibrahim was pregnant with Maya in prison. Her son Martin was also by her side. Wani was able to visit his wife and children in prison but only for 10 minutes at a time.
"That was the most difficult time for me because Martin would want to go with him and grab on to him and I would stand there unable to do anything because he's a child. He didn't understand why he was in jail through no fault of his. He didn't understand why kids were able to play outside and enjoy themselves and be with their parents, their fathers and mothers," described Ibrahim.
Ibrahim tried to encourage him saying "Do not be sad; you must be proud of your mother. I am not a criminal. The Lord is with us."
Ibrahim was finally released in June after an appeals court overturned the lower court's ruling. Wani and Ibrahim were escorted out of the country by Italian officials after the couple was detained during their first attempt to travel to America.
Ibrahim thanked everyone who prayed for her and worked to secure her release. She was also rewarded with the Family Research Council's first ever Cost of Discipleship Award during Saturday's gala.
The 2014 Values Voter Summit convened in Washington, D.C. September 26 through the 28th. The conference is organized by FRC Action, the Council's political advocacy arm.