Freed Persecuted Christian Meriam Ibrahim All Smiles, Husband in Tears Amid Warm Welcome by Sudanese Community in New Hampshire (Photos)
Freed Orthodox Christian Who Was Nearly Executed for 'Apostasy' Finds New Home in Manchester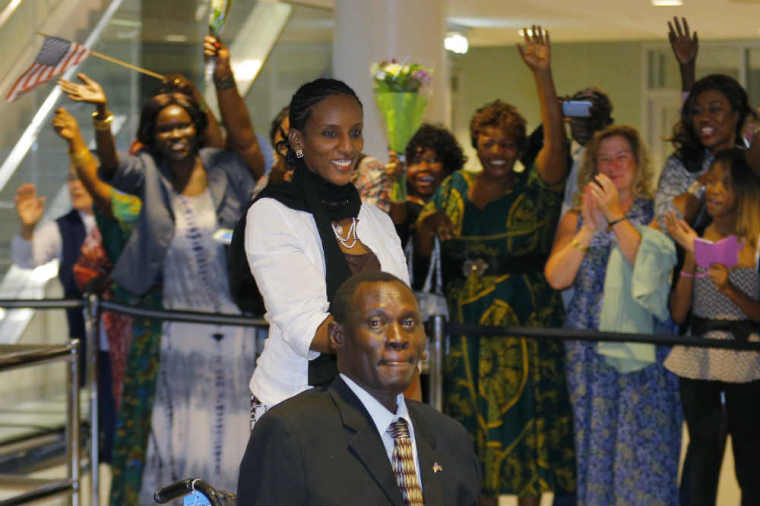 Meriam Ibrahim, the Sudanese Orthodox Christian who was nearly executed for her faith, was all smiles and her husband, Daniel Wani, in tears, when they and their two young children finally arrived home Thursday night — in Manchester, New Hampshire.
Wani, who lives in the city along with his brother and extended family, was overcome by emotion upon encountering the celebratory welcome by members of the local Sudanese Evangelical Covenant Church. The Sudanese national reportedly shared "how happy he was that he and his family were on safe ground."
The couple landed at the Manchester-Boston Regional Airport just after 8 p.m., according to NBC News, which also reported that Manchester has one of the largest expatriate South Sudanese communities in the United States.
Members of the Sudanese Evangelical Covenant Church, said to have been preparing for Ibrahim and Wani's arrival for more than a month, could be seen waving, smiling, and holding signs that read "God bless you" as Ibrahim and Wani made their way through the airport.
Photos of Ibrahim and Wani's welcome at the Manchester airport: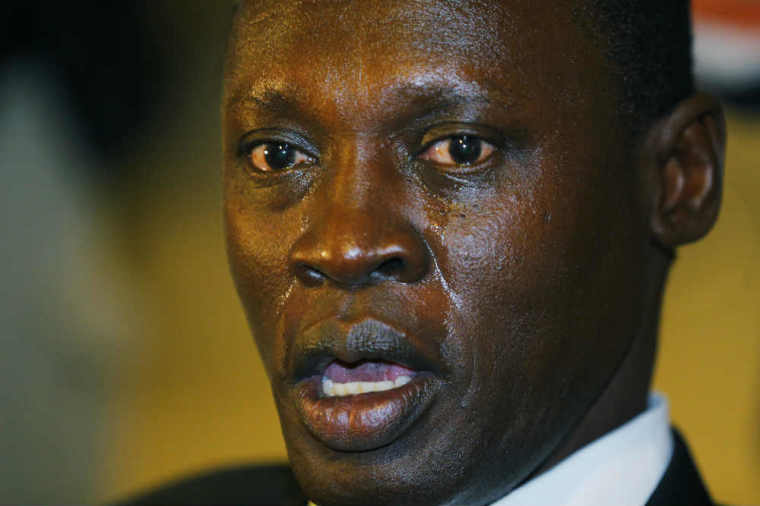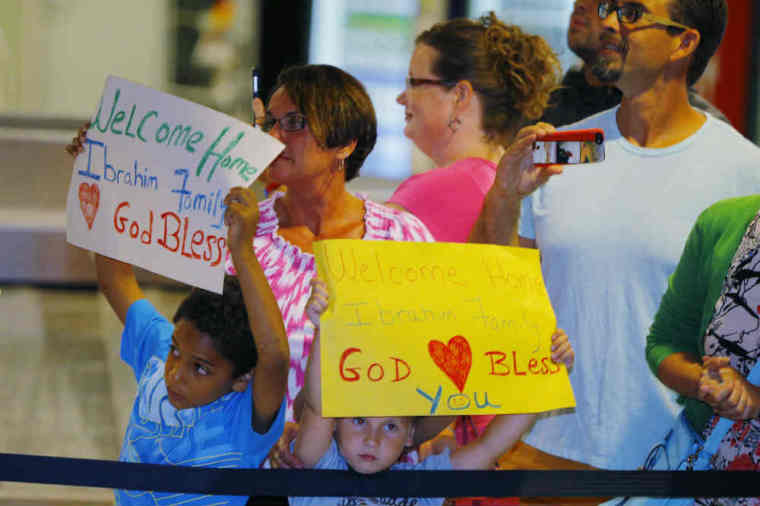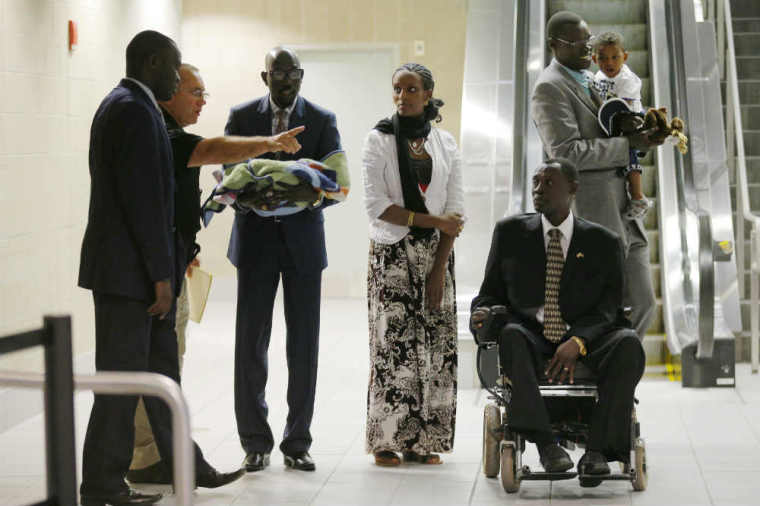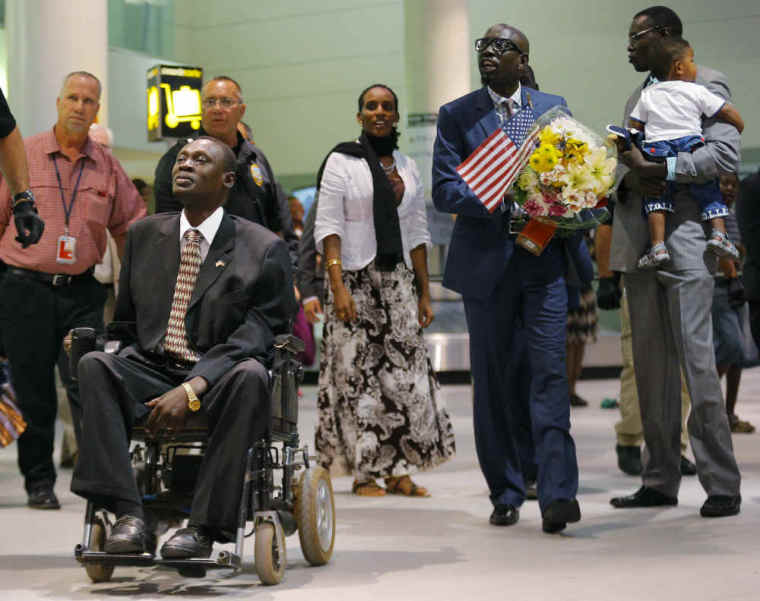 The Sudanese nationals flew out directly from Rome in the morning and stopped over in Philadelphia, where they met with the city's Mayor MIchael Nutter after arriving around 3 p.m.
According to CBS Philadelphia news anchor Pat Ciarrocchi, Mayor Nutter described Ibrahim as a "courageous grace-filled woman." The mayor, who met with the couple privately after their landing in Philadelphia, reportedly invited Ibrahim to appear with Pope Francis if the pontiff does indeed visit the city next year, as speculated.
The Rev. Joel Kruggel, pastor of Bethany Covenant Church, sponsors the Sudanese Evangelical Covenant Church, according to NBC. Pastor Kruggel told the publication, "There's been tons of support. There's been tons of love" for Wani and his family. The next step for them, he said, was to help them "absorb the fact that they are safe in New Hampshire, where life can be closer to normal."
Ibrahim, Wani and their children, Martin and Maya, departed earlier this morning from Fiumicino Airport in Rome, where they had been transported after a year-long ordeal that has enshrined Ibrahim, 27, as a near-martyr.
In addition to meeting with the pope during their week-long stay in Rome, the family worshipped with local Christians, went sightseeing, and enjoyed a sense of normalcy.
"We have been very happy here. We have felt like a real family," said Ibrahim, according to Antonella Napoli, an Italian journalist and activist who has been working closely with the family.
Ibrahim's case drew global attention when it was revealed earlier this year that she was facing death due to her Christian faith, after being accused by family members of apostasy. The Sudanese court that convicted her on the charge did so on grounds of identifying her as a Muslim because her father is a Muslim. Being labeled as a Muslim by the courts, Ibrahim was also charged with adultery and threatened with 100 lashes, because Sudanese law prohibits interfaith marriages. Her husband, Wani, is a Christian from South Sudan.
Ibrahim repeatedly testified that she was raised as a Christian by her Ethiopian Orthodox Christian mother since the age of 6, when her father was no longer in their lives. The defiant woman's case was compounded by the fact that she was pregnant at the time with her daughter, Maya, whom she gave birth to while shackled in prison less than two months ago.
The supreme court in the majority-Muslim Sudan eventually overturned Ibrahim's charges on June 23. The family finally fled on July 24, when they were quickly ushered out of Sudan by Italian officials.