Starbucks Brewing 'War on Christmas' with Minimalist Holiday Red Cups, Christian Evangelists Say
Starbucks Brewing 'War on Christmas' with Minimalist Holiday Red Cups, Christian Evangelists Say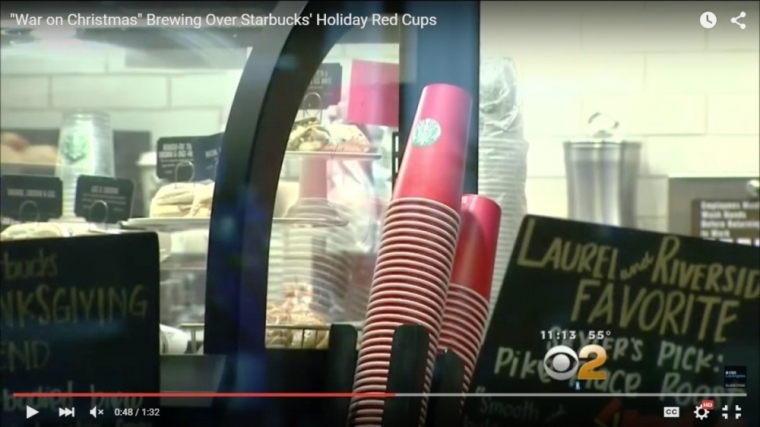 Starbucks has started a "war on Christmas" by opting to use plain red cups for the holidays instead of the one designed with snowflakes and trees, Christian evangelists said.
This year, Starbucks dropped the red, white, and green color theme for its signature holiday coffee cups and replaced it with minimalist red cups. The move offended some Christian leaders and took it as a sign that the coffee chain has declared a "war on Christmas," according to NY Daily News.
Former Arizona pastor Joshua Feuerstein posted a Facebook statement accusing Starbucks of erasing from their coffee cups because "they hate Jesus." The post went viral on Saturday night.
To combat the so-called "war on Christmas," Feuerstein told the barista that his name was "Merry Christmas." That way, the Starbucks employee was forced to write the holiday greeting on the former pastor's cup. On his Facebook video, he also urged Americans and Christians to do the same when they order coffee at Starbucks, Tech Insider reports.
Nate Weaver, a student pastor at the Crosspointe Christian Church in Florida, chimed in and swore Starbucks off his coffee shop list forever. In a Facebook statement that he posted on Saturday, Weaver said the plain red holiday coffee cups symbolized Starbuck's desire to be "politically correct" and to not be associated with Christmas, the report relays.
British politician David Burrowes echoed Weaver's sentiments and told Breitbart London that the red holiday cups were not driven by consumer demand, the report adds.
Starbucks began introducing the plain red cups in Europe on Oct. 22 and later on to America. In the past, the coffee chain used figures depicting reindeers, Santa Claus, poinsettias, and other Christmas-related objects and characters.
"This year we wanted to usher in the holidays with a purity of design that welcomes all of our stories," Jeffrey Fields, Starbucks' Vice President of Design & Content, said.
While some people supported Feuerstein's Christmas prank on Starbucks, other people said the new red cups were no big deal. Several Twitter users even reacted with humor and noted that the coffee shop's new holiday cups just resemble the Solo cup.