State Dept. Convinced Andrew Brunson Is Innocent, Says Turkey Lacks 'Credible Evidence'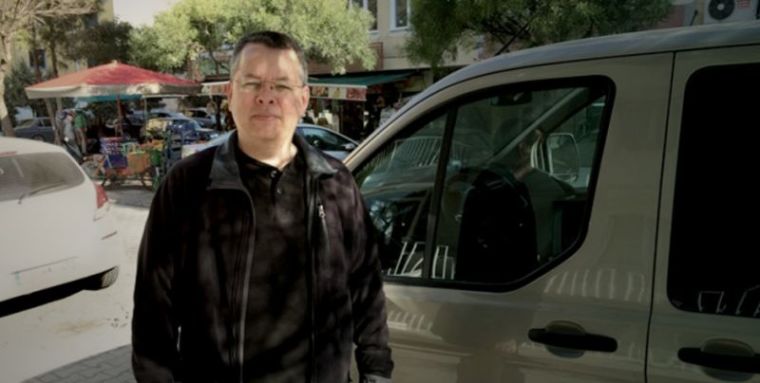 After a 13-hour court hearing on Monday in Turkey, the U.S. State Department is convinced that the Turkish government does not have any "credible evidence" to convict American Pastor Andrew Brunson of terrorism charges.
"The entire U.S. government is following Mr. Brunson's case closely. We have seen no credible evidence that Mr. Brunson is guilty of a crime and are convinced that he is innocent," a statement released by the federal agency on Monday night reads.
"We believe that Turkey is a state bound by the rule of law, and we have faith in the Turkish people's commitment to justice. We hope that the judicial system in Turkey will resolve his case in a timely, fair, and transparent manner."
Brunson, a North Carolina resident who has ministered for over two decades with his wife in Izmir, was arrested in October 2016 and could face up to 35 years in prison if he's convicted of espionage and of other terror-related charges.
After over 18 months in prison and concerning reports about his health and mental state, Brunson finally received his day in court in the town of Aliaga. Although advocates hoped that he would be released and have the charges dropped, he was remanded back to prison. Another hearing is scheduled for May 7.
New York City Pastor William Devlin, who traveled to Turkey to witness the trial, told The Christian Post that Brunson gave his own defense and went "sentence-by-sentence" for over six hours to refute a 62-page indictment.
"Brunson was accused of meeting people he said he never met," Devlin said, adding that Brunson told the court that his church is fully transparent and there are no "secret meetings" or "collusion with the Kurds or the Syrians."
"[His] honesty, integrity and composure all glorified God; he shared his deep love for Turkey and the Turkish people," Devlin added in an email.
The pastor of Izmir Resurrection Church is accused of having ties to the U.S.-based Islamic cleric Fethullah Gulen and his FETO network, which the Turkish government accuses of leading a 2016 coup attempt against President Recep Tayyip Erdoğan.
As much has been reported about the fact that accusations against Brunson come from secret witness testimony, Devlin explained that two secret witness testimonies were shared with "altered video and altered voices." He said that only one of the secret witnesses appeared in person.
"Those who testified on live altered video and in person basically just repeated information from the indictment that Pastor Brunson had already denied and said the items in the indictment did not happen," Devlin said. "So there was no real secret evidence; there were just two 'secret witnesses.'"
As Brunson was escorted out of the courtroom by two Turkish army guards, Devlin told CP that Brunson said to his wife: "I love you!"
"His wife responded with an uplifted finger pointing obviously to The Lord Jesus Christ, as to say, 'We look to Him!'" Devlin added.
The U.S. Commission on International Religious Freedom, which has called for Brunson's release, expressed disappointment with the outcome from Monday's hearing.
"USCIRF's position is clear. Pastor Brunson is an innocent religious leader whose imprisonment for over 18 months on false allegations is an abomination," USCIRF Chairman Daniel Mark said in a statement. "This latest development is yet another reason for the international community to condemn his imprisonment and for Congress and the administration to consider stronger steps against Turkey, including the imposition of targeted sanctions against those involved in this miscarriage of justice."
Devlin, who has visited imprisoned pastors and other persecuted Christians throughout the world, told CP that Brunson looked to be in "OK" health but broke down emotionally during the trial. Devlin said Brunson requested not to be placed back in the prison where he was previously sharing a cell with 21 other inmates.
"He stated twice that he was suffering from psychological trauma," Devlin added. 
Erdoğan had previously indicated that Brunson could be released if the U.S. would extradite Gulen, who lives in Pennsylvania.
"The whole case of the government is a complete fabrication," Devlin contended. "This is a faithful loving pastor who has never been involved politically. He stated to the Court: 'Why would I do the things that you say in the indictment that I did when my whole life and ministry here in Turkey would be at risk? I never did and would never do the things you charge me with in the indictment.'"
Others who attended the court hearing include Sen. Thom Tillis, R-N.C., U.S. Ambassador at-Large for International Religious Freedom Sam Brownback, and U.S. Embassy officials.