Stephen Colbert: Hearing Jennifer Hudson Sing Hymn Worthy of Converting to Christianity (Video)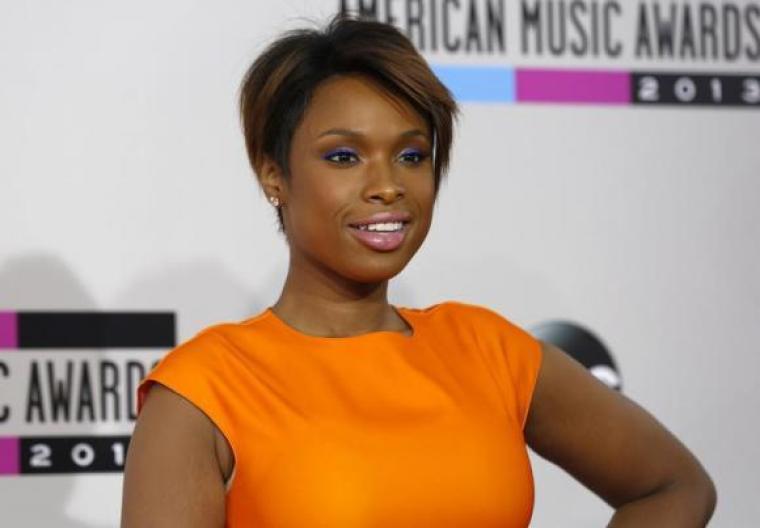 Singer Jennifer Hudson taught Stephen Colbert a hymn that the comedian says was worthy of converting him to Christianity if he didn't already identify with the faith.
When Hudson, the Grammy and Oscar Award-winning singer who's starring in the new Netflix film "Sandy Wexler" promoted the film on Colberts late night talk show "The Late Show with Stephen Colbert" Monday, the pair bonded over their church backgrounds.
Hudson revealed that her first solo in life took place on Easter when she sang the hymn, "Must Jesus Bear the Cross Alone."
"You know, my first solo was Easter Sunday in a church," she said. "I forgot the words and the congregation had to help me out and I was 7."
Colbert replied, saying, "I have a similar first performance. First time I performed was in church. I was the fourth wiseman. We were late for church and they replaced me."
Colbert went on to ask the singer if she had a favorite hymn, to which she responded, "Oh my God, 'Talk About a Child Who Do Love Jesus.'"
At Colbert's prompting, Hudson sang a bit of the hymn originated by the Rev. Rubin Lacy in 1975.
"That is not one we sang in my church growing up, but I love it," he told Hudson. "Oh my God, if I wasn't a Christian when that song started I would be when that song was over."
The singer responded with laughter saying,"Oh, Glory!"
Colbert has shared his Catholic faith in the past with the Holy See Press Office's Father Thomas Rosica, to speak about the fusion of his faith and comedy on the Witness program in 2015.
"Faith ultimately can't be argued, faith has to be felt. And hopefully you can still feel your faith fully, and let your mind have a logical life of its own, and they do not defy each other, but complement each other, because logic itself, I don't think, for me, and you know — logic itself will not lead me to God," Colbert previously said. "And, so, hopefully I can use my mind to make my jokes, and not deny my love for God at the same time."
As for Hudson, last year she posted a short clip on Instagram of herself singing the Moses Hogan worship song "Hear My Prayer."
"This is going be my next solo in church! Lord I'm working on it," the entertainer wrote. "I'm [going to] sing this for y'all one day."